Produced from hand-harvested grapes from La Mancha's finest vineyards, Rafael Cañizares has fashioned a world-class wine in the 2007 Paso a Paso Tempranillo. For starters, bright berry fruit and spicy vanilla tones combine to form a delectable aroma in this rich, regal-robed Tempranillo. Furthermore, Cañizares has fashioned in this Paso a Paso a smooth, eminently drinkable red wine that embodies grace, style, and a mouthful of fulfilling flavors. And for the patient taster willing to allow this delicious Tempranillo a few minutes in the glass to come to fore, all kinds of berry and spice tones well up to greet the eager palate. Over time, subtlety and complexity emerge as well. Consequently, we suggest you allow the 2007 Paso a Paso some time to air (15-20 minutes in a glass or decanter would be optimal) and then let it linger on the tongue. Enjoy!
The 2007 Paso a Paso Tempranillo is a charmer from start to finish. It is also a natural party wine and a superb partner to pasta, meat, and grilled vegetables. It is equally at home with a charcoal broiled filet as it is with barbecued spare ribs and Eggplant Parmigiana. A traditional antipasti consisting of capicolla, pepperoni, prosciutto, salami, and hard Provolone cheese provides a hearty starter for this wine. Wood-roasted barbecue chicken with smoked Gouda, red onion, and cilantro offers another partner with which to savor this wine's heady flavors. The 2007 Paso a Paso Tempranillo provides a great companion to Buffalo wings, pizzas, stews, and tapas, too. Spanish cheeses, such as Manchego, Mahon, and Zamarano, pair superbly as well and require little or no preparation.
Paso a Paso, meaning step by step in Spanish, is another successful venture of the indefatigable Jorge Ordonez, one of the leading importers of Spanish wines in the United States. Like its red predecessor and cousin Mano a Mano, Paso a Paso springs from the finest terroir in La Mancha and is playing to great critical acclaim. Moreover, everything about Paso a Paso reflects Ordonez's natural, hands-on approach to winemaking. Perhaps even more importantly, Paso a Paso further establishes La Mancha as a quality wine-producing region for both red and white wines: the property produces an excellent white wine from Verdejo in addition to exceptional Tempranillo. La Mancha is just beginning to show the world that it has more than Cervantes' celebrated hero Don Quixote as its only claim to fame. With his first release of Mano a Mano in 2004 and Paso a Paso in 2008, the Spanish oenologist Rafael Cañizares offers testimony to what Ordonez and others have been claiming about La Mancha: it is a veritable treasure trove of undiscovered wines, many from old vines. Paso a Paso's vines average 40 years or more. Moreover, Rafael Cañizares demonstrates with Paso a Paso that the Tempranillo variety in La Mancha can be every bit as compelling as the classic Tempranillo of Rioja. And with his first release of Paso a Paso, Cañizares has given us a glimpse of what to expect from this once-forgotten wine region.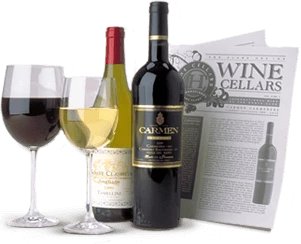 Enjoy Limited Production Estate
Bottled Wines
Discover limited production estate bottled wines such as Vergenoegd's internationally
acclaimed 2005 Cabernet Sauvignon, imported exclusively for our members.
DISCOVER OUR FOUR CLUBS