Priorat enjoys a reputation for turning out bold reds, and once again the serious, warm-hearted Albert Pasanau has fashioned an exceptional and complex Priorat in his 2012 Finca La Planeta, a wine which impressed our tasting panel greatly, as well as Wine Enthusiast which awarded it 94 points. Exhibiting a deep, nearly impenetrable, color from predominantly Cabernet Sauvignon, the 2012 Pasanau Finca La Planeta appears at first glance to be more like young classified Bordeaux than typical Priorat. Adding to the intrigue is the wine's bouquet, which is more than slightly reminiscent of Château Lafite, with deep, brooding, black fruit flavors and hints of graphite. In true Pasanau fashion and not unlike great Bordeaux, the 2012 Finca La Planeta is bold and beautiful, yet a bit reticent upon first emerging from the bottle. Afford it time to breathe and the wine's deep berry flavors, spicy plum, graphite, thyme, and crushed black pepper flavors will come front and center, unfolding slowly, almost imperceptibly, to fill the mouth with their seductive notes. Full-bodied, intense, and endowed with an iron core, Finca La Planeta is a combination of Bordeaux hauteur and Spanish warmth, a wine that will drink well now through 2025. For optimal enjoyment, we suggest allowing this special Priorat plenty of breathing time before consuming. An hour or more in a decanter should do this layered, sophisticated wine justice. Enjoy!
A complex sophisticated wine such as the 2012 Pasanau La Planeta calls for foods worthy of complementing world class wine. The finest cuts of meat, a complex sauce, or a simple dish made from the very freshest ingredients are the hallmark of great food and wine pairings. Consequently, we recommend just such foods with the 2012 La Planeta. Roast Leg of Tender Spring Lamb; Chateaubriand; and Loin Veal Chops, served with shitake mushrooms and an herb rice pilaf, are just a few of our favorite dishes with Pasanau's La Planeta. Pan Roasted Duck Breast will do this wine justice as well. Roasted Quail, stuffed with apple-smoked bacon and mushrooms, served over a corn based risotto, makes for another tasty suggestion. Yet, it is not so much what one serves with the 2012 La Planeta that matters as much as it is the quality of the ingredients used. Pasanau's wines are complex and sophisticated, yet tender and easy to pair with accompaniments befitting their stature.
Since the 1990s, the Pasanau family and their beloved Priorat have achieved international fame. Today, Priorat remains Spain's "hottest" wine producing region, fashioning an increasing number of sensational wines. At the forefront of Priorat's success has been the Pasanau estate.
Pasanau commands the high ground in Priorat, literally and figuratively. At over 2,400 feet, Pasanau's Finca La Planeta vineyard, which is devoted entirely to Cabernet Sauvignon, dominates Priorat's arid, starkly beautiful landscape. Planted on gravely scree and slate, this 12.5-acre vineyard yields in great vintages one of the most intense and unique of all Priorat wines. The Pasanau estate also includes equally impressive parcels of ancient, un-grafted Garnacha and Mazuelo vines from which the property's Los Torrents is made. Unlike Finca La Planeta, which relies primarily on Cabernet Sauvignon, Los Torrents is a more traditional style of Priorat in that it contains equal parts Garnacha and Mazuelo from very old parcels that face each other across a ravine cut by water running through Priorat's famous slate soil known as llicorella.
If Pasanau's acumen with Finca La Planeta and Los Torrents were not enough to seal its place among the finest producers of Priorat, the estate's Ceps Nous, a delicious contemporary style of Priorat comprised of fruit from younger vines, makes an equally compelling case for Pasanau's exceptional quality and diversity. Comprised of the region's traditional grape varietals (Garnacha and Mazuelo) along with healthy dollops of Cabernet Sauvignon, Merlot, and Syrah, Ceps Nous offers a wonderful introduction to Priorat. Small amounts of excellent Viognier are also crafted at this exceptional property.
Working out of a small, modern bodega that was completed in 1995, Pasanau fashions some of Spain's most compelling wines. At Pasanau, grapes are routinely picked quite late, often not until late October, in order to extract the greatest intensity from each low yielding vine. All tanks are gravity fed and racking and fining are done only during a full moon using all natural ingredients, which says quite a bit about this estate's commitment to excellence as well as its biodynamic practices.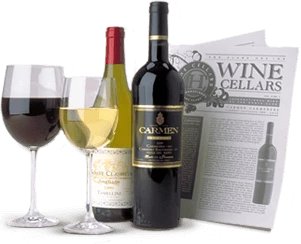 Enjoy Limited Production Estate
Bottled Wines
Discover limited production estate bottled wines such as Vergenoegd's internationally
acclaimed 2005 Cabernet Sauvignon, imported exclusively for our members.
DISCOVER OUR FOUR CLUBS