A stunning, seamless wine, the 2004 Pasanau Finca La Planeta pays tribute to the near-perfect growing conditions offered by the glorious 2004 vintage. Deeply colored, this wine appears at first glance to be a youthful Château Lafite, one of Bordeaux's greatest wines. Initially, La Planeta's glorious robe appears impenetrable and its packed aroma coquettish, yet hesitant to reveal without commitment the breadth of its inner beauty. However, a little time will more than reward the patient imbiber. La Planeta unfolds slowly, almost imperceptibly, until a seductive bouquet of black currants, coffee, graphite, and chocolate stream from the glass. On the palate, the 2004 La Planeta is full bodied but incredibly smooth and seductive. A suave flavor profile of black fruits and coffee, laced with subtle infusions of oriental spices, emerges from this textured, sophisticated wine. A delightful combination of Bordeaux hauteur and Spanish warmth, the 2004 Finca La Planeta combines lush, velvet fruit to an iron core. We suggest allowing this great Priorat plenty of breathing time before consuming. An hour or more in a decanter should do this layered, urbane wine justice. Enjoy!
A complex sophisticated wine such as the 2004 Pasanau La Planeta calls for foods worthy of complementing world class wine. The finest cuts of meat, a complex sauce, or simple dish made from the very freshest ingredients are the hallmark of great food and wine pairings. Consequently, we recommend just such foods with the 2004 La Planeta, one of the finest wines this estate has ever turned out. Roast Leg of Tender Spring Lamb, Chateaubriand, and Loin Veal Chops served with shiitake mushrooms and an herb rice pilaf are just a few of our favorite dishes with Pasanau's La Planeta. Pan Roasted Duck Breast will do this wine justice as well. Roasted Quail, stuffed with apple-smoked bacon and mushrooms, served over a corn-based risotto, makes for another tasty suggestion. Yet, it is not so much what one serves with the La Planeta that matters as much as it is the quality of the ingredients used. Pasanau's wines are complex and sophisticated, yet tender and easy to pair with accompaniments befitting their stature.
In little more than a decade, the Pasanau family and their beloved Priorat have achieved international fame. Priorat is currently Spain's most glamorous wine-producing region, fashioning a splendid array of sensational wines. And at the forefront of Priorat's viticultural renaissance and the accompanying critical acclaim for the region's wines is the Pasanau family. Pasanau commands the high ground in Priorat, literally and figuratively. At over 2,400 feet, Pasanau's Finca La Planeta dominates Priorat's arid landscape. The vineyard is planted on gravelly scree and slate and is devoted almost entirely to Cabernet Sauvignon. Barely 12.5 acres in its entirety, La Planeta yields what many have described as one of the most complex and intense of all Priorat wines. In addition to Finca La Planeta, the Pasanau estate also includes equally impressive parcels of ancient, ungrafted Garnacha and Mazuelo vines, which the family crafts into La Morera – a more traditional Priorat style of wine than La Planeta. And more recently, Pasanau has released Ceps Nous, a delicious light red Priorat that is comprised primarily of the estate's traditional Garnacha (Grenache) and Mazuelo, along with a healthy dollop of Merlot and Syrah from young vines. Small amounts of excellent Viognier are also crafted at this outstanding property. Working out of a small modern bodega that was completed in 1995, Pasanau fashions three of Spain's most compelling wines. Here, grapes are routinely picked very late, often not until late October, in order to extract the greatest intensity from each low-yielding vine. All winery tanks are gravity fed, and racking and fining are done only during a full moon, using all natural ingredients – all of which says more than a little about Pasanau's commitment to excellence as well as its debt to tradition.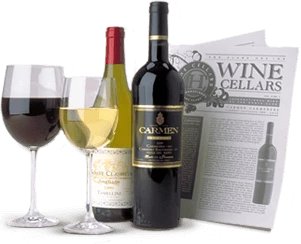 Enjoy Limited Production Estate
Bottled Wines
Discover limited production estate bottled wines such as Vergenoegd's internationally
acclaimed 2005 Cabernet Sauvignon, imported exclusively for our members.
DISCOVER OUR FOUR CLUBS