Wonderfully consistent year after year, the recently released 2007 Palazzone Terre Vineate Orvieto Classico Superiore offers up its usual feast for the eyes as well as the nose. Soft scents of wildflowers and honey emanate from the golden-hued 2007 Palazzone Terre Vineate. Soft and seductive, it carries the intoxicating scents of spring in every draught of its delightful bouquet. Moreover, all of this lovely Orvieto's olfactory goodness follows through on the palate, so that each sip of the 2007 Palazzone Terre Vineate Orvieto recalls the vernal awakening amidst the budding green and amber-hued hills that surround Orvieto. The wine, like the vaulted town of Orvieto itself, appears timeless – a cross between the ancient and the eternal. The 2007 Palazzone Terre Vineate combines the best attributes of the golden-hued abboccato style of Orvieto, for which Orvieto was once famous, with all of the freshness and vivacity of contemporary Orvieto. In the 2007 Terre Vineate, the Dubini family has fashioned a dry, succulent Orvieto of grace, elegance, and distinction that speaks directly to the senses. It purveys a truly aesthetic quality, worthy of the city for which Orvieto is named. Some may prefer the 2007 Palazzone Terre Vineate moderately chilled (about 40° F), but our preference is for drinking Orvieto cool, rather than cold. The seductive side of Orvieto blossoms with a more ambient temperature, so consider allowing the 2007 Terre Vineate to sit in the glass a few minutes before consuming.
In Orvieto, the wine that bears the name of Italy's most illustrious hill town is best known as an aperitif or a starter wine with a delicate first course. The 2007 Palazzone Terre Vineate provides that wonderful aperitif and much more. Displaying more body and flavor than most contemporary Orvieto, the 2007 Terre Vineate offers splendid accompaniment to fish, pork, lightly smoked meats, and cheeses. A simple grilled fish, served with a creamy cheese-infused polenta, provides one of our favorite companions to Palazzone's finest. For those seeking heartier fare, pea and lentil soups supply superb pairings, as does a thick bread and cabbage soup with a cheese crust, the kind that is served in homes or local trattorias throughout northern and central Italy. Sautéed scallops in a cream sauce, served with homemade pasta, lentils and peas, provide another near perfect pairing. And remember, one also has the option of serving the 2007 Terre Vineate all by itself or with just a bit of cheese and some freshly baked bread. Enjoy!
Palazzone is a stunning estate that sits atop a hill. It overlooks the venerable hill town of Orvieto. A more appropriate testimony to the illustrious name of Orvieto would be hard to find, as the estate and the wine at Palazzone do justice to the accolades and the unabashed praise that millennia of joyful Etruscans, Romans, and assorted moderns have heaped upon Orvieto and its seductive white wine. Orvieto Classico is certainly the most representative wine of Umbria; it can also be one of Italy's most consistently delightful white wines. Unique among Italy's white wines for its complex blend of five varietals, Orvieto is rarely an easy wine to make because of differing ripening timetables for each of its five varietals and the requisite difficulty of proportionate blending. Palazzone incorporates in artful fashion all five of the traditional varietals into its Orvieto: Procanico, Verdello, Grechetto, Malvasia and Drupeggio. For centuries, Orvieto was a semi-sweet wine, not unlike France's Vouvray; but today nearly all Orvieto is vinified dry. Some producers still turn out small quantities of amabile or abboccato, the designations given to sweet Orvieto, but the very finest producers like Palazzone seem to impart a wonderfully rich, silky body and an intensely fruity bouquet to their wine without the residual sugar that most contemporary wine drinkers eschew. Thanks to the Dubini family, the present guardians of Palazzone, their estate is now the zone's benchmark for quality. The Dubinis bought the estate in 1970. Within two years they had resurrected and restructured the neglected property and fashioned it into what has become the model estate in Orvieto. The semi-abandoned country house was fixed up, and 40 acres of vineyards were planted on soils of volcanic origin with ideal southeastern exposure. Molto bene!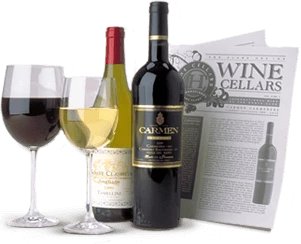 Enjoy Limited Production Estate
Bottled Wines
Discover limited production estate bottled wines such as Vergenoegd's internationally
acclaimed 2005 Cabernet Sauvignon, imported exclusively for our members.
DISCOVER OUR FOUR CLUBS