Painted Wolf's 2010 Guillermo Pinotage (92% Pinotage, 4% Grenache, and 4% Merlot) could easily pass itself off as outstanding South African Shiraz or superlative Côte Rôtie for that matter from France's Rhône Valley. However, we prefer to see this wine for what it is – the finest example of Pinotage we've tasted in years. The Guillermo Pinotage has everything going for it. It's produced from organically cultivated, dry farmed grapes in Swartland on South Africa's gorgeous Western Cape, its fermenting must is entirely hand punched and then basket pressed, and the resulting wine is matured for 14 months in a combination of American and French oak barrels. But best of all, the 2010 Painted Wolf Guillermo Pinotage tastes great. It offers up a wealth of savory scents and flavors in the form of deep berry fruits, violets, Asian spices, and wood smoke, all wrapped beautifully in soft, ripe tannins. If this wine doesn't convince you of Pinotage's many attributes and what this sometimes mercurial grape is capable of offering, nothing will. Enjoy this tasty, utterly satisfying Pinotage now and for the next couple of years at cool room temperature (60°-66° F).
The 2010 Painted Wolf Guillermo Pinotage brings a warm welcome to any table. The wine's juicy, complex flavors are equally at home with the delights of simple country cooking as they are with the finery of a more splendid table. Pork, steak, game, and full-flavored cheeses provide some of our favorite pairings with the Guillermo Pinotage. Marinated sirloin steak; roast pork loin rubbed with garlic, onion, thyme and sage; buffalo burgers; or better still ostrich burgers or an authentic South African Ostrich Kefta (Spicy Ostrich Meatballs served with a savory sauce) offer other superb accompaniments to Painted Wolf's exemplary Pinotage. Chinese dumplings dipped in a mild soy and ginger sauce pair beautifully with this wine, too. Spicy tomato based pasta dishes with a hint of heat from red pepper flakes provide additional opportunities to let Guillermo shine, as will a plate of rich creamy cheeses. Enjoy!
I first met Emily Borg at her home in Swartland on South Africa's Western Cape. We sat in the kitchen and tasted through her entire portfolio of Painted Wolf Wines, and I can assure you there was plenty of good wine to taste. However, what impressed me and the two panel members who accompanied me that day was not only how well made and unique each of the Painted Wolf wines are, but how dedicated Emily and her winemaker husband Jeremy are to their conservation efforts on behalf of the Painted Wolf, also known as the Wild African Dog (Lycaon pictus).
Painted Wolf was founded by Jeremy and Emily Borg with two equally important purposes in mind: to produce fine wines with "a distinctive South African feel" and to fund research and conservation efforts on behalf of African Wild Dogs, an intriguing and highly endangered species. Funds from the sale of every bottle of Painted Wolf Wines go toward the Borgs' conservation efforts.
Drawing inspiration from the African Wild Dog, Painted Wolf winery is comprised of a community of talented individuals who provide the best available grapes and technical skills to Painted Wolf Wines. Two distinguished members of this pack are friends Billy (Guillermo) and Penny Hughes who grow the outstanding grapes for Painted Wolf's Guillermo Pinotage in Swartland's renowned Kasteelsig Vineyard. Because Painted Wolf focuses primarily on the production of distinctive South African wines, Pinotage and Chenin Blanc constitute the winery's two major players, though Painted Wolf's excellent Shiraz and Grenache based wines merit equal attention as well.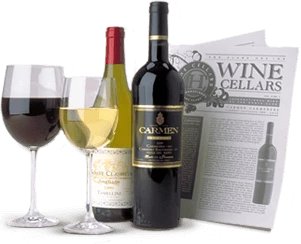 Enjoy Limited Production Estate
Bottled Wines
Discover limited production estate bottled wines such as Vergenoegd's internationally
acclaimed 2005 Cabernet Sauvignon, imported exclusively for our members.
DISCOVER OUR FOUR CLUBS