Produced from a single vineyard in Clarendon of old vine Shiraz, Oliverhill's 2006 McLaren Vale Clarendon Shiraz highlights the unique qualities of the Clarendon region. A saturated purple robe, a flamboyant bouquet, and spectacular length on the palate are perhaps the most overt attributes of this Clarendon Shiraz. Furthermore, Oliverhill's Clarendon Shiraz is downright racy, sexy, and utterly seductive. Crushed berries, Asian spices, eucalyptus, sandalwood, violets, and wood smoke are just a few of the alluring scents and savors that emanate from Oliverhill's Clarendon Shiraz. Textured, smooth, and nicely balanced from start to finish, this basket pressed Shiraz opens slowly and methodically, revealing new and interesting flavors with each sip. Just beginning to hit its stride with four years of aging under its cap, we predict this wine will be even more luscious a year or two down the road, but who can wait that long? For optimal enjoyment now, we suggest decanting Oliverhill's polished Clarendon Shiraz an hour ahead of consumption. And like most full-bodied Shiraz, cool room temperatures will best showcase the subtleties and profundity of the grape.
Although a good chicken and avocado wrap, brick oven pizza, or double cheeseburger may seem like a gourmet feast in the company of the 2006 Oliverhill McLaren Vale Clarendon Shiraz, our first choice to accompany this wine would be something more daring or sophisticated. Since the Clarendon Shiraz is a complex, polished wine with plenty of flavors and little reticence, it can easily hold its own with hearty fare. Lamb is of course the perennial Australian favorite with such a big-such boned Shiraz, and we can second that motion. Consequently, roast leg of lamb or grilled loin lamb chops served with a cucumber garlic sauce and a sprinkling of feta cheese get our nod. Perhaps even more interesting is pan seared beef tenderloin, served with crispy eggplant and mixed organic greens with a sriracha tinged queso sauce. Gnocchi with vegetables and gorgonzola cheese provides another flavorful accompaniment. Grilled Ahi tuna on focaccia with a healthy dab of Provencal aioli or herb mayonnaise is delicious, too. And if you still have a hankering for a good burger, why not make it a Kobe beef burger with a fried pickle and mustard fusion? Enjoy!
South Australia's McLaren Vale is a virtual treasure trove of small boutique wineries and special terroirs from which so many of Australia's most precious viticultural gems are mined. However, the difficulty for miners as well as wine lovers has always been to find the true gems. As a wise old prospector once said "there are plenty of gems in them there hills, ya just gotta look for 'em." So, we took the prospector's advice and went looking. And sure enough we found a real jewel in Oliverhill's Clarendon Shiraz. In fact, we hit pay dirt. All of Oliverhill's wines are extraordinary finds. Oliverhill Winery is a small boutique family affair founded in 1973. It is presided over by Linda and Stuart Miller who fashion a half dozen amazing wines with a total production of less than 3000 cases. The winery is located near the spectacular Onkaparinga Gorge National Park. It draws its name from an actual strip of land located along Seaview Road in McLaren Vale. This illustrious piece of land is also home to d'Arenberg and Maxwell's, two of South Australia's most cherished wineries. Grapes that are grown at the base of the hill also make their way into Penfolds Grange and Rosemount's Balmoral, two of Australia's most celebrated Shiraz wines. Not surprisingly then, the calling card of the diminutive Oliverhill winery is none other than outstanding Shiraz, handcrafted and basket pressed from single vineyard blocks. Small quantities of exceptional Cabernet Sauvignon, Grenache, and Petite Sirah (Durif) are also produced, and each is a true gem. Eureka!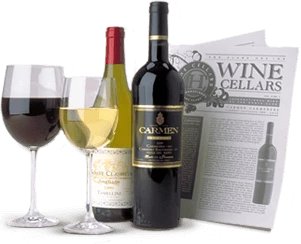 Enjoy Limited Production Estate
Bottled Wines
Discover limited production estate bottled wines such as Vergenoegd's internationally
acclaimed 2005 Cabernet Sauvignon, imported exclusively for our members.
DISCOVER OUR FOUR CLUBS