Imbued with a sprite golden-hued robe, the 2001 Ocone Taburno Greco proffers all the purity of sunshine; it reflects the natural goodness of the earth, the air and the elements of the high hillside vineyard, which has borne it. Honey, fennel, narcissus, and the unique perfume of the noble Greco grape, grown at an altitude of over 1000 feet, permeate the bouquet of this refreshingly natural, biodynamically produced wine. Long, pure fruit flavors unfold on the palate, revealing an interesting array of ripe orchard fruits: apple, pear, apricot and white peach all married to a long refreshing finish. No wonder the ancients found the Greco grape so irresistible: it's like drinking the heady scents of a warm spring day, tempered by a cool breeze. Drink this rare organic white cool or moderately chilled, and enjoy!
Cioppino, the savory tomato based fish soup, which is closer to a thick stew in Campania, provides the perfect accompaniment to the 2001 Ocone Taburno Greco. The fresh, fragrant aspects of both the Greco and the Cioppino play off one another, framing a scrumptious, gustatory feast. Steamed clams, mussels marinara or even a Baccala salad provide other fine choices with the Ocone. Grilled chicken on a bed of tomatoes, spinach, and fresh mozzarella, with a light Caesar dressing provides another fine pairing. In fact, most seafood and light meats will offer enjoyable complements to the 2001 Ocone Greco. Yet, a glass of this delicious Greco goes down quite easily all by itself, without any food trappings, so don't be afraid to invite a friend over for a glass to spend a very pleasant evening. Salut!
Deep in the heart of the Campania, the breadbasket of Imperial Rome, lies the Sannio a rugged region known for the expert cultivation of ancient vines. Here in this very rocky, mountainous area, some 40 miles east of Naples, Domenico Ocone produces several of Italy's most original and compelling wines from heirloom varietals: Aglianico, Coda di Volpe, Falanghina, and Greco flourish in Ocone's biodynamically farmed vineyard outside of Benevento. The Ocone estate is dedicated to biodynamic, total organic agriculture; the only fertilizer used is natural, and no pesticides or additives of any kind, including sulphur dioxide, are employed in the winemaking process. Such natural viticultural practices are common in this part of the Campania and are gaining favor throughout Europe, as more farmers embrace the idea of a return to a more natural way of living. The Ocone family has been producing wines in the Sannio since 1910, but like most of the wine producers in the Sannio, the Ocone's initially sold their wine locally in demijohns, selling off the balance of their production in bulk. However, this all changed a number of years ago when Domenico Ocone took control of the estate. Through careful vineyard selections, restriction of vine yields, and the installation of modern equipment in the cellar, the quality of the wine at this family estate has soared. Most of Ocone's ancient varietals are unknown to the general public, but each produces a rich, rewarding, and unique experience. Foremost among the estate's white varietals is Greco, a grape brought to southern Italy centuries before Christ by colonizing Greeks, as the name implies. Greco produces a full-bodied but harmonious white wine, golden in color, that enchants with its aroma of honey, bitter almond and exotic Levantine herbs. Dry and refreshing as well as flavorful, Greco is notably responsible for some of southern Italy's finest white wines; Ocone's Greco is no exception. In keeping with tradition, Ocone also cultivates the noble Aglianico, southern Italy's greatest red varietal. Like Greco, Aglianico (its name is a corruption of the word Hellenic, meaning Greek) was brought to Magna Graccia (southern Italy) by the Greeks millenniums ago. Aglianico is full-bodied and often fierce when young, but it generally ages well, often maturing into a stately gentleman after a few years in bottle. Violet and truffle flavors married to a long rich center separate Aglianico from other good but somewhat course, red varietals from southern Italy. Ocone's Aglianico is a noteworthy example of this outstanding varietal. Unquestionably, Ocone's ancient varietal wines deserve to be better known. Whether it is the Greco or Aglianico, or even one of the lesser known types like Falangina or Coda di Volpe, each offers expressive, generous flavors that glorify the regional table and bring dimension, freshness and excitement to international cuisine. In addition, each of Domenica Ocone's wines is pure and individual, and each speaks eloquently of its place of origin. What more could you want? About 100 cases you say.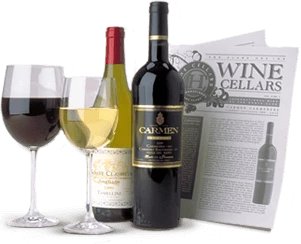 Enjoy Limited Production Estate
Bottled Wines
Discover limited production estate bottled wines such as Vergenoegd's internationally
acclaimed 2005 Cabernet Sauvignon, imported exclusively for our members.
DISCOVER OUR FOUR CLUBS