Nugan continues to craft one of the finest Chardonnays in Australia, as Nugan's 2016 Frasca's Lane King Valley Chardonnay will ably attest. The 2016 barrel-fermented Nugan Frasca's Lane Chardonnay first captures the eye with its beautiful sunny hue, but even more impressive is the wine's seductive aroma, redolent with a cornucopia of scents: citrus, melon, and peach, along with delectable hints of additional tropical fruits and spices. The wine's complex bouquet also re-emerges in the mouth, offering plenty of buttery fruit, a gorgeous texture, and a long, lingering finish that is enhanced but not overpowered by spending 14 months in French oak barrels. Rich and authoritative on the palate, yet lively and complex, this Chardonnay has the propensity to evolve in the glass with each sip, revealing layers of ripe fruit, subtle spice tones, and a refreshing minerality, all of which make for one fulfilling glass of Chardonnay. Enjoy this superb single vineyard Chardonnay moderately chilled (38°-45° F) now and often over the next year or two. Anticipated maturity: 2020-2023. Enjoy!
Nugan Estate's 2016 Frasca's Lane Chardonnay provides the ideal accompaniment to poultry, seafood, and plain old-fashioned sipping enjoyment. Ardent Chardonnay lovers will revel in this wine's beautifully textured fruit, extroverted personality and refreshing minerality, and many will opt to enjoy this well-made single-vineyard Chardonnay on its own from a fine thin glass. All well and good, but why not add to the enjoyment by pairing Nugan's flagship white wine with grilled Rainbow Trout encrusted with cornmeal and served with a light remoulade sauce and braised greens? Grilled Salmon Salad with a honey-balsamic reduction, strawberry peppercorn relish, and almonds offers good companionship, too. And Shrimp and Grits prepared with a mild chili glaze and creamy grits constitutes another one of our favorite choices to serve with Nugan's exceptional 2016 Frasca's Lane Chardonnay. Seared Tuna Niçoise and Potato Gnocchi with a sage and browned butter sauce make tasty partners, too, but then again most seafood, poultry and creamy pasta dishes will all be enhanced in the presence of Nugan's delicious 2016 Frasca's Lane Chardonnay, so no need to do anything but enjoy!
Nugan Estate is a third generation family owned and run winery, whose wines continue to impress in each and every vintage. Nugan began as a humble fruit and vegetable business in 1940 under the guidance of the estate's founder Alfredo Nugan, who had recently emigrated from Spain. Alfredo Nugan, however, had a clear vision for his family in Australia and quickly gained success and a reputation for outstanding quality, service, and innovation – qualities he passed along to his son Ken, Ken's wife Michelle, and his grandchildren Mathew and Tiffany who now run the estate. With the next generation and Australia's burgeoning wine industry, the leap from quality produce to fine wine was a natural one, which turns out to be the same path trodden by many of California's leading wineries, many of which began their ascent with fruits and vegetables.
Today, Nugan estate is the 18th largest vineyard holder in Australia with more than 2,500 acres of vines and it remains entirely family owned – a rarity in Australia where large corporations dominate the wine industry. Although Nugan owns a significant amount of vineyards, only a small fraction of the estate's grapes find their way into the Nugan Estate wine portfolio, wines such as Nugan's Frasca's Lane Vineyard Chardonnay from King Valley in Victoria (this month's feature).
In addition to the highly acclaimed Frasca's Lane Chardonnay, Nugan fashions exceptional Shiraz from various vineyards in McLaren Vale, South Australia and Riverina, New South Wales. The estate's Alfredo Dried Grape Shiraz, named for Nugan's founder, is one Australia's iconic wines. It is a very limited release that is made much like Amarone, one of Italy's most illustrious wines, which requires the harvesting of select grapes that are then dried on specialized racks to concentrate their flavor and intensity. The dried grapes are then pressed, fermented, and finally allowed to mature in American and French oak barrels for 12 months. The result is a very labor intensive, handcrafted wine of both power and grace.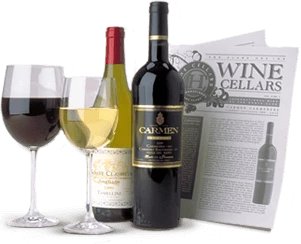 Enjoy Limited Production Estate
Bottled Wines
Discover limited production estate bottled wines such as Vergenoegd's internationally
acclaimed 2005 Cabernet Sauvignon, imported exclusively for our members.
DISCOVER OUR FOUR CLUBS