A purple potion made in the style of Italy's renowned ripassos, which are passed a second time over the Veneto's legendary Amarones, the 2014 Nugan Estate Alfredo Second Pass Shiraz (which has achieved 91 points from Antonio Galloni's Vinous) not only sports a deep, inviting color, it trumps many of Italy's more renowned ripassos in both aroma and concentration. With only a few minutes of aeration, Nugan's Alfredo Second Pass Shiraz offers up an enchanting bouquet of blackcurrant, dried cherry, rhubarb, and forest woodlands. Even more enticing is how this wine fills the mouth with an initial sense of concentrated fruit before showing its power in the form of ripe, grainy tannins, which continue to grace the palate even after the wine has been swallowed. Juicy, but not sweet, the 2014 Nugan Alfredo Second Pass Shiraz is a worthy compatriot to Italy's distinctive ripassos. Enjoy Nugan's Alfredo Second Pass Shiraz cool (55°-60° F) after a few minutes of aeration.
Like the finest Italian ripassos, the 2014 Nugan Estate Second Pass Shiraz is a wine to accompany a simple hearty meal or the very wine to end a special meal full of good conversation followed by a few flavorful crumbles of cheese and cracked nuts. Beef and game provide traditional pairings to serve with wines such as this. Short ribs braised in a hearty red wine or a bit of Nugan's Second Pass Shiraz and almost anything that comes off of the grill warrant two thumbs up. A perfectly grilled rib-eye or Florentine Steak is popular with this wine, but one need not be beholden to beef or any meat to enjoy the 2014 Alfredo Second Pass Shiraz. Mushroom or truffle laced risottos make tasty companions to ripasso style wines, too. Quail served with a fig infused balsamic vinegar sauce made with authentic 18 year old Modena balsamic vinegar provides another tasty, satisfying companion to Nugan's Second Pass Shiraz. Gorgonzola and aged Parmigiano Reggiano make splendid accompaniments, too, especially when served at the end of a meal. Enjoy!
Nugan Estate is the 18th largest winery in Australia with more than 2,500 acres of vines, but only a minute fraction of the very finest Shiraz grapes are used for the estate's Alfredo Second Pass Shiraz (this month's feature). The Alfredo Second Pass Shiraz is a limited release collection that pays tribute to Nugan's founder, Alfredo Nugan, who emigrated from Spain to Australia in 1940 with a clear vision for his family's new life in the Land Down Under. He built a legacy through innovation and strict quality control to become a pre-eminent supplier of superior produce, first to Australia and then to the world.
The Alfredo Second Pass Shiraz is sourced from the Nugan family's premium Australian vineyards and made with the traditional Italian Ripasso Method, a distinct, labor intensive method whereby after fermentation the wine is pressed onto the pomace and lees of Nugan's ultra-premium Alfredo Dried Grape Shiraz, which is akin to Amarone. Ripasso, which means re-passed, induces a second alcoholic fermentation that enhances the wine's already rich bouquet, concentration and intensity, without adding an excessive level of alcohol. Nugan's Alfredo Second Pass Shiraz is then allowed to mature in French and American oak for at least 12 months. Nugan's Second Pass Shiraz pays homage to the estate's founder and Italy's robust Ripasso Method, which is highly prized among Amarone producers.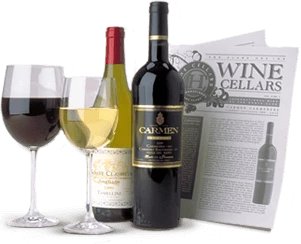 Enjoy Limited Production Estate
Bottled Wines
Discover limited production estate bottled wines such as Vergenoegd's internationally
acclaimed 2005 Cabernet Sauvignon, imported exclusively for our members.
DISCOVER OUR FOUR CLUBS