A deep purple potion made in the style of Italy's legendary Amarone, the 2013 Nugan Estate Alfredo Dried Grape Shiraz not only sports the deep, nearly impenetrable robe and power of traditional Amarone, it trumps many of Italy's more renowned Amarone in both aroma and depth of flavor. With only a few minutes of aeration, Nugan's Dried Grape Shiraz offers up an electrifying perfume of blackcurrant, dried cherry, rose petal, and forest woodlands. Even more satisfying is how this wine fills the mouth with layer upon layer of deep juicy liqueur-like flavors that satiate the senses. Thick and rich, but not sweet, the 2013 Nugan Alfredo Dried Grape Shiraz is a profound wine of spectacular fruit, velvety tannins, and a long satisfying finish that just won't quit. Not surprisingly, the highly allocated 2013 Nugan Alfredo Dried Grape Shiraz has garnered high praise from critics, including 92 Points from Stephen Tanzer. Enjoy this Amarone-style wine cool (60°- 62° F) now and for the rest of the decade. For optimum enjoyment, allow the 2013 Nugan Alfredo Dried Grape Shiraz thirty minutes of aeration before serving.
Like the finest Amarone, the 2013 Nugan Estate Alfredo Dried Grape Shiraz is a wine to accompany a hearty meal or the very wine to end a special meal along with good conversation and a few flavorful crumbles of cheese and cracked nuts. Beef and game provide traditional pairings to serve with wines such as this. Short ribs braised in Amarone or a bit of Nugan's Dried Grape Shiraz warrant two thumbs up. Wagyu Beef is popular with this wine, but one need not be beholden to beef to enjoy the 2013 Alfredo Dried Grape Shiraz. Mushroom or truffle laced risottos make tasty companions to the Alfredo Dried Grape Shiraz as do hearty pasta dishes. Roast Duck served with a rich fruit and balsamic vinegar sauce made with authentic 18 year old Modena balsamic vinegar provides another tasty, satisfying companion to Nugan's most exciting wine. Gorgonzola and aged Parmigiano Reggiano make splendid accompaniments, too, especially when served at the end of a meal. Enjoy!
Nugan Estate is the 18th largest winery in Australia with more than 2,500 acres of vines, but only a minute fraction of the very finest Shiraz grapes are used for the estate's Alfredo Dried Grape Shiraz (this month's feature). The Alfredo Dried Grape Shiraz pays tribute to Nugan's founder, Alfredo Nugan, who emigrated from Spain to Australia in 1940 with a clear vision of his family's new life in the Land Down Under. He built a legacy through innovation and strict quality control to become a preeminent supplier of superior produce, first to Australia and then to the world.
The Alfredo Dried Grape Shiraz is sourced from the Nugan Family's premium vineyards in McLaren Vale and Riverina. It is a very limited release that is made much like Amarone, one of Italy's most illustrious wines, which requires the harvesting of select grapes that are then dried on specialized racks to concentrate their flavor and intensity. Nugan's dried grapes are then pressed, fermented, and finally allowed to mature in American and French oak barrels for 12 months. The result is a very labor intensive, handcrafted wine of both power and grace with 15% alcohol.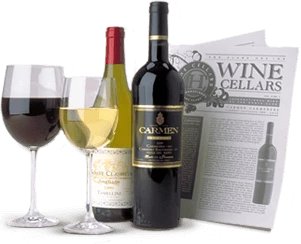 Enjoy Limited Production Estate
Bottled Wines
Discover limited production estate bottled wines such as Vergenoegd's internationally
acclaimed 2005 Cabernet Sauvignon, imported exclusively for our members.
DISCOVER OUR FOUR CLUBS