Wonderfully consistent from year to year, Nino Franco's Rustico Prosecco Brut NV presents an outstanding example of the exuberant Valdobbiadene style of Prosecco. It graciously embodies all that is good about spring in the Veneto and the fruits of the harvest. It offers up an aromatic cachet of pear, apple, and white peach, all of which are entwined in a delicate, round body. In addition, Nino Franco's Rustico offers a light, creamy mousse that sparkles and caresses, without ever trying to imitate Champagne. Although dry and refreshing on the palate, Rustico never slips into austerity; it doesn't pretend to be Chardonnay or Pinot Noir either and it remains forever lively and immediately gratifying. Moreover, the Nino Franco Prosecco Rustico Brut is a clean, natural tasting, "no headache" kind of sparkler that dances across the palate. It's also just plain fun to drink, as it goes down so easily that you will want to reach for another bottle, even before the first one is done. We suggest moderate chilling of the Nino Franco Rustico (37º-40° F).
Nino Franco Rustico Prosecco Brut remains the perfect anytime sparkler. In the Veneto, good sparkling Prosecco is an afternoon tradition, beginning with a fine lunch or simply as a toast to the end of another busy day. Prosecco also provides the sparkle to any evening get-together or romantic interlude, so whatever your fancy, the Nino Franco Rustico provides the perfect companion to all of those events and more. It also makes for a wonderful aperitif, and it pairs well with light hors-d'oeuvres, too. We can also extol its virtues with risotto, fish, and light meats. Shrimp, scallops, sautéed shellfish, and lightly fried tempura dishes offer other tasty propositions with the Nino Franco Rustico. Furthermore, this Prosecco is a fine way to wash down roast chicken or turkey. With eminent drinkability and a friendly welcoming spirit, the Nino Franco Rustico is an authentic crowd pleaser. This wine also makes it easy to see why Prosecco is undeniably the wine of the Veneto and Primo Franco is its favored son.
Note: Nino Franco Prosecco is the original Prosecco, which was first served at Harry's Bar in Venice in the early 20th century. It is also worth mentioning that Nino Franco Rustico when mixed with white peach juice provides the authentic Bellini.
The Nino Franco Winery is located in the upper reaches of the Veneto in the province of Venice. Here, the Alps begin their ascent and the great Adige and Piave Rivers lie far to the south. This is Valdobbiadene, about as far from Venice as one can go and still be in the Veneto – an enclave of viticultural excellence that lies nestled among the foothills of the Italian Alps. Valdobbiadene also happens to be Italy's finest production zone for Prosecco, Italy's most ebullient bubbly, and Primo Franco is the region's consummate craftsman.
Nearly two decades ago, Primo Franco took over this sparkling wine estate from his father, Nino Franco, and invested heavily in improvements to the winery and vineyards. The result has been the transformation of this estate into Valdobbiadene's foremost producer of sparkling Prosecco – much to the delight of the estate's legions of fans.
Although Prosecco can be made sparkling or still, the emphasis in Valdobbiadene, as in most of the Veneto, is on dry, lightly sparkling versions like Nino Franco Rustico. Primo Franco fashions several exciting sparkling Prosecco wines in addition to Rustico and an excellent still Prosecco called Sassi Bianchi. Only Prosecco is produced at Nino Franco, allowing the house to concentrate on what it does best – make delicious, quaffable Prosecco.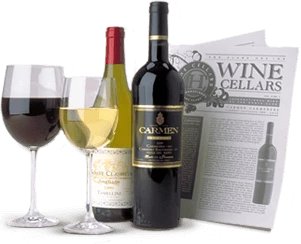 Enjoy Limited Production Estate
Bottled Wines
Discover limited production estate bottled wines such as Vergenoegd's internationally
acclaimed 2005 Cabernet Sauvignon, imported exclusively for our members.
DISCOVER OUR FOUR CLUBS