Exuberant and fresh like spring, the Nino Franco Prosecco Rustico Brut NV embodies all that is good about an awakening land or the fruits of the harvest. It proffers the scents of pear, apple, and white peach, all of which are entwined in a delicate, round body. In addition, what makes the Rustico even more appealing is that it sparkles and caresses, without ever trying to imitate Champagne. Although dry and refreshing on the palate, the Nino Franco never slips into austerity; it doesn't pretend to be Chardonnay or Pinot Noir either, and it remains forever lively, sprite, and wholly approachable. Moreover, the Nino Franco Prosecco Rustico Brut is a clean, natural tasting, "no headache" kind of sparkler that is just plain fun to drink. In fact, the Nino Franco Rustico goes down so easy that you will want to reach for another bottle, even before the first one is done. Indeed, many will be surely tempted to open a second bottle to share with others or drink by themselves – horrors! We suggest you enjoy the Nino Franco Rustico often and fairly well chilled, at approximately 40° F.
Nino Franco Prosecco Rustico Brut remains the perfect anytime sparkler. In the Veneto, good sparkling Prosecco is an afternoon tradition, beginning with a fine lunch or simply as a toast to the end of another busy day. Prosecco also provides the sparkle to any evening get together or romantic interlude, so whatever your fancy, the Nino Franco Rustico provides the perfect companion to all of those events and more. It also makes for a wonderful aperitif, and it pairs well with most light hors-d'oeuvres. We also suggest that you try it with risotto, fish, and light meats. Shrimp, scallops, sautéed shellfish, and lightly fried tempura dishes offer other tasty propositions with the Nino Franco Rustico. Furthermore, this Prosecco is a fine way to wash down Thanksgiving dinner and all the trimmings. With such an eminent drink ability and friendly welcoming spirit, the Nino Franco Rustico is truly a crowd pleaser, making it easy to see why Prosecco is undeniably the wine of the Veneto and Primo Franco its favored son.
The Nino Franco Winery is located in the upper reaches of the Veneto, the province of Venice. Here the Alps begin their ascent and the great Adige and Piave rivers lie far to the south. This is Valdobbiadene, about as far from Venice as one can go and still be in the Veneto – an enclave of viticultural excellence that lies nestled among the foothills of the Alps. Valdobbiadene also happens to be Italy's finest production zone for Prosecco, and Nino Franco is its consummate craftsman. A decade ago, Primo Franco took over this sparkling wine estate from his father, Nino Franco, and invested heavily in improvements to the winery and vineyards. The result has been the transformation of this estate into the region's foremost producer of sparkling Prosecco – much to our delight. In addition to fashioning Valdobbiadene's premier Prosecco, Primo Franco takes an active part in governing the Prosecco DOC, setting high standards of quality for Italy's most beloved sparkling wine and assuring the preeminence of the region's vineyards as the most meticulously tended in Italy. Prosecco is a native Italian varietal, which deserves the beloved status it has long been accorded in Italy as well as the recent attention it is finally garnering abroad. In its native Veneto, Prosecco is the symbol of Venetian conviviality and a staple in every welcoming home. It is routinely offered to houseguests and served at nearly every wedding and Sunday luncheon. From any afternoon affair to the wee hours of the morning to the occasional sip before lunch, life in the Veneto would simply not be the same without Prosecco. From Venice to the Dolomite Alps, Prosecco is undeniably the wine of the Veneto. Although Prosecco can be made sparkling or still, the emphasis in Valdobbiadene, as in most of the Veneto, is on beautiful, dry, lightly sparkling versions like the Nino Franco Rustico. However, it is with Prosecco's predominance as a sparkling wine that the inevitable comparison with Champagne ends. DOC regulation allows for a wide range of styles and techniques, resulting in a host of fresh, delicious bubbly that is meant to be consumed young, and with abandon. Alcohol levels for Prosecco are typically lower than for Champagne, too, usually no more than 10.5%-11%. In most Prosecco, the mousse (bubbles) is intentionally soft and non-aggressive, to heighten rather than mask natural fruit flavors. Austere, bone-dry examples as well as slightly sweet sparkling versions of Prosecco can still be found, but such wines are very much the exception today rather than the rule. Today, most Proseccos are light and pleasantly dry, but without the high acidity of Champagne or even worse its cheap imitations. Most Prosecco producers, Nino Franco included, make several different Prosecco wines. In addition to the Rustico, Nino Franco's most popular wine, this firm turns out two other excellent sparkling wines from Prosecco and a lovely still Prosecco called Sassi Bianchi. No other wines are produced at Nino Franco, allowing this great house to concentrate on what it does best – make delicious, quaffable Prosecco that will make an aficionado out of even the most ardent opponent of Champagne.
Note: Nino Franco Prosecco is the original Prosecco, which was first served at Harry's Bar in Venice in the early 20th century. It is also worth mentioning that Nino Franco Rustico when mixed with white peach juice provides the authentic Bellini. And as with any sparkling wine, please exercise caution in opening the Nino Franco Rustico as the wine is under pressure. When opening, always firmly hold the cork and wire stopper under a clean cloth, while pointing the bottle away from anyone or anything fragile. Then gently ease the cork out with thumb and forefingers. Salut!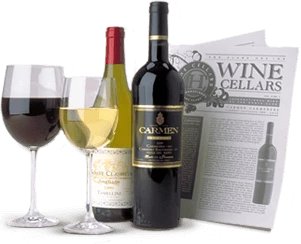 Enjoy Limited Production Estate
Bottled Wines
Discover limited production estate bottled wines such as Vergenoegd's internationally
acclaimed 2005 Cabernet Sauvignon, imported exclusively for our members.
DISCOVER OUR FOUR CLUBS