The 2013 Nidia Rueda Verdejo continues Nidia's great success with Verdejo and establishes Nidia and as one of the finest and most consistent boutique producers of this varietal. The 2013 Nidia Verdejo first catches the eye with its attractive color, a pale bright yellow that reflects the vibrant Castilian sun. Verdejo such as this recalls an illuminated Spanish countryside with its undulating rows of vines and olive trees that shimmer and wave in the breezes that sweep Spain's vast meseta. A wine delicate in aroma with the fresh scents of orchard fruits and citrus that appear infused with a crystalline minerality, it becomes impossible not to want to take a long draught of this Nidia Verdejo. Bright, clean, savory flavors enliven the mouth to slake the thirst and satisfy the palate. Medium–bodied but long on flavor and varietal character, the 2013 Nidia Verdejo becomes one easy wine to drink as it is both refreshing and savory at the same time. Enjoy Nidia's quintessential Verdejo well chilled or just cool. We enjoyed this wine iced cold, but we found it even more attractive at 40°-45° F, so as you like. Enjoy!
Rueda Verdejo provides an ideal complement to all kinds of fish, seafood, tapas, and cheese, to which the 2013 Nidia Rueda Verdejo gladly responds. Yet, we suggest you first enjoy Nidia's versatile Verdejo au naturel as an aperitif, before introducing anchovy or pimento stuffed green olives, Chorizo sausage or other condiment. Then after the tapas, serve the scallops, shrimp or prawns prepared Provençal style in a heady white wine, garlic, and tomato sauce. Fish soups and seafood tacos work well, too, with Nidia's fresh, balanced flavors. Calamari Frito and fish & chips offer other rewarding complements to this wine. Cod, either fresh or dried (baccalà), offers a tasty traditional pairing to enjoy with the 2013 Nidia Verdejo. Crab Cakes, sushi and sashimi pair nicely, too. Melon wrapped in prosciutto, or better still, wrapped in thin slices of Spain's peerless Jamon Ibérico, offers yet another delectable pairing. And then there is cheese: Appenzeller, English Cheddar, or almost any Spanish cheese will complement Nidia's bright, clean flavors.
One of the greatest rewards in the world of wine is discovering well-made, gratifying wines from little-known wineries. One such wine is Bodegas Nidia's Rueda Verdejo. Bodegas Nidia is a tiny winery founded in 2005 that devotes itself to the production of Rueda's ancestral grape – Verdejo. Bodegas Nidia cultivates a mere 12 acres of Verdejo vines that average nearly 30 years of age, from which they produce a delicious, full-bodied 100% Verdejo. Bodegas Nidia fashions traditional Verdejo, a wine that embodies the grape's full, ripe varietal character.
Verdejo is a premium white grape that has long been cultivated in Spain. Although its spiritual home is Rueda, an important viticultural area northwest of Madrid in an historic part of Spain's ancient province of Castilla y León, Verdejo's origin is believed to be North Africa. Verdejo likely arrived in Rueda with the Moors sometime prior to the 11th century. The grape played an important part in resettling Rueda after the 11th century Reconquest of Castilla when King Alfonso IV offered freehold ownership of land to those prepared to resettle Rueda. Verdejo thrived in Rueda until the 19th century when phylloxera decimated the region. Fortunately, Verdejo was saved from extinction and re-planted widely throughout Rueda in the 1970s. With the advent of modern wine equipment, Verdejo has never been better. It produces a smooth, highly aromatic wine that is rich in varietal character.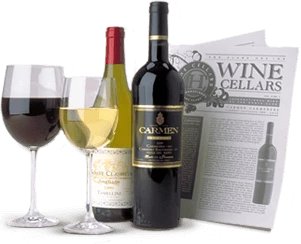 Enjoy Limited Production Estate
Bottled Wines
Discover limited production estate bottled wines such as Vergenoegd's internationally
acclaimed 2005 Cabernet Sauvignon, imported exclusively for our members.
DISCOVER OUR FOUR CLUBS