An authentic Champagne, the Nicolas Feuillatte Brut NV is delightfully creamy, light, lovely, and round — all at the same time. There is no harsh bite or acidic overload: the Feuillatte Brut is the real deal. Scents of golden apples and freshly baked bread straight from the oven are brought to life in a steady stream of pinpoint bubbles that gently caress the nose and the palate. Soft, seductive, and ohhh so easy to drink, the Feuillatte Brut courses quickly down the gullet and begs the tongue for more. We strongly suggest that this Champagne, like all sparkling wines under pressure, be well chilled (40° F) before opening and serving. Once in the glass one can allow the wine to open slowly as it sheds the chill. Anticipated maturity; now-2008. Enjoy!
Given Champagne's image as the Belle of Ball, we heartily suggest serving the comely Nicolas Feuillatte NV Brut as an aperitif or as the "opening act" for a great party. What more could one ask than to sip this wine the whole night through? Yet, true Champagne, not the legion of bubbling pretenders, is a true food wine as well one of the world's finest aperitifs. Consequently, we suggest serving the Nicolas Feuillatte Brut with Smoked Salmon with capers, onion, and a soft spread of cheese. A light Salmon Mousse could double here as well. Salmon and Champagne seem to have a natural affinity and provide all the food many seafood lovers ever need to be ecstatic. Hors d'oeuvres, cheeses, stuffed mushrooms, and most salty foods provide equally satisfying accompaniments to fine Brut Champagne. Grilled or sautéed fish, shellfish, light meats, and even most fruit and vegetable medleys offer wonderful accompaniments to the Feuillatte Brut, too. This brings us to the panel's sole caveat: Brut Champagne (dry Champagne) is designed to be drunk before or with a meal, not afterwards or with dessert. Waiting to serve dry Champagne at the end of an evening or celebration is the primary reason some people choose not to imbibe. Sweet or sugary concoctions tend to throw Brut Champagne off balance, so enjoy this Nicolas Feuillatte Brut early in the evening for optimum enjoyment. Salut!
Editor's Note: Champagne is a wine that is under pressure. It should always be well chilled before opening. Always exercise caution when opening a bottle of sparkling wine. Point the bottle away from people and objects. Use a clean towel or clothe to firmly grip the bottle. Gently remove the wire stopper while firmly holding the cork in place. Then with thumb and forefinger, remove the cork slowly from the bottle. Do not let the cork fly. Enjoy! By Champagne standards, with centuries of tradition, legend and lore behind it, Nicolas Feuillatte is a relative newcomer. Founded in 1976 by the Feuillatte brothers, Nicolas Feuillatte Champagne has quickly become one of the hottest selling and most critically acclaimed brands of Brut Champagne in the United States, and with good reason. Nicolas Feuillatte consistently fashions authentic, smooth, flavorful, crowd pleasing Champagnes that reflect the special nature and unique terroir of Champagne itself. Today, Nicolas Feuillatte is part of the Centre Vinicole de la Champagne, one of Champagne's largest unions of producers. Centre Vinicole de la Champagne's access to over 4,500 acres of prime Champagne vineyards on the Côtes de Blancs, the Montagne de Reims, in the Vallée de la Marne, and elsewhere ensures the highest quality product year in and year out, a critical factor for true Champagne which is rarely vintage labeled. Feuillatte's flagship wine is its excellent Brut Non Vintage Champagne. However, Nicolas Feuillatte also produces several other excellent sparkling Champagnes, including a very fine Brut Rosé and a special series of vintage Tête de Cuvée wines under the Palmes D'Or label. Champagne: More Than a Wine Champagne is an ancient province of France, a pastoral land of meadows and streams and most importantly chalk hills upon which some of the world's choicest grapes are grown. Champagne's boundaries are delimited by law and its wines strictly regulated by the laws of Appellation Contrôlée as to permitted grape varieties (primarily Chardonnay and Pinot Noir), yield, production, and quality. Yet, Champagne is more than a place; it is also a wine. In fact, Champagne is several different wines — only the most recognizable of which is white and bubbly. Although Champagne can be still or sparkling, white or red, and even rosé, the wine the world has come to know as Champagne is always sparkling. So synonymous now is the name Champagne with sparkling wine that the nomenclature has been applied generically and indiscriminately to any wine that bubbles, much to the regret of the Champagne producers themselves. Authentic Champagne comes only from the Champagne district of France and meets all the approved legal requirements and standards of production, including absolute adherence to the painstaking Methode Champenoise, which requires that secondary fermentation take place in the bottle for sparkling Champagne. The magic of Champagne (the bubbly kind at least that now encompasses the overwhelming majority of wine produced in Champagne) comes from encapsulating the bubbles in the very bottle in which the wine starts its life. In the old days, long before the advent of technical wine equipment, temperature control, and central heating, the slow fermentation of grapes in the cool Champagne autumn was often interrupted by winter's chill. With the onset of winter, fermentation would stop completely or at least appear to cease, so the wine was bottled and prepared for distribution. However, the following spring temperatures would rise and the fermentation process would begin anew. This delayed completion of fermentation is known as secondary fermentation. Secondary fermentation produces the beautiful bubbles and tiny streams of carbon dioxide that have come to enchant several centuries of well wishers and hedonists. What began as serendipity is now one of the wine world's highest art forms. Since the 17th century several historical personages have contributed to the development of Champagne. None is more renowned than Dom Perignon, the legendary blind monk and cellar master of the Champagne Abbey of Hautviller. Although Dom Perignon is often credited with the development of sparkling Champagne itself, the truth is he probably learned the rudimentary technique in southern France from the Benedictine monks at the Abbey at St. Hilaire. However, Dom Perignon was renowned as a master blender and he is credited with capturing the bubbling magic of Champagne by his introduction of wire wrapped cork stoppers and heavier, specially made bottles that contained the pressure of Champagne. Until his improvements were instituted, sparkling Champagne was known as vin diable (the devil's wine) because of its propensity for exploding its container — a potentially lethal proposition that surely rendered more than one monk blind. Along with Dom Perignon, Frère Oudart and later the widow Clicquot are the other two historical figures who share in the development of the Champagne Process. Frère Oudart was a contemporary of Dom Perignon and did much to improve the bottling techniques of sparkling wine. Meanwhile, the 19th century widow Clicquot is revered for her development of remuage or riddling in which each individual Champagne bottle is turned in specially made upright desks known as pupitres, so that the proliferation of sediment and dead yeast cells that naturally occur in Champagne would slide to the neck of the bottle and be released during what is referred to as disgorgement. Thanks to centuries of improvements and some of the first true brand name marketing, Champagne enjoys a special place in western culture. Champagne has been called the Belle of the Ball and has come to symbolize conviviality, hope, and all that is good in life and love. What would a wedding or any other festivity be without Champagne? But why wait for an occasion? Champagne is the perfect way to start an evening, so what are you waiting for? Pop the cork and join in the fun!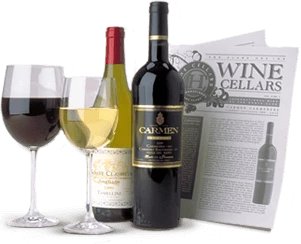 Enjoy Limited Production Estate
Bottled Wines
Discover limited production estate bottled wines such as Vergenoegd's internationally
acclaimed 2005 Cabernet Sauvignon, imported exclusively for our members.
DISCOVER OUR FOUR CLUBS