The 2002 Murphy-Goode Wildcard remains true to the estate's commitment to fashion fleshy hedonistic wines that offer ample pleasure from their inception. The 2002 Wildcard is richly colored and laden with charm. The aroma of fresh blackberry, mingled with spice and toasted barrel, is the first indication that the consumer's enjoyment is this wine's total reason for being. And the best is yet to come as each sip of the 2002 Wildcard reveals a variety of velvety, mouth coating flavors. From start to finish, plenty of rich fruit and toasted oak tantalize the gullet and fill the senses, so before you know it, the bottle is gone. If ever there was a meritage wine to conjure the full gamut of Dionysian delights, the 2002 Murphy-Goode's Wildcard fits that bill. So be careful who you invite over to share the pleasure. Consider yourself forewarned, and enjoy!
When one considers the overall body, balance, and hedonistic style of the 2002 Murphy-Goode Wildcard, a multitude of complements come to mind. We recommend this wine with a myriad of dishes, most notably Steak au Poivre, accompanied by traditional Lyonnaise Potatoes. Grilled rosemary and thyme encrusted lamb chops or a stuffed veal chop provide other wonderful pairings. However, we should not forget that Wildcard is made with sophisticated every day consumption in mind, so a Monday meat loaf, Wednesday's beef barley soup, or Thursday's take-in rotisserie chicken from the nearby market offer equally rewarding choices with this delicious wine. Also, Wildcard is terrific all by itself, unlike many other meritage offerings, which are all too frequently long on body but short on balance and instant gratification. Not so with the Murhpy- Goode. In fact, the 2002 Wildcard is one of the most enjoyable and user friendly meritage wines we have ever tasted, so as you like it.
Since its inception in 1985, the Murphy-Goode winery has consistently turned out a formidable portfolio of compelling wines at affordable price. This unique family venture, an enterprise some have described as an adventure as well as a model in cooperative excellence and marketing acumen, fashions some of California's most pleasurable, user-friendly wines. Even with more than 300 acres of prime Sonoma County vineyards, Murphy-Goode remains a family owned and operated winery – a joint undertaking of two neighbors and long time family friends and grape growers, Tim Murphy and Dale Goode, along with their marketing guru pal Dave Ready. All three families still actively tend the vineyards, make the wine, and handle all sales and marketing for this estate, much to the chagrin of less adept competition. From the beginning the three partners shared a singular mission: to make excellent wine from exceptional grapes, and "produce something that brings to mind a three-day weekend." Now these are our kind of folks. And as true gentlemen, these guys and now their families have been true to their word as well as their mission. Indeed, it is hard to get enough of their delicious wines. Initially, Murphy-Goode gained recognition for its bold, full throttle Fumé Blanc, which it still produces, but today the winery is more renowned as one of Alexander Valley's best red wine producers, with gold medal winning Cabernet Sauvignon, Merlot, Liar's Dice Zinfandel and Pinot Noir, which complement the estate's great Reserve Fume, Chardonnay, and Gewürztraminer. Murphy-Goode's newest release is Wildcard, an outstanding meritage blend of Cabernet Sauvignon, Merlot, and Cabernet Franc. The winery draws on estate hillside vineyards and prime bench land grapes for its reserve wines, utilizing minimal intervention and natural farming techniques to produce wines that are truly special, like a long three-day weekend. And when was the last time you heard anyone complain about having a three-day weekend! Regrettably, Tim Murphy passed away a few years ago, but as Murphy-Goode has always been a family affair, neither the estate's commitment to quality nor its style of wine has changed. Tim's three sons continue to handle much of the day to day management of the vineyard, while Dave Ready's sons still make up the formidable wine making team. Dave Ready, Jr. is Winemaker, while his younger brother, Adam, serves as Cellarmaster. Dale Goode and Dave Ready, Sr. still put in a full day as well. The continued success of Murphy-Goode is a fine tribute to Tim Murphy, one of the premier architects of the post prohibition Renaissance viticulture in Sonoma County. Long live the legacy!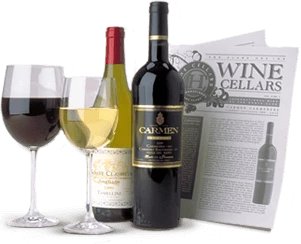 Enjoy Limited Production Estate
Bottled Wines
Discover limited production estate bottled wines such as Vergenoegd's internationally
acclaimed 2005 Cabernet Sauvignon, imported exclusively for our members.
DISCOVER OUR FOUR CLUBS