Barrel-fermented and aged like a fine Chardonnay, the 1998 Murphy-Goode Pinot Blanc exhibits a rich robe, a cachet of heavenly scents reminiscent of a spice box, and a bold, rich flavor that is infused with citrus and lemon zest. This is no wimpy, self-effacing white wine. In other words, don't serve it to Great-Grandma Dotty unless you want to do the old girl in...well, on second thought it might do the old girl some good, put a little pep back into the prig so to speak.. In any event, you've been forewarned. Enjoy!
Bold, rich flavors pose no threat to the 1998 Murphy-Goode Pinot Blanc. We have enjoyed everything from Alsatian style pork chops smothered in sage, sauerkraut, caraway seeds and beer to Hunan Chicken and Moo Shu Pork. Grilled, marinated vegetables or a creamy, garlic-laden Caesar salad also make for wonderful accompaniments to the Murphy-Goode Pinot Blanc. Shellfish, especially oysters and clams are other natural choices for this well-structured, delightfully tasty wine, redolent with the scent of an exotic bazaar.
The International Wine of the Month Club prides ourselves on the variety of our international wine selections, as well as the quality and value that we consistently offer our members. Rarely, do we feature a winery more than once, and based upon the comments from you, our faithful clientele, we enjoy a reputation for our award winning selections that is unparalleled among clubs. With this in mind, we made the decision to feature yet another Murphy-Goode wine, knowing we may never have the opportunity again. Regrettably, this will more than likely be the last chance any of us will have to enjoy the Murphy-Goode Pinot Blanc, a wine that critics have accurately labeled "one of California's greatest Pinot Blancs". Recently, the decision was made at Murphy-Goode, and not lightly, we have been told, to halt production of this uncommon varietal, which has achieved singular quality when grown in the gravelly soils bordering the Russian River. Whether the winery will retain the rights to their prime Pinot Blanc vineyard or not we do not know, but as adults (we're all over 21 years of age), we realize that...Alas, all "goode" things must come to an end. At least we have had the opportunity and good fortune to say a proper goodbye, before moving onto new friends. Murphy-Goode Winery is a unique partnership of three families. Two decades ago, long time Sonoma County grape grower, Tim Murphy, owner of the 200 acre Murphy Ranch and his good friend and neighbor, Dale Goode, former vineyard manager for Alexander Valley Vineyards, joined forces and families to found Murphy-Goode. Recognizing the need to intelligently market their wines, they invited marketing guru, Dave Ready, another old friend to join them. Today, all three families, sons and daughters and assorted others work side by side to produce some of California's most compelling wines. Dedicated to producing wines of outstanding quality and incomparable value from environmentally friendly farming practices, Murphy-Goode winery has become the beacon on the hill. While many California wineries continue to struggle with consistency, as well as the contemporary penchant for greed (prices for many a mediocre California offering have doubled in recent years), Murphy-Goode has steadfastly resisted madness and false pride by continuing to maintain and improve quality and by steadfastly refusing to gouge consumers. Obviously, Murphy-Goode's assembly of partners, family members and dedicated employees (Christina Benz is one of California's most talented winemakers) significantly figure in this winery's success. If ever there were a case for the old adage "wine is made in the vineyard", it could be made at Murphy-Goode, where incomparable grapes, grown naturally and tended meticulously, consistently find their way into the bottle unscathed. Presently, Murphy-Goode produces a host of award winning white wines: Chardonnay, Fume Blanc (dry Sauvignon Blanc), Gewürztraminer, and for the moment, an incomparable Pinot Blanc. Among the red varietals, Cabernet Sauvignon, Merlot and Zinfandel carry the banner of this estate's success.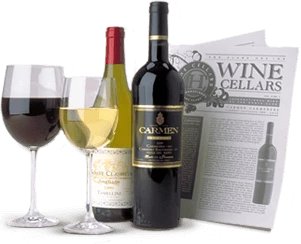 Enjoy Limited Production Estate
Bottled Wines
Discover limited production estate bottled wines such as Vergenoegd's internationally
acclaimed 2005 Cabernet Sauvignon, imported exclusively for our members.
DISCOVER OUR FOUR CLUBS