The 2000 Murphy-Goode Reserve Fume is a substantial Sauvignon Blanc, amply endowed with both flavor and stature, thanks to a high percentage of the highly charged Musque clone of Sauvignon Blanc. Rich in color and highly aromatic, this Fume offers up copious quantities of melon, passion fruit, pineapple, and lush spicy oak in its hedonistic bouquet. Equally plush and rich on the palate, this full-bodied Sauvignon has the weight and feel of a great Chardonnay, but with the crisp cache of spice that makes the very best Sauvignon Blanc wines so eminently appealing. No watery, grassy little Sauvignon Banc need apply at the door of the Murphy-Goode Winery; only heady, physiologically ripe fruit that can stand up to barrel fermentation and an eight month hiatus in French oak barrels can qualify for this estate's top notch Reserve Fume. If this Fume Blanc doesn't make an impression on you, no Fume will. Enjoy the 2000 Murphy-Goode Fume Sauvignon Blanc moderately chilled, but not ice cold as some of the hedonistic pleasure of this statuesque wine is lost in the numbness of over chilling, but, alas, all one has to do to conjure the full Dionysian delight in this wine is to let it warm up awhile in the glass ' that is if you don't finish the bottle first.
Considering the body and fleshy style of the 2000 Murphy-Goode Reserve Fume, a multitude of complements abound. First, this succulent Fume is terrific all by its lonesome; yet, it is no shrinking violet with hard to pair dishes. And it's terrific with standard fare, too. It's nice to have dinner with someone who is easy to please and would never be described as a Prima Dona. We have enjoyed Murphy-Goode's Fume immensely with Vietnamese Spring Rolls, Hunan Chicken, and a whole Crispy Fish. Another panel-endorsed favorite is a Three Bean Chile, either with meat or vegetarian style. Grilled seafood provides other memorable pairings, as does a spicy Roast Loin of Pork, served with Spinach Wraps. Enjoy!
Since its inception in 1985, Murphy-Goode has consistently turned out a vast portfolio of compelling wines at affordable prices from a unique family venture ' an enterprise some have described as an adventure in cooperative excellence and marketing acumen. With more than 300 acres of prime Sonoma County vineyards, Murphy-Goode is the family owned and operated winery of two neighbors and long time family friends and grape growers, Tim Murphy and Dale Goode, along with marketing guru Dave Ready. All three families actively tend the vineyards, make the wine, and handle all sales and marketing for this estate, much to the chagrin of less adept competition. Tim Murphy and Dale Goode are known as pioneers in Sonoma County viticulture. Both men planted some of the first premium variety vineyards in Sonoma in the 1960's, the first such venture since before Prohibition. First and foremost, Tim and Dale shared a passion for farming and grape growing, and they took enormous pride in producing outstanding fruit. The two men, along with Tim's three sons, became business partners in 1980 when they leased a vineyard in Sonoma County's Alexander Valley. Subsequently, the dynamic duo teamed up with renowned wine marketer Dave Ready, and in 1985 the three families formed a family owned winery in Alexander Valley. From the beginning the three shared a singular mission: to make excellent wine from exceptional grapes, and 'produce something that brings to mind a three day weekend.' Now these are our kind of folks. And as true gentlemen, these guys have been true to their word as well as their mission. First known for its Fume Blanc, Murphy-Goode is now recognized as one of Alexander Valley's best red wine producers as well, with gold medal winning Cabernet Sauvignon, Merlot, 'Liar's Dice' Zinfandel and Pinot Noir, which complement the estate's great Reserve Fume, Chardonnay, and Gewürztraminer. The winery draws on estate hillside vineyards and prime bench land grapes for its reserve wines, utilizing minimal intervention and natural farming techniques to produce wines that are truly special, like a long three day weekend. Hurray! Regrettably, Tim Murphy passed away last year, but as Murphy-Goode has always been a family affair, nothing has changed in regard to the estate's wine. Tim's three sons continue to handle much of the day to day management of the vineyard, while Dave Ready's sons still make up the formidable wine making team. Dave Ready, Jr. is Winemaker and his younger brother, Adam, serves as Cellarmaster. Dale Goode and Dave Ready, Sr. still put in a full day as well. Nevertheless, California continues to mourn the loss of one of the funniest and most gregarious personalities in the world of wine: Indeed, Tim was a legend. Fortunately, he left his legacy intact, and in capable hands. We all owe Tim a debt of thanks.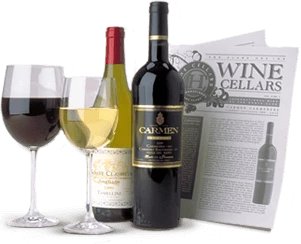 Enjoy Limited Production Estate
Bottled Wines
Discover limited production estate bottled wines such as Vergenoegd's internationally
acclaimed 2005 Cabernet Sauvignon, imported exclusively for our members.
DISCOVER OUR FOUR CLUBS