The 2003 Murphy-Goode All In Claret is a tour de force in winemaking. To put it simply, All In is "all there" and then some. All In is a blend of Murphy-Goode's finest lots of Cabernet Sauvignon, Merlot, and Petit Verdot, and like all of Murphy-Goode's wines it is already approachable and quite seductive, even at a mere three years of age. Although early drink ability and the capability to age and develop additional complexity are the calling cards of all Murphy-Goode reds, All In takes this estate's red wine program to the next level. If California had a Grand Cru ranking similar to that of Bordeaux, the 2003 All In would be one of the chosen few. All In combines the rich, ripe fruit for which California is famous with the suave, sophisticated European elegance and style that characterize the finest wines of Bordeaux. Plenty of blackberry fruit, crème de cassis, pain grillé, vanilla, and smooth new oak await those fortunate enough to come by this very limited production claret or meritage offering. We suggest serving the exemplary 2003 All In fairly cool (60°-66° F), after at least an hour of aeration. Anticipated maturity: 2007-2014. Enjoy!
The 2003 Murphy-Goode All In Claret resembles a classified Bordeaux as much as it does a top notch California Cabernet blend, offering a multitude of possibilities for food pairings. Given All In's strength and vigor, we suggest red meats, game, and wild turkey as first responders and accompaniments. Specifically, Prime Rib, Venison Tenderloin, and Loin Lamb Chops have all received rave reviews with All In. For a simple but delectable treat, brush the lamb chops with extra virgin olive oil, finely chopped garlic, fresh mint, and rosemary before grilling, and then allow the All In to breathe and open in the glass until dinner is done. Almost any cut of good steak can be substituted for lamb chops as well. Duck à l'Orange or duck prepared with a plum or blackberry sauce plays to the Bordeaux or claret side of this wine and brings out the best in All In, too. However, one should never lose sight of the fact that Murphy-Goode's wines are made with good old-fashioned drinking in mind, so All In will complement both simple and sophisticated dinner party fare and even provide a solitary respite from life's drudgery, so as you like it!
Since its inception in 1985, the Murphy-Goode winery has consistently turned out a formidable portfolio of compelling wines at affordable prices. This outstanding Alexander Valley property also has a super luxury, proprietary Meritage that answers to the name All In. To its credit All In doesn't take a back seat to any luxury proprietary wine from California. And as mind-boggling as it may be, the Murphy-Goode winery keeps raising the bar on quality with each successive vintage. Murphy-Goode is a unique family venture, an enterprise some have described as an adventure as well as a model in cooperative excellence and marketing acumen. Call it what you will, this superb Sonoma County winery fashions some of California's most pleasurable wines at any price. Moreover, even with more than 300 acres of prime Sonoma County vineyards, Murphy-Goode remains a family owned and operated winery — a joint undertaking of two neighbors and long time family friends and grape growers, the Murphy's and the Goode's, along with their marketing guru pal Dave Ready. All three families still actively tend the vineyards, make the wine, and handle all sales and marketing for this estate — much to the chagrin of the less adept competition. From the beginning the Murphy, Goode, and Ready families have shared a singular mission: to make excellent wine from exceptional grapes, and "produce something that brings to mind a three-day weekend." Now these are our kind of folks. Who doesn't like three-day weekends? Stand up and be counted, and we'll cart you off to the asylum. And as true friends, the three families have been good to their word as well as their mission. Indeed, it is hard to get enough of Murphy-Goode's delicious wines — even over a three-day weekend. In the 1980s, Murphy-Goode first gained recognition for its bold, full throttle Fumé Blanc, which it still produces, but today the winery is even more renowned as one of Sonoma County's best red wine producers, with gold medal winning Cabernet Sauvignon, Merlot, Liar's Dice Zinfandel, and Pinot Noir to complement the estate's white wine portfolio of Reserve Fumé, Chardonnay, and Gewürztraminer. In addition, Murphy-Goode's has introduced Wildcard, a plush blend of Cabernet Sauvignon, Merlot, and Cabernet Franc and All In, a luxury meritage offering that highlights the very best that Sonoma County's Alexander Valley can produce. Murphy-Goode draws its fruit exclusively from estate hillside vineyards and prime bench land grapes for its reserve wines, utilizing minimal intervention and natural farming techniques to produce wines that are truly special, like a long three-day weekend. And when was the last time you heard anyone complain about having a three-day weekend?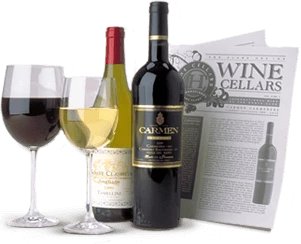 Enjoy Limited Production Estate
Bottled Wines
Discover limited production estate bottled wines such as Vergenoegd's internationally
acclaimed 2005 Cabernet Sauvignon, imported exclusively for our members.
DISCOVER OUR FOUR CLUBS