A delightful blend of Monastrell, more commonly known as Mourvèdre (50%), Merlot (30%), and Tempranillo (20%), the 2003 Muri Veteres showcases the attributes of Jumilla: charm, flavor, and a youthful exuberance that is hard to beat. Yet, so majestically colored in a royal purple robe, one could easily expect a tannic monster whose only attributes are power and strength, but the Muri Veteres quickly disarms the wary taster with a hedonistic set of aromatics that include a luscious array of red and black fruits, cedar, sandalwood, and chocolate. Ripe, dense, and made for good old-fashioned drinking, the Muri Veteres possesses plenty of charm and velvet fruit, along with considerable structure. Harmonious and balanced, this wine exudes elegance and breed to complement its considerable character and extroverted personality. We suggest serving the Muri Veteres at cool room temperature (66° F) or even slightly chilled in warmer locales, with only a minimum of aeration, since this wine is all about immediate gratification and youthful pleasure. We expect the Muri Veteres to continue to improve in bottle for another year, but why wait? Enjoy!
The 2003 Muri Veteres Jumilla reminds us of the perfect dinner party guest, a person who eats everything, enjoys everyone else, and always has something complementary to say to the hostess. In other words, the Muri Veteres is the kind of wine whose welcome precedes it because it makes itself at home nearly everywhere it goes and at anytime. We have enjoyed a glass of it on its own as an aperitif or saved it for after dinner sipping with friends. However, the Muri Veteres has a knack for transforming a mundane midweek meal into a veritable feast, so why not try it with that new recipe for pot roast you have been staring at or whip up grandma's tried and true midweek meatloaf – in either case you are not likely to be disappointed. If you are feeling slightly more daring in the kitchen, we heartily endorse the Muri Veteres with baby back ribs or even a delicious Mexican soup called Pozole, which is made with spicy pork, hominy, red onions, cabbage and cilantro. Yum!
Muri Veteres is a special bottling from Bodegas Agapito Rico, one of Spain's finest producers of Mediterranean style wines. This estate fashions a number of compelling wines of which Muri Veteres is the most notable and certainly the most difficult to obtain. Yet, Agapito Rico is probably best known for his production of Carchelo, an excellent more commercial offering that has taken wine critics and savvy consumers by storm. Just wait until you taste the Muri Veteres. From 175 acres located in a high, remote mountain valley in Murcia, Agapito Rico, a native of Jumilla fashions compelling Rhone style wines from Mourvèdre, Syrah, Merlot and Tempranillo. In vineyards located at over 2200 feet in the desert like climate of Murcia, the indigenous Monastrell (Mourvèdre) thrives on its own rootstock (a rarity in Europe). Moreover, most if not all of this estate's grapes are now completely organically farmed. In addition, average yields are an impressively low 1.5 tons per acre, one of the lowest in Europe. The name Muri Veteres means old walls and refers specifically to the ancient walls of Saguntum (now modern-day Sagunto), a city that lies on the northern frontier of Murcia. Hannibal destroyed the venerable walls of Saguntum, when he laid siege to the city during the Second Punic War. Subsequently, the Romans rebuilt the walls upon their return to their highly valued Iberian colony, which was essential to their feeding and slaking the thirst of an entire empire. Interestingly, Saguntum's Medieval Visigoth names Mur Viedro and Mour Vedre have given the indigenous Monastrell grape its current popular name: Mourvèdre. And certainly, it is indeed Mourvèdre that forms the backbone and distinct character of Agapito Rico's noble Muri Veteres. Since 1998 a completely new Bodega has been in operation at Agapito Rico's Jumilla estate, built expressly for Carchelo and Muri Veteres, which rely upon carbonic maceration or whole berry fermentation – the same fermentation technique now used extensively in Châteauneuf-du-Pape. Agapito Rico fashions his wines to exhibit the intense, fresh aromas and velvety texture and extract of the low yielding Monastrell. Carbonic maceration is used to retain the full aromatic profile of the easily oxidized Mourvèdre varietal. A judicious amount of Merlot and Tempranillo as well as Syrah in some vintages are added to attain additional complexity and age ability. It has been said that "Spain is the sleeping giant of European wine," but with Bodegas Agapito and the realization of great wines beginning to flow from the country's huge acreage of old vine Mourvèdre, one has to wonder if the giant has not already awakened and is now finally coming of age. Consider yourself forewarned: Spain is currently the world's most exciting source of excellent affordable red wines and a veritable treasure trove of undiscovered riches. We are delighted by the recent viticutural Renaissance that continues to sweep Spain, and we are pleased to offer our club members a taste of what is to come.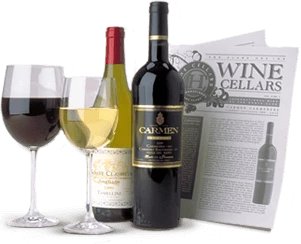 Enjoy Limited Production Estate
Bottled Wines
Discover limited production estate bottled wines such as Vergenoegd's internationally
acclaimed 2005 Cabernet Sauvignon, imported exclusively for our members.
DISCOVER OUR FOUR CLUBS