Awarded a trifecta of 90 point ratings from Wine Enthusiast, Vinous, and Robert Parker's Wine Advocate, among several others, the 2015 Morgan Highland Santa Lucia Highlands Chardonnay is a focused, elegant wine that combines the finest attributes of New and Old World winemaking, or as one panel member quipped, "Morgan has put the best of Burgundy and California all in the same glass." The 2015 Highland Chardonnay includes 67% fruit from the Double L Vineyard and the balance from outstanding neighboring estates in the SLH, including McIntyre and Tondre. It offers a heady aroma of ripe apple fruit, buttered brioche and lemon curd to caress the nose. And in the mouth, the wine's ripe, pure fruit flavors are enhanced by buttery caramel flavors, a touch of ginger, and a racy minerality that provides balance and focus. Afford the classy and focused 2015 Morgan Highland Chardonnay a few minutes of aeration and serve it moderately chilled (40°-45° F). Enjoy!
The 2015 Morgan Highland Santa Lucia Highlands Chardonnay is not only incredibly food-friendly, it offers ideal drinking anytime. Pasta with cream-based sauces, poultry, pork, and especially seafood make ideal companions to Morgan's 2015 Highland Chardonnay. Crispy Calamari; Neapolitan Shrimp topped with a savory green onion, tomato, and roasted garlic sauce; Coriander Crusted Ahi Tuna; and Panned Seared Halibut served with oven roasted corn pudding or creamy risotto all provide tasty accompaniments to Morgan's 2015 Highland Chardonnay. Seafood Lasagna made with delicate layers of fresh pasta, swordfish, salmon, mussels, cured tomatoes, spinach, and savory herbs in a seafood broth makes for another mouthwatering accompaniment to Morgan's flavorful Chardonnay. Roast chicken, chicken salads, and Pasta Primavera won't disappoint in the company of the 2015 Morgan Highland Chardonnay either.
Dan and Donna Lee Morgan are two of the early viticultural pioneers of the Santa Lucia Highlands, and their Morgan Estate is the crown jewel in the highly acclaimed Santa Lucia Highlands AVA. Dan and Donna began Morgan Winery in 1982. Their first Monterey Chardonnay earned a Gold Medal at the Los Angeles County Fair and a Platinum Medal from Wine & Spirits magazine. Since purchasing their existing Santa Lucia Highlands property in 1996, the Morgans have fashioned many of California's finest Chardonnays and Pinot Noirs from their 48 ½ acre Double L property.
Dan Morgan realized the viticultural potential of the Santa Lucia Highlands in the early 1980s, before the region was a designated viticultural area or anyone had even heard of the area or thought of planting additional vineyards there. Today, Morgan Estate's Double L Vineyard (short for Double Luck in honor of the Morgan's twin daughters) is one of the most celebrated California vineyards. Double L has been organically farmed since its inception and became the first and only Certified Organic property in the Santa Lucia Highlands in 2001. The Double L Vineyard serves as a living laboratory for twenty different clones of grapes and eight different rootstocks. Devoted mainly to fashioning world-class Chardonnay and Pinot Noir, Morgan Estate epitomizes California's finest family tradition of grape growing and winemaking. Morgan Estate consistently receives 90+ point ratings for their wines. And though wines of this quality are never inexpensive, the Morgans have worked assiduously to provide outstanding quality at a price that won't force consumers to choose between paying their mortgage and enjoying world-class wine.
Organic and sustainable winegrowing involves a lengthy certification process and a concerted ongoing effort on the part of a winery in order produce high quality wine. The following is a glimpse of the Morgans' commitment to organic and sustainable winegrowing, in their own words:
"When Dan and Donna purchased the Double L property, the soil was weak; it lacked nutrients and organic matter. Dan wanted to set himself apart from other winegrowers, so he chose to build-up the future vineyard soil organically. In 2001, Double L became the first and only Certified Organic property in the Santa Lucia Highlands. Monterey County Certified Organic, accredited by the USDA, certifies the Double L Vineyard as an organically farmed property.
"The Santa Lucia Highlands is an ideal location for organic winegrowing. The strong winds and temperate climate are natural deterrents to many vineyard pests. The most prevalent threat is mildew, and there are a number of organic options which keep it in check.
"Effective organic options are used to keep the vineyard soil alive and healthy. Four times each year, compost tea is applied through the drip lines in the vineyard which provides micronutrients and microbes for the soil. Each fall, after harvest, a cover crop is planted. The mix of vetch, barley and peas works all winter adding nutrients, such as nitrogen, to the soil while protecting against run-off and maximizing water saturation. In the spring, the cover crop is incorporated into the soil, adding essential organic material.
"The Double L is also 'Certified Sustainable' by the Central Coast Vineyard Team. 'Sustainability' is a 'big-picture' philosophy and practice, taking into account every aspect of a vineyard's operations; social responsibility, clean water, energy conservation, and maintenance of existing habitats are just a few of its components. The Double L is the only vineyard in the Highlands to achieve both Sustainable and Organic certifications."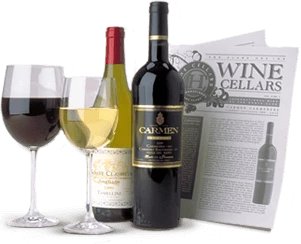 Enjoy Limited Production Estate
Bottled Wines
Discover limited production estate bottled wines such as Vergenoegd's internationally
acclaimed 2005 Cabernet Sauvignon, imported exclusively for our members.
DISCOVER OUR FOUR CLUBS