Morgadío always seems to capture the essence of Albariño, and this is certainly true in the case of Morgadío's pure, energetic 2019 Legado del Conde. With a crystalline brilliance and a vivacious aroma that captures the nose with delicate scents of spring flowers, mimosa, and a gentle waft of sea breeze, the 2019 Morgadío Legado del Conde Albariño makes a splendid introduction to the variety. Dry, vivacious, and hauntingly scented, the 2019 Legado del Conde offers up plenty of minerality and fresh, clean fruit along with a crisp, racy finish that captures Albariño's unique character. Morgadío's Legado del Conde is both ethereal and precise, even a bit intense. Fermented and aged without oak, Morgadío's Legado del Conde (and other premium Albariños) will never be confused for a fruity, vanilla, oak-infused New World confection. It is a truly dry white wine and a Spanish classic, not to mention an Old World treasure. We suggest serving the elegant 2019 Morgadío Legado del Conde well chilled (35°-40° F). Enjoy!
With the sea so close and playing such an important part in the lives of the people of Galicia, the preference in Rías Baixas is to pair the region's fine seafood with a bottle or two of Albariño, and who are we to argue? The 2019 Morgadío Legado del Conde Albariño does, indeed, provide the perfect foil to sautéed scallops, grilled snapper, crabmeat salad, and most everything else that once inhabited the sea. We also like the 2019 Morgadío Legado del Conde with poultry and cheese, especially Manchego and Mahon, two of Spain's most delectable cheeses. Fresh or fried Thai-style spring rolls also provide superb complements. And for a simple vegetarian accompaniment, we recommend pairing the 2019 Morgadío Legado del Conde with tips of asparagus, served over a bed of saffron and leek rice. The 2019 Legado del Conde also makes a splendid aperitif. Buen Provecho!
Morgadío is a unique farm and winery in the Rías Baixas (ree-ahs-buy-shuss) appellation of Galicia. Meaning "only son" in Gallego, the Spanish dialect of Spain's Galician coast, Morgadío specializes in Spain's most expensive and important white grape variety: Albariño. Within Rías Baixas, there are three separate districts, but none are as great as the Condado do Tea around Morgadío. Located on the banks of the Minho River in a sunny amphitheater, reminiscent of Germany's famous Rheingau, Morgadío enjoys a benign climate, southern exposure, and superb terroir of reflective granite that allows it to fashion Spain's most notable Albariño.
Morgadío came to life with the recent resurrection of the legendary Albariño varietal in the early 1980s. Owned by the Méndez family of nearby Orense, Morgadío is planted entirely to Albariño and is considered to be the driving force in restoring Albariño to its exalted status as Spain's foremost white wine. And not only does Morgadío possess one of the largest plantings of the varietal (50 hectares or 110 acres); it has cultivated the technology and techniques that have transformed Albariño from a local legend to an international celebrity. Morgadío produces two Albariños, the estate's Morgadío Albariño and Legado del Conde (this month's feature), an energetic crowd pleasing style of Albariño meant for consumption in the first few years of its life.
Until the late 1980s, Galicia's legendary Albariño grape remained just that – a legend. Before the 1990s much speculation swirled around the origin of the rare and sometimes exceptional Albariño variety, further fueling interest. But it would not be until the grape traveled beyond Galicia that the world would come to know Albariño's truly pure flavors and natural acidity, traits that would eventually seal Albariño's position as Spain's (and one of Europe's) most sought after wine grapes. However, the high cost involved in making Albariño caused many before this millennium to overproduce the varietal, or worse: they stretched its production by adding lesser grape varieties, which resulted in inevitable disappointment on the part of adventurous tasters in search of the wine world's Holy Grail. Formerly, authentic Albariño was produced inconsistently and only in miniscule lots. With the establishment of the Rías Baixas appellation in 1988 and an ongoing movement led by Morgadío to recuperate and assure the authenticity of Albariño wines, Albariño now enjoys the reputation of being Spain's most compelling white grape variety.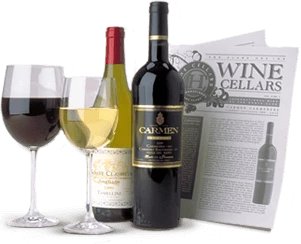 Enjoy Limited Production Estate
Bottled Wines
Discover limited production estate bottled wines such as Vergenoegd's internationally
acclaimed 2005 Cabernet Sauvignon, imported exclusively for our members.
DISCOVER OUR FOUR CLUBS