Brilliant and precise, the 2007 Morgadío Albariño Rías Baixas provides grand testimony to the inherent greatness of Albariño and Morgadio's high level of expertise with Spain's must illustrious white varietal. Dry, pure, and beautifully scented, this remarkable white wine exhibits fresh apple and pear aromas, pinpoint minerality, and a crisp, long finish. This is a white wine for people who appreciate a truly dry, white wine. In no way does the 2007 Morgadío Albariño resemble the fruity, oak infused confections that many New World producers call dry, nor is it one of those eviscerated, tasteless white wines that some Old World producers still refer to as "classics" rather than expose them as the moribund relics they truly are. Instead, Morgadío has crafted a statuesque white wine of breed, flavor, and noble bearing that defies ordinary descriptors. We suggest serving this delicious Albariño moderately chilled (40°-45° F).
With the sea so close and playing such an important part in the lives of the people of Galicia, the preference in Rías Baixas is to pair the region's fine seafood with a bottle or two of Albariño, and who are we to argue? The 2007 Morgadío Albariño Rías Baixas is, indeed, the perfect foil to sautéed scallops, grilled snapper, crabmeat salad, and most everything else that once inhabited the sea. Pan seared halibut, accompanied by pork and shrimp stuffed tacos and fried broccoli with black beans and corn, makes for a tasty treat. We also like the Morgadío Albariño with poultry and cheese, especially a well made Manchego. Fresh or fried Thai-style spring rolls also provide superb complements. And for a simple vegetarian accompaniment we recommend pairing the 2007 Morgadío Albariño with tips of asparagus, served over a bed of saffron and leek rice. Enjoy!
Morgadío is a unique farm and winery in Galicia's Rías Baixas appellation. Meaning "only son" in Gallego, the Spanish dialect of Spain's Galician coast, Morgadío specializes in Spain's most expensive and important white grape variety: Albariño. Within the Rías Baixas are three separate districts, but none are as great as the Condado do Tea around Morgadío. Located on the banks of the Miñho River in a sunny amphitheater, reminiscent of Germany's famous Rheingau, Morgadío enjoys a benign climate, southern exposure, and a superb terroir of reflective granite that allows it to fashion Spain's fullest and most notable Albariño. Morgadío came to life with the recent resurrection of the legendary Albariño varietal in the early 1980's. Owned by the Méndez family of nearby Orense, this old farm is planted entirely to Albariño and is considered to be the driving force in restoring Albariño to its exalted status as Spain's foremost white wine. And not only does Morgadío possess one of the largest plantings of the varietal (50 hectares or 110 acres); it has cultivated the technology and techniques that have transformed Albariño from a local legend to an international celebrity. Until the late 1980's Galicia's legendary Albariño grape remained just that – a legend. Often thought to be a distant cousin or even an immediate ancestor to Riesling, Albariño's high quality and extreme rarity assured its position as Spain's (and one of Europe's) most expensive wine grapes. However, the high cost involved in making Albariño caused many to overproduce the varietal or stretch its production with less expensive grapes, resulting in inevitable disappointment on the part of adventurous tasters in search of the wine world's Holy Grail. Formerly, authentic Albariño was produced inconsistently and only in miniscule lots. Fortunately, the establishment of the Rías Baixas appellation in 1988 and an ongoing movement led by Morgadío to recuperate and assure the authenticity of Albariño has rectified the situation. Albariño: Spain's Most Compelling White Grape Albariño is an indigenous Spanish grape variety whose home is Rías Baixas and the Galician hinterlands of northwest Spain and Portugal. Albariño was once thought to be distantly related to Riesling, but some enologists now believe that Albariño may be more closely connected to the Petit Manseng variety of southwest France, just on the other side of the towering Pyrenees Mountains from Rías Baixas. However, no dry white Petit Manseng can match the body and finesse of Spain's finest Albariño wines. In Portugal, Albariño goes by the name Alvarinho where it usually ends up as a light summertime quaff in the guise of Vinho Verde. Surely, nowhere could a single grape variety be more different than Albariño is in Spain and Portugal. While Portugal picks this varietal early and makes a low alcohol wine (8.5%-9% on average), Spain, under the tutelage of the Méndez family and similar minded individuals in Rías Baixas, turns out a full-bodied, intense Albariño with aromatic and flavor profiles more akin to Viognier, the greatest white variety of France's Rhône Valley. Albariño is now being extensively studied and planted in other locales around the world; including Australia, California, and South Africa. Early reports from winemakers and consumers appear especially promising in Australia for the late maturing Albariño, where extended growing seasons are common and the grape's firm, bright acidity is much appreciated. A debt of thanks belongs to the folks at Morgadío for helping resurrect the great Albariño varietal in Spain and sharing it with the world.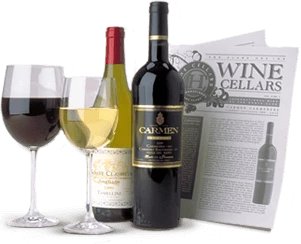 Enjoy Limited Production Estate
Bottled Wines
Discover limited production estate bottled wines such as Vergenoegd's internationally
acclaimed 2005 Cabernet Sauvignon, imported exclusively for our members.
DISCOVER OUR FOUR CLUBS