The 2010 Monterotondo Chianti Classico Riserva Seretina resembles its creator, Saverio Basagni, in more ways than one. An expressive stocky man who appears to spring from the very earth he tills and tends, Saverio manages to imbue his full-bodied Seretina Riserva with a healthy dose of his ebullient character. Born in an outstanding vintage, the 2010 Monterotondo Chianti Classico Riserva Seretina exhibits considerable flavor and structure without sacrificing elegance and tenderness, the very characteristics that exemplify the best wines of Chianti Classico. Deep in color, hauntingly aromatic in bouquet and layered with fruit, earth and spice tones, Saverio Basagni's 2010 Chianti Classico Riserva Seretina comes across as the complete package. This Riserva Seretina captures the purity of the site and embodies the essence of Chianti Classico – an artful blend of charm, fecundity and strength of character. Enjoy this special Riserva now at cool room temperature (60°- 65°F) after an hour or more of aeration or lay it down to gain further depth and complexity. Enjoy!
The complex, superbly crafted 2010 Monterotondo Chianti Classico Riserva Seretina is the ideal wine to bring to table. It complements many types of foods, from modest Tuscan specialties to international culinary classics. In Tuscany, beef and lamb are invariably the ideal choices to pair with top Chianti Classico Riservas, especially those made from the more powerful Brunello clone such as Monterotondo's Seretina. Consequently, Florentine Steak makes a strong case with a bottle of Monterotondo's Riserva, though an aged Porterhouse or New York Strip, brushed with olive oil, garlic, mint, and rosemary and grilled to perfection makes an equally compelling pairing. A juicy leg of lamb, savory lamb shank, or even a juicy lamb burger topped with gorgonzola cheese provides another tasty companion to the 2010 Riserva Seretina. Pheasant or quail, stuffed with braised vegetables, porcini mushrooms and a hint of truffle makes for another splendid accompaniment. Tuscany's country cooking provides additional tasty pairings. Ribollita, the Tuscan soup based upon bread, beans, and assorted local fare is also a perennial favorite. A thick lentil soup with ham and plenty of root vegetables will work its magic, too, with Monterotondo's Riserva Seretina. Buon Appetito!
It is easy to miss the steep shaded path that leads to Saverio and Fabiana Basagni's certified organic estate. In fact, we missed the entrance at least twice before getting out of the car and clamoring on foot up the steep path. The estate is located in Gaiole, but far off the beaten path in what one traveling companion so aptly described as "Chianti Classico Profound, also known as way out in the sticks and in the middle of nowhere." And that is exactly where Saverio wants his certified organic estate – away from the crowds and commercial properties that by and large lack the same respect for the land that Saverio demonstrates.
The estate was founded in 1959 by Saverio's grandfather, though the actual Basagni homestead that lies just below the vineyards dates to 1056 – a full decade before the Norman Conquest of England and centuries before the flowering of the Italian Renaissance, yet all remains in order. Saverio's Tuscan ancestors, like the Etruscans before them, built their structures to last. Since 1994, Saverio and his wife Fabiana have managed the entire 9 acre property as their principal activity and act as sole agronomist, winemaker, accountant, and marketing manager, and take on all else that needs to be done at Monterotondo. The majority of Monterotondo's vineyards are devoted to Tuscany's premier varietal, Sangiovese, while Canaiolo, Malvasia Nera and Colorino (Chianti's other indigenous red varietals) account for just a little more than an acre of the total extension. At an average height of 550 meters above sea level, Monterotondo's vineyards are some of the highest in Tuscany, which helps account for the purity and profound aromatics found in this estate's wines.
Saverio fashions just three distinct wines at Monterotondo: Rosato, Chianti Classico Poggio La Vaggiolata, and the estate's most profound offering and this month's feature, Chianti Classico Riserva Poggio Seretina. Monterotondo's Chianti Classico and Chianti Classico Riserva are named for the individual vineyards that bear them. In the case of the Riserva Seretina, only Sangiovese from the highly prized Brunello clone grown on Seretina's south facing slope makes its way into this wine. To further the quality and preserve the distinctiveness of Monterotondo's wines, only natural wild yeasts from the estate's vineyards are used in fermentation and little SO2 is employed. Saverio's philosophy is simple: he strives to make only the best wines by permitting only the finest organically tended grapes to enter into Monterotondo wines.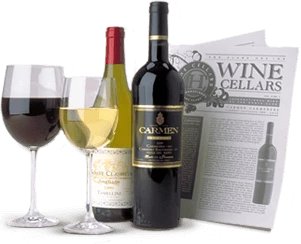 Enjoy Limited Production Estate
Bottled Wines
Discover limited production estate bottled wines such as Vergenoegd's internationally
acclaimed 2005 Cabernet Sauvignon, imported exclusively for our members.
DISCOVER OUR FOUR CLUBS