A classic Cava, the 1999 Mont-Marcal Reserva Brut exhibits a lovely pearl of a bubble that slowly beads to the top of the glass. The soft, clean scents of freshly baked bread, apple, and pear meld with the faintest hint of cinnamon and sesame to beguile the nose. On the palate light fruit, with traces of sesame and almond, caress the mouth. With Mont-Marcal's creamy center and long refreshing finish, it makes us wonder why some people insist on spending hundreds of dollars on a Champagne they don't enjoy as much. Although we have enjoyed the Mont-Marcal at almost any temperature short of heat stroke, we suggest serving this delicious Cava moderately chilled (about 50? F). Enjoy!
Whether it's a weekend get together or an excellent excuse to celebrate a Monday, or maybe it is just a random act of kindness shown to a special someone, the 1999 Mont-Marcal Reserva Brut is enjoyable with or without food. It makes for a splendid aperitif, but it won't shrink from serious fare. Hors d'oeuvres, smoked salmon, with capers and onion, and grilled fish are some of our favorite pairings with the Mont-Marcal. Surprisingly, it also does well with herb charged dishes and typically hard to match legumes. Recently, we tried a black bean, corn, and tomato salad, with onion and fresh cilantro with the Mont-Marcal, and we were totally captivated by the result. Both the wine and the food seemed supercharged, taking on an added degree of flavor. Hence, it pays to be daring.
Mont-Marcal is Manuel Sancho's delicious Cava from his 230-acre Penedes estate named Finca Manlleu. This estate is located on a prominent chalky knoll five miles south of the fabled Villafranca del Penedes overlooking the hamlet of Mont-Marcal. This is the heart and soul of Cava Country where traditional champagne method sparkling wines reign supreme. The vast majority of Mont-Marcal is planted to Parellada, Xarelo-lo, Macabeo, and Chardonnay for the production of first rate Cava. However, the remainder of the estate is planted to the native Tempranillo, with some Merlot and Cabernet Sauvignon, for reds. The Mont provides a rare 360? exposure, creating a wide variety of microclimates for maturation of the various varietals. Mont-Marcal dates back to 1975 when Manuel Sancho purchased a neglected 18th century convent, converting it to a modern wine facility and commencing the resurrection of the estate's vineyards. Recent excavation has expanded the Cava aging and bottling facilities, at the same time revealing medieval underground passageways in the chalk beneath the winery. These passageways have been carefully preserved and now provide Mont-Marcal with additional bottle storage. All of Mont-Marcal's Cava is fermented in the bottle, using the traditional champagne method known as Methode Traditionnelle. Mont-Marcal's intrinsic vineyard quality and careful handling of the grapes result in a naturally rich base wine, which requires very little dosage. The Mont-Marcal Brut Reserva is produced exclusively from indigenous white grapes (Parellada, Macabeo, and Xarrel-lo), which have been aged at least 24 months on the yeast, and then disgorged upon order for shipment. Like the finest Champagnes, the Mont-Marcal Brut Reserva is always vintage dated.
Cava: Spain's Answer to Champagne Produced by the traditional champagne method, whereby fermentation takes place in the actual bottle, Cava is Spain's answer (some would say rebuke) to Champagne. Although the soil and method of production for Cava are nearly identical to that of Champagne, Cava is quite typically softer and less acidic than French Champagne, much to the delight of consumers. Cava can be made almost anywhere in Spain, but it is the Catalan versions from Penedes, just outside of Barcelona, that have captured the world's attention with their consummate quality. Presently, more fine champagne method sparkling wine flows out of Catalonia than any other place on earth, including Champagne. The limestone hills beyond Barcelona provide the ideal soil, nearly identical to Champagne itself, for the cultivation of the native Parellada, Xarel-lo, Macabeo, and Viura grapes for sparkling wine. With the addition of Champagne yeast during fermentation, the high acid musts of Penedes yield sparkling wines of distinctive flavor, finesse, and softness to rival Champagne itself. And where Cava has the edge is in its soft, lingering finish, the antithesis of French Champagne, which can possess just a bit too much nerve for many consumers. Centered to the west of Barcelona around the towns of San Sadurni de Noya and Villafranca del Penedes, the production of Cava continues to take the world by storm. In the past three decades, the export of Cava has grown from a mere trickle to Spain's leading wine export. Today, Cava is the world's number one selling champagne method sparkling wine, thanks to producers like Mont-Marcal.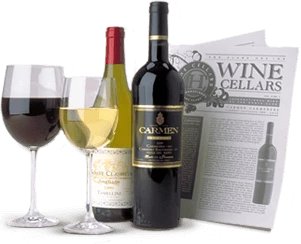 Enjoy Limited Production Estate
Bottled Wines
Discover limited production estate bottled wines such as Vergenoegd's internationally
acclaimed 2005 Cabernet Sauvignon, imported exclusively for our members.
DISCOVER OUR FOUR CLUBS