A masterful wine from a master winemaker, the 1999 Mont du Toit reflects the terroir and unmistakable flavor of the Cape of South Africa; yet, it manages to move way beyond the typical broad earthiness of most South African reds into a class by itself. In short, Mont du Toit is an elegant world-class wine. For starters, few wines evolve in the glass quite as much as the Mont du Toit. In addition, as this wine approaches its seventh birthday, it still sports a deep ruby robe and requires ample time to breathe. Meanwhile, each breath reveals yet another beguiling scent and flavor. Initially, somewhat overwhelming and monolithic, the Mont du Toit opens magnificently in the glass to reveal an entrancing aroma of wood smoke, rural woodlands, wild blackberries, mulberry, mocha, and coffee. Solid, but suave and sophisticated, the 1999 Mont du Toit plays the real coquette; she reveals all her charm and latent goodness, but only to those who are patient. Moreover, we believe the best is yet to come with this wine. Enjoy this staggering statement of a wine after an hour in a decanter or just three to five minutes on the AccelaBreathe.
Like fine wine everywhere, the 1999 Mont du Toit is at its best with foods that complement it. Consequently, given the Mont du Toit's bold, sophisticated flavors, we suggest foods of comparable personality and quality. Rich, savory stew, grilled buffalo steak, and game offer natural allies to pair with the Mont du Toit. Duck, quail, and tenderloin of venison provide especially good complements, too. Roast leg of lamb is another fine choice and a perennial favorite with the tasting panel. Traditional Mediterranean favorites such as ratatouille, roasted garlic and eggplant, and Provencal cheese pies supply other wonderful accompaniments, so as you like it. Enjoy!
Mont du Toit is the ultimate expression of the superb terroir of the renowned Clos du Toit Kelder estate in Paarl. Paarl is one of the first and finest of South Africa's many viticultural regions. Clos du Toit is located on the Cape of South Africa, just forty miles northeast of Capetown. This classic estate lies at the foot of rugged Hawequa Mountain, which bears more than a passing resemblance to Provence's Dentelles de Montmirail, the Rhône Valley's most distinguished geological ontcropping. So similar are the two natural landmarks that one could almost attest to being in Gigondas or Vacqueyras – two of the southern Rhône's most important wine towns, both of which overlook the Dentelles. Not surprisingly, Paarl and Provence, also, share the same Mediterranean climate and coterie of grape varieties that have made each proud of its wines. Mont du Toit is a selection of the finest barrels of Cabernet, Merlot, Syrah, Mourvèdre, and several other red varietals from Stephan du Toit's old vine, 100-acre vineyard. All of Stephan du Toit's vineyards face northwest (equivalent to a southwest slope in Europe). Moreover, Mont du Toit has been a rare collaborative effort that teamed two of Europe's most illustrious winemakers, Georg Breuer and Bernd Philippi, with Stephan du Toit and the best vineyards that South Africa has to offer. Sadly, the 1999 vintage will definitely be the last for Mont du Toit, due to Georg Breuer's untimely death. We believe the 1999 Mont du Toit, Breuer's masterful swan song, to be a fitting eulogy to an outstanding winemaker and a giant of a man.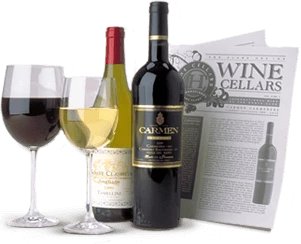 Enjoy Limited Production Estate
Bottled Wines
Discover limited production estate bottled wines such as Vergenoegd's internationally
acclaimed 2005 Cabernet Sauvignon, imported exclusively for our members.
DISCOVER OUR FOUR CLUBS