The 2007 Molnar Family Poseidon's Vineyard Chardonnay is one suave, sophisticated Chardonnay with a style all its own. In fact, the Molnars make no bones about the fact they have set about re-inventing their idea of California Chardonnay. So, if you are looking for a semi-sweet, oak laden Chardonnay that claws after the first glass, we suggest you look elsewhere. However, if you are seeking something special in California Chardonnay, you will surely find it in Molnar's Chardonnay. The 2007 Molnar Poseidon's Vineyard Chardonnay is a wine of breed, elegance, pure fruit flavors, subtle haunting spice tones, and outstanding balance and structure. Furthermore, the wine's seductive bouquet of kaffir lime, apple blossoms, and custard cream, laced with deft touches of oak from fermentation in Kádár Hungarian oak barrels, seeps surreptitiously into the flavor profile of this Chardonnay. On the palate, the wine blossoms into a subtle mélange of fruit and crème brulée flavors that finish long, dry, and utterly satisfying. Moreover, even if you are not a dyed in the wool Chardonnay drinker, the 2007 Poseidon's Vineyard Chardonnay is likely to make you beg for another sip. Enjoy this distinctive Chardonnay moderately chilled (45º-50º F) or even just below cool room temperature (around 58º-60º F) to garner all of the flavor and charm this wine can offer.
When Chardonnay is as beautiful as the 2007 Molnar Family Poseidon's Vineyard Chardonnay, it needs no accompaniment to help it shine. This Chardonnay was made to be sipped and savored, whether it is on its own or with cuisine of equal stature. We have enjoyed the Molnar Family Chardonnay all by itself as well as with a variety of cow's milk cheeses, served with slices of freshly picked apples and pears. Salmon mousse; mushroom caps, filled with herbs and cheese; and breast of chicken with mushrooms and cream have also proven to be worthy companions to the Molnar family's distinctive Poseidon's Vineyard Chardonnay. Sautéed grouper in a coconut cream source with stir fried Asian vegetables makes for another flavorful pairing. Halibut, mahi-mahi, and most other white fish pair nicely with this wine as well. Salads and pastas provide tasty companionship, too. Enjoy!
Nicolas Molnar was one of the fortunate survivors of the 1956 Hungarian Uprising against Soviet communist oppression; he escaped. His odyssey led him to America where in the early 1960s he discovered Napa Valley. The wines of Napa Valley reminded him of Hungary, and the land was both bountiful and beautiful. When everyone else with a few dollars and a passion for wines was buying land in the northern part of Napa Valley and planting Chardonnay and Cabernet Sauvignon in the hot zones of Napa, Molnar quietly began purchasing land and developing vineyards in the coolest part of southern Napa in a place called Carneros. In the 1960s, sheep outnumbered people in Carneros. Carneros, which lies along San Pablo Bay (the northern extension of San Francisco Bay), was considered a favored locale for agriculture by the early Spanish missionaries. Carneros viticulture thrived in the colonial period and during the Gold Rush, but since Prohibition grazing had become the Carneros district's only real claim to fame. Most of Nicholas Molnar's contemporaries thought he was crazy for choosing Carneros over more favored locales in Napa. Happily for us, Molnar knew what he was doing. He planted Chardonnay and Pinot Noir in his vineyards, the two varietal's perfectly suited to the terroir of Carneros. In 1973 Nicolas Molnar planted the now legendary Poseidon's Vineyard, and for three decades some of the finest California Chardonnay and Pinot Noir emerged from this vineyard astride the bay that bears the name of the Greek god of the sea, only to make its way into bottles bearing the names of California's most renowned wineries. Acacia, Heitz, Mumm Napa Valley, Joseph Phelps, Pride Mountain, and Sterling are just a few of the names that coveted Nicolas Molnar's stellar viticultural wares, until Nicolas' sons decided it was time for the family to do their own thing. With the assistance of Michael Terrien, one of California's premier Chardonnay and Pinot Noir winemakers, the Molnar family began several years ago to make small batches of their own wine from Poseidon's Vineyard. Before practicing his magic at the Molnar Family's Poseidon's Vineyard, Michael Terrien made award winning wines for Hanzell and Acacia, where he served as both Winemaker and General Manager. His Acacia Pinot Noir garnered top awards and was rated among Wine Spectator's top 100 wines in the world. His work at Molnar has been no less impressive. Recently, the talented Alex Beloz has joined the team to steer the course. Poseidon's Vineyard has proved for nearly four decades what Nicolas Molnar knew straight away: his vineyard was destined to produce exemplary Chardonnay and Pinot Noir. Consequently, Chardonnay and Pinot Noir are the only two wines the Molnar family produces. Quantities are extremely limited. Less than two thousand cases of the Chardonnay and twelve hundred cases of the Pinot Noir with the Molnar Family name flow from Poseidon's Vineyard.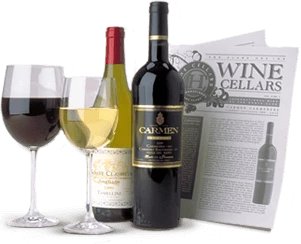 Enjoy Limited Production Estate
Bottled Wines
Discover limited production estate bottled wines such as Vergenoegd's internationally
acclaimed 2005 Cabernet Sauvignon, imported exclusively for our members.
DISCOVER OUR FOUR CLUBS