The 2018 Miner Paso Robles Viognier positively sings from the glass. Eschewing malolactic fermentation, Miner's Viognier is happily reminiscent of the world's finest Viogniers from France's Rhône Valley. Aromatically complex with seductive scents of citrus, honeysuckle, and stone fruits, Miner's 2018 Viognier makes one want to dive right in. In the mouth, the wine's hedonistic fruit flavors and hints of exotic spices are carried on an energetic frame of natural acidity, which leaves the palate both satisfied and refreshed. Although concentrated, it never ceases to lose its form. Bright and balanced, Miner's 2018 Paso Robles Viognier is pure pleasure in a glass. For optimal enjoyment, we suggest serving the classic 2018 Miner Paso Robles Viognier moderately chilled (40°-45° F). Anticipated maturity: 2020-2022. Enjoy!
Although a delight to sip and savor on its own, the vibrant, whole cluster pressed 2018 Miner Paso Robles Viognier doubles as a quintessential food wine. Consider serving this bright, full-flavored Viognier with steamed blue crabs, Alaskan king crab legs or lobster in the company of drawn butter. Scallops in puffed pastry, poached salmon, or nearly any grilled white fish that is served with an herbed mayonnaise also offers superb companionship to the 2018 Miner Paso Robles Viognier. Crab Imperial, Prince Edward Island mussels in a creamy broth, and stuffed Alaskan halibut or cod provide additional tasty complements to this wine and provide ample reason to pour a second or third glass. For tasty pairings that don't emanate from the sea, risotto, Chicken Cordon Bleu, chicken salads with apricot, peach, or mango, and mild creamy curries provide excellent companionship to Miner's flavorful Viognier. In addition, a selection of creamy, buttery cheeses and freshly picked pears in the company of a glass of Miner's 2018 Paso Robles Viognier offers a tasty alternative to fish or meat. Bon Appétit!
Founded in 1998 by Dave and Emily Miner, Miner Family Winery crafts award-winning reserve-style wines from single vineyards in Napa Valley, Paso Robles, and other selected California appellations.
Dave Miner began his career in wine in 1993 when he took over as President of Oakville Ranch Vineyards, which was owned by his late uncle, Robert Miner. Dave had spent a number of years in the software business prior to coming to Oakville Ranch Vineyards, but he was always an enthusiastic wine consumer and collector. Once at Oakville Ranch Vineyards, Dave, like many of us, fell in love with what some nearsighted folk would call just another commodity – wine. But not just any wine: fine wine to be exact! Fortunately, Dave has a natural proclivity for both fine wine and business.
Love struck twice for Dave at Oakville Ranch Vineyards. In 1994, Dave fell in love with Emily, who came to manage Oakville Ranch's tasting room and would become his wife and partner. In 1997, Dave hired Gary Brookman, a Joseph Phelps alumnus, to make wine and manage the custom crush business the winery had developed. Gary has proven to be one of Napa Valley's consummate winemakers and remains with Miner Family Winery. The energetic and talented Stacy Vogel joined Miner in 2008 as Assistant Winemaker and was promoted to Head Winemaker in 2013. This dynamic team is responsible for Miner's meteoric rise and enviable string of successes with Chardonnay, Viognier, Pinot Noir, and a host of other varietals and ultra-premium blends.
Miner's Napa Valley Chardonnay was perhaps the winery's first great success, establishing Miner Family Winery as a premier player in Napa Valley. Miner's Paso Robles Viognier has quickly become another star. In 2004, Miner Family Winery was named to the "Top Five" All-American wines of 2004 by Bon Appétit magazine. More awards and accolades followed. Miner Family Winery was honored as a Top 100 "Winery of the Year" in 2006 by Wine & Spirits magazine. In May 2007, one of Miner's Chardonnays was featured at a White House dinner. Subsequently, Miner wines have enjoyed the honor of being on the menu at five additional official dinners. And, since 2013, the Riedel wine glass company exclusively uses Miner Family wines at its proprietary comparative glassware tasting events and at select events officially endorsed by the Riedel name in the United States.
While Miner's wines were racking up numerous accolades and awards, Dave Miner was planning for a sustainable future. In 2008, with a vision to preserve the land, Dave flipped the switch on Miner's photovoltaic system, inaugurating the winery's conversion to solar power. Today, Miner runs exclusively on solar power and is one of the largest projects to date in the Napa Valley that balances environmental respect and the aesthetics of the natural landscape.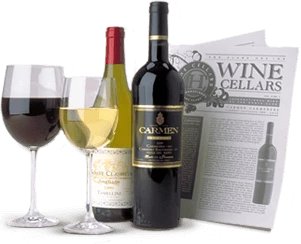 Enjoy Limited Production Estate
Bottled Wines
Discover limited production estate bottled wines such as Vergenoegd's internationally
acclaimed 2005 Cabernet Sauvignon, imported exclusively for our members.
DISCOVER OUR FOUR CLUBS