Miner's Napa Valley Chardonnay is the wine that first put Miner on the map, and the 2014 vintage continues Miner's tremendous success with Napa Valley Chardonnay. By fashioning another bold, full-bodied Chardonnay, Miner's 2014 Napa Valley earned Gold in the 2016 New York Wine Competition. As always, Miner's 2014 Napa Valley Chardonnay is sourced from select low-yielding vineyards in Napa Valley and offers everything one could ask for in a Napa Chardonnay. It provides an enticing set of aromatics followed by golden apple, ripe honeydew melon and zesty citrus flavors, all gently balanced by deft touches of sweet butter and toasty French oak. In addition, veteran winemakers Gary Brookman and Stacy Vogel use malolactic fermentation in moderation to retain the wine's bright acidity, a practice that adds complexity and lift to the wine's lush concentrated flavors. Although ideal for current consumption, the 2014 Miner Napa Valley Chardonnay remains a young wine that will continue to develop further in bottle for at least 3-4 years. For optimal enjoyment, we suggest serving Miner's classic 2014 Napa Valley Chardonnay moderately chilled (40°-45° F). And like most top-end Chardonnays, Miner's Napa Valley Chardonnay will benefit from aeration, much like a fine red wine, and unfold gently in the glass as it reaches toward ambient temperature. Enjoy!
The 2014 Miner Napa Valley Chardonnay is a wine made for the best gastronomic accompaniments one can bring to table – likely another reason Riedel uses only Miner's wines at its proprietary comparative glassware tasting events. Try this rich, full-flavored Chardonnay with steamed blue crabs, Alaskan king crab legs or lobster in the company of drawn butter. Scallops in puffed pastry, poached salmon, or nearly any grilled white fish that is served with an herbed mayonnaise will offer superb companionship to the 2014 Miner Napa Valley Chardonnay. Crab Imperial, Prince Edward Island mussels in a creamy broth, stuffed Alaskan halibut or cod, and most hearty seafood dishes that rely upon butter or cream in their sauces will complement this wine, too, and provide ample reason to pour a second or third glass. For tasty parings that don't emanate from the sea, consider a cheese and pear risotto, Chicken Cordon Bleu or Chicken Fricassee, as they, too, provide excellent companionship to Miner's flavorful Chardonnay. In addition, a glass of Miner's Napa Valley Chardonnay and a selection of soft or un-crusted semi hard cow's milk cheeses that include Cheddar, Caerphilly or Gruyere offer a tasty alternative to fish or meat. Carefully selected cheeses also afford a mouthwatering way to finish an evening and enjoy a last glass of Miner's classic 2014 Napa Valley Chardonnay.
Dave Miner began his career in wine in 1993 when he took over as President of Oakville Ranch Vineyards, which was owned by his late uncle, Robert Miner. Dave had spent a number of years in the software business prior to coming to Oakville Ranch Vineyards, but he was always an enthusiastic wine consumer and collector. Once at Oakville Ranch Vineyards, Dave, like many of us, fell in love with what some nearsighted folk would call just another commodity – wine. Fine wine to be exact! Fortunately, Dave has a natural proclivity for both fine wine and business.
Love struck twice for Dave at Oakville Ranch Vineyards. In 1994, Dave fell in love with Emily, who came to manage the winery's tasting room and would become his wife and partner. In 1997, Dave hired Gary Brookman, a Joseph Phelps alumnus, to make wine and manage the custom crush business the winery had developed. Gary has proven to be one of Napa Valley's consummate winemakers and remains with the winery. With the launch of the Miner Family Winery in 1999, the stage was set for Miner's meteoric rise. A string of successes ensued.
Miner's Napa Valley Chardonnay was perhaps the winery's first great success, establishing Miner Family Winery as a premier player in Napa Valley. In 2004, Miner Family Winery was named to the "Top Five" All-American wines of 2004 by Bon Appétit magazine. More awards and accolades followed. Miner Family Winery was honored as a Top 100 "Winery of the Year" in 2006 by Wine & Spirits magazine. In May 2007, one of the Miner's Chardonnays was featured at a White House dinner. Subsequently, Miner wines have enjoyed the honor of being on the menu at five additional official dinners. And since 2013, the Riedel Wine Glass Company exclusively uses Miner Family wines at its proprietary comparative glassware tasting events and at select events officially endorsed by the Riedel name in the United States.
While Miner's wines were racking up numerous accolades and awards, Dave Miner was planning for a sustainable future. In 2008, with a vision to preserve the land, Dave flipped the switch on Miner's photovoltaic system, inaugurating the winery's conversion to solar power. Today, Miner runs exclusively on solar power and is one of the largest projects to date in the Napa Valley that balances environmental respect and the aesthetics of the natural landscape.
In addition to fashioning some of Napa Valley's most compelling Chardonnays, Miner also specializes in Pinot Noir, traditional Bordeaux and Rhône varietals, as well as Sangiovese and Tempranillo. Perhaps, the winery's most intriguing red wine is Oracle, a full-bodied red blend made from grapes grown at Stagecoach Vineyard in the eastern hills of Napa Valley. In Greek mythology, the oracle was considered the source of inspiration and revelation. To our mind, any Miner wines are an inspiration and drinking them with family and friends will be a source of enjoyment that may just lead to answers to life's most compelling questions.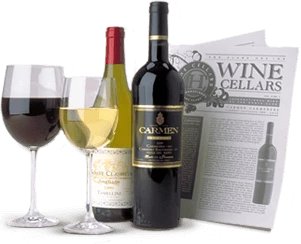 Enjoy Limited Production Estate
Bottled Wines
Discover limited production estate bottled wines such as Vergenoegd's internationally
acclaimed 2005 Cabernet Sauvignon, imported exclusively for our members.
DISCOVER OUR FOUR CLUBS