To drink a glass of Michel Gonet's 2010 Blanc de Blancs Extra Brut is a real treat; to drink a glass of this exquisite vintage Blanc de Blancs over a delicious lunch with Sophie and Charles Gonet at 37 Avenue de Champagne is a veritable honor. Lest you think the company and setting jaded our tasting panel, I can assure you that 19 additional stalwart Champagne lovers couldn't be wrong, nor can the critics and legions of accolades afforded to Michel Gonet's outstanding Blanc de Blancs. The 2010 Michel Gonet Blanc de Blancs Extra Brut delivers a seductive bouquet of orchard fruits, freshly baked brioche, and green apple along with an eye-catching stream of tiny bubbles that mesmerizes the eyes. On the palate this Extra Brut delivers not only the aroma's set of explosive flavors with pinpoint precision, it exits perfectly dry and refreshes the palate, which made us all beg for more. You will want to enjoy this special, very fresh vintage Extra Brut Blanc de Blancs Champagne chilled (38°-40° F) and often. Santé!
Located on Epernay's "Miracle Mile" at 37 Avenue de Champagne, the lovely classic Champagne house of Michel Gonet is a must stop for any lover of Champagne, especially Champagne's exquisite Blanc de Blancs.
Founded in 1802 by Charles Gonet, the house is now presided over by Sophie Gonet, who represents the 7th generation Gonet to lead this house and is a driving force in Champagne. She possesses a strong penchant for quality and value, earning her the position of President of Women Winegrowers of Champagne and also L'Univers du Gout en Champagne. A specialist in fashioning Blanc de Blancs Champagnes from 100% Chardonnay vines, Sophie and her team produce some of the region's finest artisan wines from Champagne's Côte de Blancs.
The Gonet family owns more than 40 hectares of vineyards (nearly 99 acres) from which they routinely fashion 10 or more cuvées. Much of their grapes emanate from the Grand Cru villages of Avize, Oger, and Mesnil sur Oger and from nearby Sezannes and Vindey. And many of the cuvées this venerable Champagne house produces are Extra Brut and Brut Nature, the driest forms of champagne that have little or no dosage (added sweetness). In order to fashion such wines, the quality of grapes and skill of the winemaker must be of the highest caliber.
Michel Gonet's 2010 Blanc de Blancs Extra Brut may be the quintessential Champagne. It serves equally well as aperitif extraordinaire as it does at table throughout a meal. Fish, scallops, crab, lobster, oysters, salmon, and even sushi and sashimi make delicious companions to Gonet's magical Blanc de Blancs. For starters, consider a light seafood salad or smoked salmon rounds with capers, cream cheese, and a touch of onion. As a main course, steamed lobster and Alaskan king crab legs served with warm drawn butter provide tasty accompaniments. Fresh garden vegetables and light leafy salads offer equally satisfying accompaniments. For those among us for whom less is more, a simple plate of freshly cut slices of apple and pear with creamy cow's milk cheeses such as Muenster, Neufchatel, and Port Salut make fine complements, too. Enjoy the pinpoint precision and seductive charms of Michel Gonet's 2010 Blanc de Blancs early and often, and then again late in the evening with some fine macarons. Salut!
Champagne is an ancient province of France, a pastoral land of meadows and streams and, most importantly, chalk hills upon which some of the world's choicest grapes are grown. Champagne's boundaries are delimited by law and its wines strictly regulated by the laws of Appellation Contrôlée as to permitted grape varieties (primarily Chardonnay, Pinot Noir, and Pinot Meunier), yield, production, and quality. Yet, Champagne is more than a place; it is also a wine. In fact, Champagne is several different wines – only the most recognizable of which is white and bubbly.
Although Champagne can be still or sparkling, white or red, and even rosé, the wine the world has come to know best as Champagne is always sparkling. So synonymous now is the name Champagne with sparkling wine that the nomenclature has been applied generically and indiscriminately to any wine that bubbles, much to the regret of Champagne producers themselves. Authentic Champagne comes only from the Champagne district of France and meets all the approved legal requirements and standards of production, including absolute adherence to the painstaking Méthode Champenoise, which requires that secondary fermentation take place in the bottle for sparkling Champagne. Unlike most other fine wines, the vast majority of Champagnes are non-vintage wines, as they are comprised of three or more vintages in order to maintain a consistent house style. Vintage Champagnes, such as this month's selection, are usually only produced during the best years, generally three or four times in a decade, and are aged a minimum of three years as opposed to 15-months for non-vintage versions. The term "Blanc de Blancs," which means "white of whites," indicates a Champagne made entirely from Chardonnay, as opposed to more common Champagnes which include black grapes like Pinot Noir or Pinot Meunier.
The magic of Champagne (at least the bubbly kind which now encompasses the overwhelming majority of wine produced in Champagne) comes from encapsulating the bubbles in the very bottle in which the wine starts its life. In the old days, long before the advent of technical wine equipment, temperature control, and central heating, the slow fermentation of grapes in the cool Champagne autumn was often interrupted by winter's chill. With the onset of winter, fermentation would stop completely or at least appear to cease, so the wine was bottled and prepared for distribution. However, the following spring temperatures would rise and the fermentation process would begin anew—in the bottle. This delayed completion of fermentation is known as secondary fermentation. Secondary fermentation produces the beautiful bubbles and tiny streams of carbon dioxide that have come to enchant several centuries of well-wishers and hedonists. What began as serendipity is now one of the wine world's highest art forms.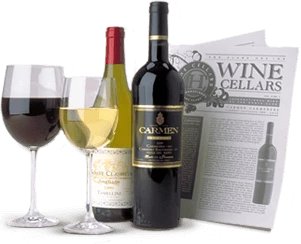 Enjoy Limited Production Estate
Bottled Wines
Discover limited production estate bottled wines such as Vergenoegd's internationally
acclaimed 2005 Cabernet Sauvignon, imported exclusively for our members.
DISCOVER OUR FOUR CLUBS