Harvested from the finest grapes from the estate's 1928 vineyard and matured in French oak barrels for 16 months, the 2019 Mendel Unus (65% Malbec, 25% Cabernet Sauvignon, 10% Petit Verdot) pays tribute to Mendel's founder and winemaker Robert de la Mota's acumen in the cellar. Big, balanced, and sporting a deep purple color, the 2019 Unus (93 Points – Wine Advocate) demonstrates that it's a lot more than show with an aroma redolent with dark cherries, plums, cacao, and toasty vanilla. It's equally adept in the mouth. Full-bodied and laden with layers of ripe, gorgeous fruit mingled with hints of dark chocolate, wild herbs, and wood smoke, the 2019 Mendel Unus dazzles the palate. Rich, ripe tannins add vigor and verve, a long satisfying finish, and the promise of great drinking now and for the next decade, but why wait? For optimal enjoyment, we suggest affording the 2019 Mendel Unus an hour of aeration before consuming at cool room temperature (58°-62° F). Anticipated Maturity: 2022-2033. Enjoy!
The finest wines of Argentina provide the ultimate accompaniments to all kinds of meat, which makes the 2019 Mendel Unus the ideal companion to prime beef, lamb, poultry, and game. A good old-fashioned grilled ribeye with a touch of a spicy rub provides a simple but sublime accompaniment to Mendel's superb 2019 Unus. Loin lamb chops served with potatoes au gratin and haricots verts make another splendid pairing. Traditional Italian specialties such as Chicken and Veal Marsala, Eggplant Parmigiana, and Potato Gnocchi with grilled chicken and apple sausage, oil cured tomatoes, fire roasted peppers, and mustard greens are equally at home with Mendel's Unus. A Lentil, Quinoa and Carrot Cake topped with Feta or Ricotta Salada provides an incomparable vegetarian companion, too. Buen Provecho!
Mendel fashions some of Argentina's most exciting red and white wines. Proprietor and long-time wine lover Anabelle Sielecki has created Mendel, and with the consummate winemaking skills of winemaker Roberto de la Mota the two have transformed Anabelle's historic 1928 family vineyard into a world-renowned estate. Together, this dynamic duo, visionary and winemaker, have earned Mendel international acclaim. In homage to Anabelle's father, a hardworking immigrant and successful businessman, the winery bears her father's name.
Although many premium wines from Argentina have come to fore, making formidable impressions upon critics and consumers alike for their stout, extroverted natures, very few possess the concentration, depth of flavor, and ageability of Mendel's wines. At Mendel, Roberto de la Mota uses his consummate winemaking skills to craft red and white wines of considerable stature. Using his French winemaking experiences, Roberto has thrust Argentina's winemaking movement toward the production of world-class wines where deep and rich fruit flavors, elegance, power, and terroir are not only evident; they are paramount components of his superbly crafted, highly acclaimed wines. The estate's incomparable Malbec, Cabernet Sauvignon, and Petit Verdot blend dubbed Unus is Mendel's flagship offering and this month's feature.
Argentina has long been one of the world's leading producers and consumers of wine. Presently, this sprawling nation, which contains some of the world's most diverse geography, including tropical jungle, barren desert, towering snow-capped mountains and windswept deserted islands that herald Antarctica, is the world' fifth largest producer of wine and the planet's third largest consumer of the fruit of the vine, placing it just behind Italy and France. As an interesting comparison, Argentina consumes more than five times the amount of wine per capita as does the United States (10.5 gallons per capita in Argentina versus just 2.0 gallons per head in the United States). Moreover, Argentina is no longer just a source of good, plentiful, everyday plonk; it is increasingly a treasure chest of world class red and white wines.
Although Argentina has cultivated the vine since the arrival of the first Spanish missionaries in the 16th century, the modern tale of wine in Argentina really begins with the Italian migration of the late 19th century. Sparked by political strife and economic stagnation in their homeland, many Italian growers and winemakers headed for Argentina. Settling in the dry, rain-starved Mendoza at the base of the Andes, these Italian immigrants began to sluice the snow waters from the mountains onto their vineyards, causing the desert to bloom. In less than a century, the Mendoza, a state approximately the size of Illinois, has become Argentina's leading wine producing region, accounting for the vast majority of the nation's wine production and more than half of all the wine made in South America.
Driven by Argentina's seemingly insatiable thirst for wine, as well as the burgeoning worldwide demand for fine wine, especially well-made reds, the "Mighty Mendoza" now comprises more than 700,000 acres of vines, and is still growing. The vast majority of wine from the arid, nearly insect-free environment of Mendoza is red, but the quality and variety of both white and red wines continues to grow exponentially. The recent attention to quality is much to the delight of savvy North American consumers, who are now gobbling up the wine wares of Argentina at an ever increasing rate.
Since the early 1980s, an infusion of domestic and international talent has helped to transform the Mendoza. With the likes of the Catena family, Roberto de la Mota, Paul Hobbs, and Jacques and François Lurton, among others, the "Mighty Mendoza" is finally coming into its own. This once sleeping giant now houses a treasure trove of fine wines, with the wonders of Malbec in the vanguard. Excellent Cabernet Sauvignon is also being fashioned here, and in recent years Argentina has made great strides in the production of white wines, too, most notably with Chardonnay, Semillon and Torrontes. Viva Argentina!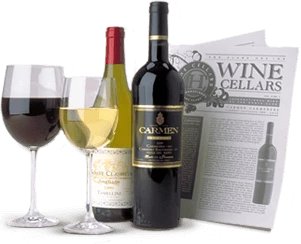 Enjoy Limited Production Estate
Bottled Wines
Discover limited production estate bottled wines such as Vergenoegd's internationally
acclaimed 2005 Cabernet Sauvignon, imported exclusively for our members.
DISCOVER OUR FOUR CLUBS