Bright, lemon yellow, and hinting of the morning sun, the hedonistic, complex 2016 Mendel Mendoza Semillon has earned many 90+ point ratings, including 92 points from Wine Advocate. And for good reason! Mendel's 2016 Mendoza Semillon delivers a beguiling color, spicy hedonistic aromas and rich luscious fruit. Savory layered scents reminiscent of golden apples, beeswax, mirabelles, yellow peaches and dried honey captivate the nose. Equally rich and broad in the mouth, this young Semillon's fleshy fruit, nicely integrated spice tones and citrus twist leave the mouth wondering if the three ring circus of flavors this wine has to offer is truly for real. Classically wrought and superbly crafted, Mendel's 2016 Mendoza Semillon provides evidence of Roberto de la Mota's talent as well as Anabelle Sielecki's commitment to putting the highest quality wine into the bottles that bear her father's name. A match for the finest Semillon based wines from Bordeaux's Classified Château, the 2016 Mendel Mendoza Semillon, produced from vines averaging 73 years of age from the Paraje Altmira Vineyard in Uco Valley, embodies the best the revered Semillon grape variety has to offer. Serve this superlative Semillon moderately chilled (40° F) now and over the next several years.
Classic Semillons such as the 2016 Mendel Mendoza Semillon present themselves best at table in the company of fresh seafood. It partners easily with shrimp ceviche, steamed mussels, fresh oysters, crab, lobster and almost any type of white fish. A whole steamed lobster served with drawn butter in the company of cheese risotto merits our unabashed endorsement with Mendel's very drinkable, flavorful Semillon, a wine that won't wilt or fade in the company of the rich meat of the lobster. Pâtés, including foie gras, provide wonderful companions to Semillon as the French will attest. Foie gras brings out the fruit and accentuates the structure in Semillon, a phenomenon that will become even more evident as Semillon acquires additional bottle age. Another tasty complement to Mendel's 2016 Semillon is another French classic, Poularde, a roast chicken served with a rich sauce made with foie gras, plenty of butter, and vegetables. A heart healthier and easier to prepare dish such as Roasted Chicken or Quail stuffed with wild rice, pear, and herbs makes a great companion, too. And with its delightful mélange of rich fruit, waxy texture, and crisp acidity, the 2016 Mendel Semillon pairs perfectly with cheese, especially empanadas and cheese croquettes. Buen Provecho!
Mendel fashions some of Argentina's most exciting red and white wines. Proprietor and long-time wine lover Anabelle Sielecki has created Mendel, and with the consummate winemaking skills of winemaker Roberto de la Mota the two have transformed Anabelle's historic 1928 family vineyard into a world-renowned estate. Together, this dynamic duo of visionary and winemaker have earned Mendel international acclaim. In homage to Anabelle's father, a hardworking immigrant and successful businessman, the winery bears his name.
Although many premium wines from Argentina have come to fore, making formidable impressions upon critics and consumers alike for their stout extroverted natures, very few possess the elegance, finesse, and depth of flavor of Mendel's wines. This is even more the case for white wines in Argentina, where highly structured Malbecs continue to dominate that country's wine scene. Not so at Mendel, where Roberto de la Mota uses his consummate winemaking skills to craft red and white wines of equal stature. Using his French winemaking experiences, Roberto has thrust Argentina's winemaking movement toward the production of world-class wines in which fruit, finesse, elegance and terroir are not only evident; they are paramount components of his superbly crafted highly acclaimed wines.
Argentina has long been one of the world's leading producers and consumers of wine. Presently, this sprawling nation, which contains some of the world's most diverse geography including tropical jungle, barren desert, towering snow-capped mountains and windswept deserted islands that herald Antarctica, is the world' fifth largest producer of wine and the planet's third largest consumer of the fruit of the vine, placing it just behind Italy and France. As an interesting comparison, Argentina consumes more than five times the amount of wine per capita as does the United States (10.5 gallons per capita in Argentina versus just 2.0 gallons per head in the United States). Moreover, Argentina is no longer just a source of good, plentiful, everyday plonk; it is increasingly a treasure chest of world class red and white wines.
Although Argentina has cultivated the vine since the arrival of the first Spanish missionaries in the 16th century, the modern tale of wine in Argentina really begins with the Italian migration of the late 19th century. Sparked by political strife and economic stagnation in their homeland, many Italian growers and winemakers headed for Argentina. Settling in the dry, rain-starved Mendoza at the base of the Andes Mountains, these Italian immigrants began to sluice the snow waters from the mountains onto their vineyards, causing the desert to bloom. In less than a century, the Mendoza, a state approximately the size of Illinois, has become Argentina's leading wine producing region, accounting for the vast majority of the nation's wine production and more than half of all the wine made in South America.
Driven by Argentina's seemingly insatiable thirst for wine, as well as the burgeoning worldwide demand for fine wine, especially well-made reds, the "Mighty Mendoza" now comprises more than 700,000 acres of vines, and is still growing. The vast majority of wine from the arid, nearly insect-free environment of Mendoza is red, but the quality and variety of both white and red wines continues to grow exponentially. The recent attention to quality is much to the delight of savvy North American consumers, who are now gobbling up the wine wares of Argentina at an ever increasing rate.
Since the early 1980s, an infusion of domestic and international talent has helped to transform the Mendoza. With the likes of the Catena family, Roberto de la Mota, Paul Hobbs, and Jacques and Francois Lurton among others, the "Mighty Mendoza" is finally coming into its own. This once sleeping giant now houses a treasure trove of fine wines, with the wonders of Malbec in the vanguard. Excellent Cabernet Sauvignon is also being fashioned here, and in recent years, Argentina has made great strides in the production of white wines, too, most notably with Chardonnay, Semillon and Torrontes. Viva Argentina!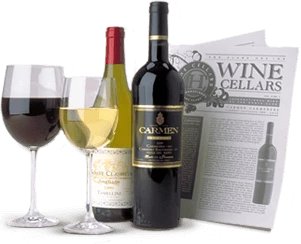 Enjoy Limited Production Estate
Bottled Wines
Discover limited production estate bottled wines such as Vergenoegd's internationally
acclaimed 2005 Cabernet Sauvignon, imported exclusively for our members.
DISCOVER OUR FOUR CLUBS