Harvested from the estate's premier vineyards and matured in 100% oak barrels for 12 months, the 2020 Mendel Lujan de Cuyo Mendoza Cabernet Sauvignon (94 Points – James Suckling) rocks from the moment it's poured. Bold and beautiful in flavor, yet impeccably balanced, the 2020 Mendel Cabernet Sauvignon may be the finest Cab for quality and value in the market today, as it easily puts to shame most Cabernets costing two and three times its price. Sporting a deep purple color, amplifying aromatics ripe with blackberry, cassis, and dark chocolate, along with a boatload of flavors that are carried on ripe sensuous tannins, the 2020 Mendel Cabernet Sauvignon is nothing short of delicious. Add beautiful mineral notes, a deft touch of spice, and well-integrated oak tones that flow harmoniously in the wine's long satisfying finish and the 2020 Mendel Cabernet Sauvignon earns its keep and then some. For optimal enjoyment, we suggest affording the 2020 Mendel Lujan de Cuyo Mendoza Cabernet Sauvignon 20-30 minutes of aeration before consuming at cool room temperature (58°-62° F). Enjoy, you are in for a treat! Anticipated maturity: 2023-2030.
The finest red wines of Argentina provide the ultimate accompaniments to all kinds of meat, which makes the 2020 Mendel Lujan de Cuyo Cabernet Sauvignon the ideal companion to prime beef, lamb, poultry, and game. A perfectly grilled ribeye with a touch of a spicy rub provides a sublime accompaniment to Mendel's superb 2020 Cabernet Sauvignon. Rack of lamb served with potatoes au gratin and haricots verts makes another splendid pairing. Roast pork stuffed with a black olive tapenade and wrapped in prosciutto provides another very tasty accompaniment. Potato Gnocchi with grilled chicken & apple sausage, oil cured tomatoes, fire roasted peppers and mustard greens also makes a strong case for itself in the company of Mendel's juicy 2020 Lujan de Cuyo Cabernet Sauvignon. Buen Provecho!
Mendel fashions some of Argentina's most exciting red and white wines. Proprietor and long-time wine lover Anabelle Sielecki founded Mendel, and with the consummate winemaking skills of winemaker Roberto de la Mota the two have transformed Anabelle's historic 1928 family vineyard into a world-renowned estate. Together, this dynamic duo, visionary and winemaker, have earned Mendel international acclaim. In homage to Anabelle's father, a hardworking immigrant and successful businessman, the winery bears her father's name.
Although many premium wines from Argentina have come to fore, making formidable impressions upon critics and consumers alike for their stout extroverted natures, very few possess the concentration, depth of flavor, and age-ability of Mendel's wines. At Mendel, Roberto de la Mota uses his consummate winemaking skills to craft red and white wines of considerable stature. Using his French winemaking experiences, Roberto has thrust Argentina's winemaking movement toward the production of world-class wines where deep rich fruit flavors, elegance, power, and terroir are not only evident, but are paramount components of his superbly crafted and highly acclaimed wines. The estate's incomparable Cabernet Sauvignon (this month's feature) and their Malbec, Cabernet Sauvignon, and Petit Verdot blend dubbed Unus are Mendel's flagship offerings.
Argentina has long been one of the world's leading producers and consumers of wine. Presently, this sprawling nation, which contains some of the world's most diverse geography: tropical jungle, barren desert, towering snow-capped mountains, and windswept deserted islands that herald Antarctica, is the world' fifth largest producer of wine and the planet's third largest consumer of the fruit of the vine, placing it just behind Italy and France. As an interesting comparison, Argentina consumes more than five times the amount of wine per capita as does the United States (10.5 gallons per capita in Argentina versus just 2.00 gallons per head in the U.S.). Moreover, Argentina is no longer just a source of good, plentiful, everyday plonk; it is increasingly a treasure chest of world-class red and white wines.
In less than a century, the Mendoza, a state approximately the size of Illinois, has become Argentina's leading wine producing region, accounting for the vast majority of the nation's wine production and more than half of all the wine made in South America. Driven by Argentina's seemingly insatiable thirst for wine, as well as the burgeoning worldwide demand for fine wine, especially well-made reds, Mendoza comprises more than 700,000 acres of vines, and it is still growing. The vast majority of wine from the arid, nearly insect-free environment of Mendoza is red, but the quality and variety of both white and red wines continues to grow exponentially. The recent attention to quality has been a boon for savvy North American consumers, who are now gobbling up the wine wares of Argentina at an ever-increasing rate with the "Mighty Mendoza" leading the charge. This once sleeping giant houses a treasure trove of fine wines, with the wonders of Cabernet Sauvignon and Malbec in the vanguard. Moreover, Argentina has made great strides in recent years with its white wines, most notably Chardonnay, Semillon and Torrontes. Savvy consumers take note.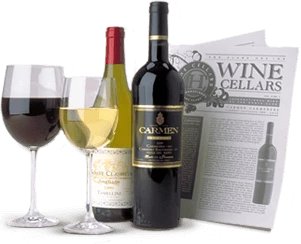 Enjoy Limited Production Estate
Bottled Wines
Discover limited production estate bottled wines such as Vergenoegd's internationally
acclaimed 2005 Cabernet Sauvignon, imported exclusively for our members.
DISCOVER OUR FOUR CLUBS