The 2013 Mayu Valle de Elqui La Compañia Vineyard Carmenère-Syrah offers a unique blend of two of Chile's finest red varietals as well as exceptional drinking pleasure. Made in the finest Old World tradition, Mayu's 2013 Carmenère-Syrah sports a deep purple color and exudes juicy blackberry and plum aromas and flavors. Add perfect balance and hints of exotic spices from the Syrah, which blend harmoniously with Carmenère's racy fruit and delightful earth tones, and the 2013 Mayu Valle de Elqui La Campañia Vineyard Carmenère-Syrah adds up to one tasty, fine drinking red. Silky tannins and a deft touch of vanilla from the wine's interlude in oak make for a graceful finish that made our tasting panel members beg for more. Apparently, we are not alone as Wine Advocate awarded the 2013 Mayu Valle de Elqui La Compañia Vineyard Carmenère-Syrah 90 Points. For optimal enjoyment we suggest opening this delightful Carmenère-Syrah blend 10-15 minutes before serving at cool room temperature (60°-65° F).
Carmenère and Syrah fans won't require a morsel to enjoy the savory delights of the 2013 Mayu Valle de Elqui La Compañia Vineyard Carmenère-Syrah. Nonetheless, very few wines complement food better than Carmenère and Syrah. Given the lush style of Mayu's artful blend of Carmenère (55%) and Syrah (45%), it would be a shame not to pair it with fine cuts of meat, spicy stews, marinated vegetable dishes, stick to your ribs risottos, and a host of Mediterranean inspired dishes. Sautéed veal medallions, topped with caramelized onions; beef sliders; bison burgers with plenty of toppings; and all kinds of barbecue offer excellent accompaniments to Mayu's 2013 Carmenère-Syrah. Char-grilled Chorizo sausage served with Sherried sweet pepper tapenade, and pulled pork tenderloin slow-cooked in a savory barbecue sauce, provide more superb accompaniments. But if spending long hours in the kitchen holds little appeal, consider serving a simple Margherita pizza or flat bread with Gorgonzola, crispy pancetta and roasted three-color tomatoes with this Mayu treasure. Buen Provecho!
The Olivier family are pioneers in Chile's Elqui Valley and the founders of Viña Mayu. "Mayu," meaning river of stars, draws its name from the Inca word for the Milky Way. The Oliviers first ventured into fine winemaking in the Elqui Valley with Viña Falernia in 1998 after decades of producing pisco (Chile's national spirit made from white wine and akin to grappa) with plantings of Carmenère and Syrah. Subsequently, they established Viña Mayu as an independent family winery in 2005. In just a little more than a decade Viña Mayu has achieved extraordinary success with Carmenère, Syrah, Sauvignon Blanc and Pedro Ximénez, an exceptional Spanish grape variety that thrives in warm, arid climates.
Since he was a young boy, Mauro Olivier worked for his family's table grape business and later in the family's production of pisco, helping the Oliviers become one of the three leading Chilean producers of pisco. A visit to Elqui Valley by Mauro's oenologist cousin Giorgio Flessati at harvest time for the pisco grapes set the stage for Viña Mayu.
Giorgio Flessati was born in Trento, Italy to a long line of viticulturists and chose to continue the family tradition by completing his studies in n oenology at San Michele all'Adige, Italy's celebrated wine academy near Trento. Giorgio serves as winemaker at Mayu. He is also the General Manager and Chief Winemaker for Lagaria in Italy with projects in both northern Italy and Sicily.
Elqui Valley lies 325 miles north of Santiago and is Chile's northernmost wine region. Elqui Valley borders the Atacama Desert, reputed to be the driest spot on earth. The valley's lack of water vapor and a dearth of ambient light are ideal for star gazing as well as the cultivation of warm weather grapes, which thrive on the valley's brilliant luminosity and pure water from irrigation projects that flow from Andean snow melt. Elqui Valley's unique orientation and great variance in terroir provide a spectrum of environmental elements that account for an enormous diversity in the valley's viticulture, providing splendid terroirs for Carmenère and Syrah as well as cooler climate grapes such as Sauvignon Blanc and Pinot Noir.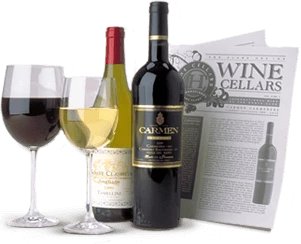 Enjoy Limited Production Estate
Bottled Wines
Discover limited production estate bottled wines such as Vergenoegd's internationally
acclaimed 2005 Cabernet Sauvignon, imported exclusively for our members.
DISCOVER OUR FOUR CLUBS