Deep ruby with purple highlights, the 2020 Masserie Pizari Primitivo cuts a fine figure from the moment it is poured, while the wine's fresh, fruity aroma quickly offers an equally appealing invitation. Savory scents of blueberry, dark cherry, violet, and plum grace the nose. In the mouth, the wine spreads its warmth as well as its pure fruit and subtle herbal tones. Nicely balanced with low acidity and soft tannins, the 2020 Masserie Pizari Primitivo finishes gracefully, despite its high alcohol, and leaves the palate thirsting for more. Enjoy the 2020 Masserie Pizari Primitivo now and often at cool room temperature (58°-62°F) after a few minutes of aeration. Anticipated maturity: 2022-2025. Enjoy!
The 2020 Masserie Pizari is quintessential Primitivo, which makes it an ideal companion to southern Italian culinary classics. Antipasti, hard cheeses, and smoked meats provide some of our perennial favorite starters to pair with this wine. So, why not bring out the pepperoni, prosciutto, salami, and soppressata and put them in the company of authentic Italian Provolone or Parmesan to make a very happy marriage. Pasta Bolognese; grilled hot Italian sausage with onions and peppers; braciole (thin slices of beef, chicken or pork that are breaded, rolled and stuffed with cheese and herbal savory), Eggplant Parmigiana, and of course pizza all make wonderful companions to this Primitivo. Pasta Arrabiata and recipes that call for red pepper flakes won't scare away Masserie Pizari's 2020 Primitivo, either. Yet, given this Primitivo's warm juicy nature, it pairs equally well with fine cuts of meat and savory sauces. Buon Appetito!
Masserie Pizari is located in southern Salento, on the very "heel" of Italy, between Gallipoli and Leuca in ancient Puglia, an area where two of Italy's oldest vines, Negroamaro and Primitivo, have been cultivated for centuries. Brothers Giordano and Francesco Pizari, supported by renowned oenologist Andrea Boaretti, devote themselves to fashioning beautiful red wines from the region's two premier varietals. Pizari's vines are especially well-tended, some of which are in excess of 60 years of age. Grown just a few kilometers from the sea in clay soils rich in potassium, Masserie Pizari's wines exhibit considerable strength as well as a quiet elegance that is rare among the region's producers. Moreover, yields are low, fermentation takes place under temperature control, and only the best clusters are used to make the estate's Salento Rosso Negroamaro, Salento Rosato Negroamaro, and Salento Rosso Primitivo. The result is fresh, vivacious wines that wear their alcohol and tannins well.
Primitivo, which refers to the early ripening of this ancient varietal rather than any supposed rusticity, hails from Greece. Primitivo was likely brought to southern Italy more than 2500 years ago by the Greeks, who named Puglia and the nearby Italian peninsula Enotria – land of the vine – because of this dry land's natural proclivity for the production of wine.
Today, Primitivo remains one of the most important grape varietals of southern Puglia, especially on the Salento Peninsula. In addition to being the earliest maturing grape variety in Europe and, perhaps, the earliest ripening varietal worldwide, Primitivo is capable of registering the highest sugar content of any grape, which gives it the potential to be the headiest of all table wine. In fact, Primitivo can garner under extreme conditions enough natural sugar to produce wines with 18% alcohol without fortification. Once considered a missing link, DNA evidence now points to Primitivo as the forebear of California Zinfandel, a grape with which it shares many common characteristics, thereby ending the mystery surrounding the origin of Zinfandel. Nonetheless, Primitivo from Puglia's Salento Peninsula possesses its own unique character, which separates it from more ordinary examples from elsewhere.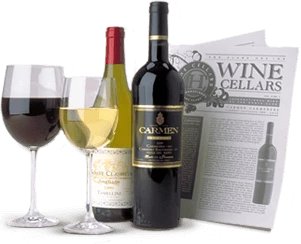 Enjoy Limited Production Estate
Bottled Wines
Discover limited production estate bottled wines such as Vergenoegd's internationally
acclaimed 2005 Cabernet Sauvignon, imported exclusively for our members.
DISCOVER OUR FOUR CLUBS