The 2021 Li Veli Torremossa Salento Fiano IGT is a brilliant Apulian Fiano – bright and scintillating like the southern Italian sun and laser-like in its focus. Possessing Fiano's brilliant straw-colored robe and amplifying aromatics, Li Veli's 2021 Fiano awakens the olfactory to Fiano's sensuous nature. The scents of spring flowers, lemon blossoms, and freshly cut pineapple delight the nose. In the mouth this classic Fiano graces the palate with a delightful mélange of juicy flavors: fennel, nectarine, pineapple, and a mouthwatering minerality fill the mouth before leaving the palate clean and fresh. And, a hint of saline from the nearby sea keeps the 2021 Li Veli Salento Fiano bone dry and utterly refreshing as it makes its exit. Enjoy this superb Fiano moderately chilled (40º-45° F) now and for the next several years as it gains complexity and takes on weight. Anticipated maturity: 2022-2025. Enjoy!
The 2021 Li Veli Torremossa Salento Fiano IGT provides the ideal companion to the catch of the day as well as the produce of the land. It makes a brilliant partner to fish, shellfish, veal, chicken, and legumes. Rock fish, mullet, snapper, and shrimp all provide excellent accompaniments. Calamari, grilled octopus, and rock lobster constitute more regional favorites. Cioppino, Italy's racy version of Bouillabaisse, complements this wine, too. Buffalo Mozzarella drizzled with extra virgin olive oil and served with fresh, juicy tomatoes also provides superb companionship to the 2021 Li Veli Fiano. Creamy chicken and mushroom risottos make appealing companions, too, while Veal Osso Bucco offers yet another gustatory delight with Fiano, especially when accompanied by a bean or chickpea salad. Buon Appetito!
Li Veli is an ancient dwelling place with millennia of human habitation and the cultivation of the vine. Located in southern Italy in the Salento region of Apulia (aka Puglia), Li Veli sits halfway between two seas. The Adriatic sits on one side and the Ionian Sea on the other to provide ideal conditions for the cultivation of Puglia's indigenous varietals, including Fiano, Negroamaro, and Primitivo.
Li Veli sprang to life in its present form at the end of the 19th century when Marchese Antonio de Viti de Marco purchased the crumbling masseria and restored it to serve as modern wine cellar and working winery. Completing the restoration in 1895, Masseria Li Veli became a model of Apulian viticulture and flourished through the 1950's before languishing through much of the second half of the 20th century.
The venerable Li Veli was again resurrected in 1999 when the Falvo family, former owners of the illustrious Avignonesi winery in Tuscany and producers of outstanding Vino Nobile di Montepulciano, purchased the Masseria and 128 acres of land. By expert vineyard management and vinification of Apulia's indigenous grape varieties, Li Veli has established itself as a leader in Apulian viticulture and wine production. Fiano, Negramaro, Primitivo and a host of other varietals serve as benchmarks for this ancient property.
Masseria is the term used in southern Italy's Puglia region for a large fortified farmhouse surrounded by walls. Within the walls of a masseria are many buildings, some of which would house local workers and their families along with considerable farm equipment. Many such fortified farms sprung up throughout Italy and were in many cases tiny villages, remnants of a feudal system that was not officially outlawed until 1950.
Fiano is one of the two noblest white grapes of southern Italy. It draws its name from the vine's ancient name vitis apiana, meaning vine beloved by bees. Apparently, the grapes from Fiano vines have been a resounding choice of nature for millennia. The finest examples of Fiano hail from Salento and the environs of the ancient town of Avellino in Italy's Campania. Fiano has been grown in southern Italy for more than two millennia. This noble grape variety is believed to have been brought to the Italian peninsula by the Greeks more than 2,500 years ago. Fiano's reputation is both long and illustrious: its forebears are reputed to have been the favorite libation of Roman elite vacationing along Italy's Amalfi Coast.
Fiano continues to woo adherents as it produces an exceptional wine of pale golden color and remarkable aroma, flavor, and texture. It is also the rare southern Italian white wine that can – from quality producers and in fine vintages – continue to improve for several years in bottle. It is fermented in stainless steel or ceramic and bottled after three to six months. Fiano is rarely barrel aged in order to preserve its delicate flavors and laser-like precision.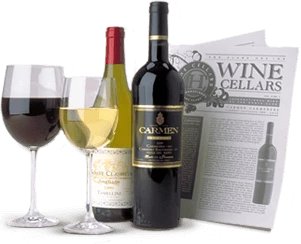 Enjoy Limited Production Estate
Bottled Wines
Discover limited production estate bottled wines such as Vergenoegd's internationally
acclaimed 2005 Cabernet Sauvignon, imported exclusively for our members.
DISCOVER OUR FOUR CLUBS