The scion of the second smallest vintage in Italy since the 1940s, the aromatic 2017 Masciarelli Villa Gemma Bianco Colline Teatine makes a strong case for the excellent but shy-bearing Pecorino grape. The wine exhibits a brilliant straw yellow color and delivers a fresh and intriguing aromatic profile of golden apple, pear, and floral scents brushed with a subtle minerality. In the mouth, this Villa Gemma Bianco offers a soft, round texture punctuated by orchard fruit, melon and citrus flavors that fill the mouth and lead to a fresh, palate-pleasing finish. The combination of indigenous grape varieties with a healthy addition of Chardonnay provides complexity and intrigue to this offering and renders the 2017 Masciarelli Villa Gemma Bianco Colline Teatine thoroughly enjoyable.
Seafood, fresh from the gleaming Adriatic or Tyrrhenian Sea, is invariably the locals first choice of companionship with the aromatic 2017 Villa Gemma Bianco Colline Teatine, but one doesn't have to be sitting in a trattoria overlooking the sea to appreciate this wine. Almost any fresh fish or shellfish will pair well with the 2017 Villa Gemma Bianco, a fresh, scented wine with enough body and spice to hold up to a steaming pot of Bouillabaisse or Cioppino. Swordfish, calamari, and lobster, prepared in a variety of ways, provide other splendid accompaniments to Gianni Masciarelli's flagship white wine. Tapas and hors d'oeuvres provide wonderful pairings with this wine, too. Crab Stuffed Porcini Mushrooms, Grilled Scallops Nacho, and Chicken Satay offer more wonderful accompaniments. Steamed Green Lip Mussels in a white wine, herb, and lemon butter sauce over linguine is another winning companion. The freshness and haunting flavors of this Pecorino-based wine complement simple grilled seafood, while those same flavors also provide excellent counterpoint to earthy, more savory dishes. And by all means, don't be afraid to enjoy the 2017 Villa Gemma Bianco Colline Teatine unaccompanied as an aperitif, with or without a sunset by the sea. Buon Appetito!
Masciarelli wines stand at the pinnacle of quality in Italy's rugged Abruzzo region. Founded in 1981 by Gianni Masciarelli, this estate fashions several outstanding wines, including the much lauded Villa Gemma Montepulciano d'Abruzzo and the equally impressive Villa Gemma Colline Teatine Bianco (this month's selection). Excellent single varietal bottlings of Trebbiano and Montepulciano are also made here along with a delicious rosato and several specialty offerings.
Gianni Masciarelli founded this estate after spending time in Champagne where he became convinced that his native Abruzzo with its climate and long tradition of wine production from indigenous old vines could fashion world-class wines. Instead of being content to produce only oceans of acceptable pleasant red and white wines suitable to serve as inexpensive house pours, Masciarelli set about creating a wine estate using the Abruzzo's indigenous vines to craft wines that compete with the best from France and elsewhere. Masciarelli's Villa Gemma Bianco Colline Teatine made its debut in 1985 and is the first white wine produced at the estate. It is comprised primarily of indigenous white grape varietals, including Pecorino, Trebbiano d'Abruzzo, and Cococciola, to which a portion of Chardonnay is added. It is sourced from four distinct vineyards with unique soil compositions and at varying elevations, which match the needs of the individual grape varietals. Most of Masciarellis' superb, highly-allocated Villa Gemma Bianco is consumed locally and in fine restaurants in Italy.
Although rarely seen outside of Italy, Pecorino is one of the best and most appreciated white grapes of Central Italy. Its name comes from the shape of the grape's bunches or clusters, which locals say resemble the head of a sheep. This special varietal is renowned for its complexity and outstanding aromatic profile. It can be bottled as a varietal or figure significantly in blends of Trebbiano and other indigenous varietals. Yet, Pecorino remains little known outside of its ancestral home as the grape is notoriously low yielding. Consequently, production is meager and most Pecorino is made by select growers for home and local consumption.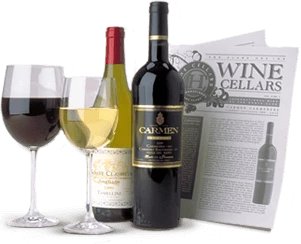 Enjoy Limited Production Estate
Bottled Wines
Discover limited production estate bottled wines such as Vergenoegd's internationally
acclaimed 2005 Cabernet Sauvignon, imported exclusively for our members.
DISCOVER OUR FOUR CLUBS