The 2018 Masciarelli Marina Cvetic Riserva (94 points – James Suckling; 92 points – Wine Enthusiast) exemplifies Masciarelli's acumen in fashioning boldly flavored, deeply colored Montepulciano d'Abruzzo. The progeny of another excellent vintage, the 2018 Masciarelli Marina Cvetic Riserva offers savory notes of steeped dark cherries, blackberry, mint, and allspice. In the mouth, the wine's bold flavors explode on a bed of polished tannins that lend a plush, almost silky mouthfeel as the wine airs. Deep, ripe, and powerful with dense berry, wild herb, and exotic spice flavors, the youthful 2018 Marina Cvetic Riserva is hard to resist as it fills the mouth with luscious red and black fruits along with an infusion of the savory notes found in the wine's heady aroma. Opulent but nicely balanced with bright acidity, this pure, fruit-driven wine finishes long and deep. This is another superb Marina Cvetic Montepulciano d'Abruzzo from Masciarelli. Enjoy this wine now and for the remainder of the decade. For optimal enjoyment, we suggest decanting the superlative 2018 Marina Cvetic Montepulciano d'Abruzzo's Riserva for an hour prior to serving at cool room temperature (58°-62° F). Anticipated maturity: 2022-2029. Enjoy!
The 2018 Marina Cvetic Montepulciano d'Abruzzo Riserva provides the ideal companion to classic Italian specialties and the finest home cooked meals one can bring to table. The wine's extroverted personality, bold flavors, and sturdy structure allow it to complement all kinds of hearty dishes, without worrying about garlic, onion, spice, or herbs overpowering the wine. A perfectly grilled T-bone or Tomahawk steak makes a simple but splendid companion. Pasta Bolognese, Tagliatelle with Wild Boar Ragu, Braised Short Ribs served with pearl onions and garlic mashed potatoes, and almost anything from the grill or brick oven provide equally fulfilling mouthwatering accompaniments to Marina Cvetic's 2018 Riserva. Lasagna made with the finest cheeses, sausage, or beef also makes a splendid accompaniment, as does Pasta Primavera, a tasty vegetarian classic laden with fresh vegetables and graced with the finest Parmesan cheese. In fact, almost any tomato or cream based pasta will shine in the company of the 2018 Marina Cvetic Riserva. Moreover, exceptional cheeses and the finest Montepulciano d'Abruzzo are foods to ponder and linger over, so why not complete a meal with one of Italy's exceptional cheeses in the company of a glass of the 2018 Marina Cvetic Riserva? What could be more civilized and gratifying? Buon Appetito!
Masciarelli wines stand at the pinnacle of quality in Italy's rugged Abruzzo region. Founded in 1981 by Gianni Masciarelli, this estate fashions an enviable portfolio of outstanding wines, including the highly acclaimed 2018 Marina Cvetic Montepulciano d'Abruzzo Riserva San Martino Rosso (this month's feature). Named for Gianni Masciarelli's wife, Marina Cvetic, the 2018 Marina Cvetic Riserva is one of the winery's two flagship offerings. It ranks with Masciarelli's much celebrated Villa Gemma Montepulciano d'Abruzzo, the only Italian wine to win the coveted Tre Bicchieri award 14 times, which places it unequivocally among the greatest red wines produced in Italy. Masciarelli also fashions a number of other impressive wines, including Villa Gemma Colline Teatine Bianco, a delicious rosato, and many other oenological gems.
Gianni Masciarelli founded this estate after spending time in Champagne where he became convinced that his native Abruzzo, with its climate and long tradition of wine production from indigenous old vines, could fashion world-class wines. Instead of being content to produce only oceans of acceptable pleasant red and white wines suitable to serve as inexpensive house pours, Masciarelli set about creating a wine estate using the Abruzzo's indigenous vines to craft wines that compete with the best from France and elsewhere, wines such as his Marina Cvetic Riserva.
Masciarelli's Marina Cvetic Riserva represents an intense and remarkable expression of the deeply colored Montepulciano grape, the Abruzzo's finest and most historical grape variety. Marina Cvetic Riserva is made from 100% Montepulciano from eight of Masciarelli's top parcels. This special selection enjoys the benefit of the choicest grapes from the finest vineyards in a range of altitudes and soils. The eight vineyards range in altitude from 480 to 1,200 feet with soils of calcareous clay and lime, all of which are farmed sustainably. In these vineyards, Masciarelli uses traditional Abruzzo pergola vine training as well as the Simple Guyot and Spur Cordon training, which Gianni Masciarelli pioneered in the region. From its inception, Marina Cvetic was conceived as a very limited production Montepulciano d'Abruzzo to truly represent the summit of achievement for the prized Montepulciano variety.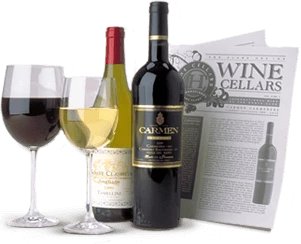 Enjoy Limited Production Estate
Bottled Wines
Discover limited production estate bottled wines such as Vergenoegd's internationally
acclaimed 2005 Cabernet Sauvignon, imported exclusively for our members.
DISCOVER OUR FOUR CLUBS