The 2004 Mas Carlot Les Enfants Terribles Costières de Nîmes is a joyful medium-bodied wine that offers up as much pure, straightforward hedonistic pleasure as any young Rhône wine we have tasted lately. It proffers a dense purple robe for the eyes and a beautiful array of scents and savors to tantalize the nose and palate. Cherry and black fruits dominate an aromatic profile that artfully blends in touches of bark, pristine woodlands, pain grillé, and wood smoke. On the palate the Mas Carlot Les Enfants Terribles is rich, plush, and loaded with Provencal herbs and spice. In short, this wine is bad in the very best sense of the word. Now don't we all wish that our children were as bad as Cyril and Nathalie Blanc-Marès 2004 Les Enfants Terribles? We suggest serving this exuberant Rhône red fairly cool (about 65° F), after a quarter of an hour of breathing time. However, you need not be in a hurry to consume this dandy. In light of the splendid density and structure displayed by this old vine Mourvèdre/ Syrah, the 2004 Les Enfants Terribles can continue to breath for hours, without detriment. Furthermore, we fully expect this wine to continue to improve in bottle for at least several more years, so as you like it. Santé!
No muss or fuss in the kitchen is necessary when opening a bottle of the 2004 Mas Carlot Les Enfants Terribles Costières de Nîmes. Like all good Rhône wines, this Mas Carlot adapts easily to a large variety of traditional and non-traditional foods. The usual Provencal favorites (cassoulet, roast leg of lamb, or an assortment of mild goat cheeses) provide wonderful companions for the Marès children, but then so do pasta, pizza, and pork barbecue. One of the nicest things about the red wines of the Rhône Valley and the Mas Carlot Les Enfants Terribles in particular is how well they complement food, particularly in summer. They have a natural affinity for hearty southern Italian dishes as well as good old-fashioned American cheeseburgers and steaks. Moreover, they show well in warm weather when other reds appear to wilt. A slight chill won't kill their flavor either, so pop the cork and have a party!
Mas Carlot is one of those little Provencal gems that delights the heart, soul, and palate of seasoned wine drinkers. Originally a 17th century farm as the name implies (mas means farm in Provencal), this estate was resurrected in the 1960's by the Blanc family. This beautiful property and its expertly tended vineyards are located on the western edge of the Rhône, just to the southeast of the ancient Roman city of Nîmes. Natalie Blanc- Marès and her husband Cyril Marès of the neighboring property Mas Bressades are the winemakers. Yes, Nathalie married the boy next door, and what a talented young couple they are. Both Mas Carlot and Mas Bressades garner tremendous international acclaim for their superb Rhône blends. The more than 160 acres of vines at Mas Carlot are planted primarily to the traditional Rhône varieties of Grenache, Syrah, and Mourvèdre, which average 40-50 years of age. Mas Carlot also has quite a few old vines of Cabernet Sauvignon that they marry to the estate's Syrah. All of Mas Carlot's vineyards are located in the heart of the appellation's cailloux rich terroir, a very similar stony soil composition to Châteauneuf-du-Pape. Several excellent red cuvees are made by here along with a small quantity of fine rosé. Although all of this estate's wines are intriguing, our favorite red wine offering from Mas Carlot remains Les Enfants Terribles, a Mourvèdre Syrah cepage that is named after the couple's four children: Blanche, Eugène, Olympe, and Alexander. An what wonderful children they must be.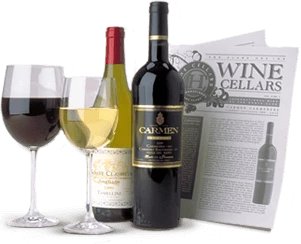 Enjoy Limited Production Estate
Bottled Wines
Discover limited production estate bottled wines such as Vergenoegd's internationally
acclaimed 2005 Cabernet Sauvignon, imported exclusively for our members.
DISCOVER OUR FOUR CLUBS