As a pure full-throttle Chardonnay, the 2006 Marimar Estate Don Miguel Vineyard Chardonnay pays homage to the late Miguel Torres and the enduring work of his daughter Marimar. Bright and heady with the aromas of tropical fruits, toasted hazelnuts, and burnished oak, this organic Chardonnay bursts with life. Rich and downright sumptuous in the mouth, one could hardly ask for anything more. Full, creamy, and complex in the mid palate, this latest Don Miguel Vineyard Chardonnay satisfies the senses without satiating the palate. Furthermore, it finishes crisp and long with overtones of lemon and custard that linger in the mind as well as on the palate. For optimal enjoyment we suggest serving the 2006 Marimar Estate Don Miguel Vineyard Chardonnay moderately chilled (40º- 45º F).
Consummate Chardonnay drinkers will want to sip or even guzzle the luxurious 2006 Marimar Estate Don Miguel Vineyard Chardonnay with little or no accompaniments. Yet, a wine of this stature provides the ideal foil for complex seafood and poultry dishes. Red Snapper, served with saffron and herb infused rice and a chorizo hushpuppy; and Free Range Chicken with yellow rice, roasted tomatillo salsa verde, pumpkin seeds, and avocado rate high on our list of accompaniments to Marimar Torres's other worldly Chardonnay. Mediterranean Chicken with roasted artichokes, sun-dried tomatoes, and portabella mushrooms receives high marks, too. And one tasty, easy to prepare companion is a plate of aged cow's milk cheeses, served with sliced Red Bartlett or Bosc pears. Fuji or Pink Lady apples work well with this wine and the cheeses, too. Enjoy!
Marimar Estate is one of the enduring legacies of the late Miguel Torres, one of the 20th century's most important wine personalities and the vanguard of the oenological renaissance now sweeping Spain. Founded and run with precision by Miguel's daughter Marimar Torres for whom this California estate is named, the Marimar Estate remains one of Sonoma County's greatest properties and an advocate for organic viticulture in Sonoma County. The eye catching Marimar Estate is nestled in the rolling hills of western Sonoma County, astride both the Russian River and Green Valley appellations. This site provides the perfect microclimate for growing Chardonnay and Pinot Noir. Situated only 10 miles from the Pacific Ocean and 50 miles north of San Francisco, the estate's vineyards are influenced by the sea's cooling breezes and drifting fog. Marimar Torres selected this privileged location herself to "export" the Torres family legacy of fine wines to California. Today, Marimar Torres directs the daily activities at the winery and at the estate's two vineyards: Don Miguel, named for her late father, in Sonoma County's Russian River/Green Valley; and Doña Margarita, after her mother, in the Sonoma Coast Appellation. In addition to speaking six languages and having been involved in the wine business all of her life, Marimar studied Enology and Viticulture at the University of California at Davis. She also holds a degree in Business and Economics from the University of Barcelona and is a graduate of Stanford University's Executive Program. Moreover, she fashions outstanding Chardonnay and Pinot Noir organically at Marimar Estate. Today, no herbicides, pesticides, or chemical fertilizers are used in the Don Miguel Vineyard. After experimenting with organic viticulture for several years with a few blocks of vines, Marimar states: "in 2003 we decided to make the jump to the entire vineyard. The whole idea is to create an ideal balance between the vines and nature. The vineyard will be ecologically healthier, and the grapes of higher quality. That's our long-term reward." So today, a carpet of clover is used between the rows of vines to provide the ideal environment for ladybugs, spiders, and other critters beneficial to fighting such menaces as mites and leaf hoppers, the enemies of vines. And to go a step further, Marimar is now practicing biodynamic agriculture, which involves nature's rhythms and the entire environment surrounding the vineyard.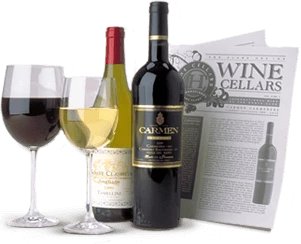 Enjoy Limited Production Estate
Bottled Wines
Discover limited production estate bottled wines such as Vergenoegd's internationally
acclaimed 2005 Cabernet Sauvignon, imported exclusively for our members.
DISCOVER OUR FOUR CLUBS