A highly aromatic wine from 100 % old vine Tempranillo grapes, the 2004 Mano a Mano is a knockout offering. It hails from the premier terroir of La Mancha and this handcrafted dandy certainly lives up to its name as well as its pedigree. Extremely deep in color, the 2004 Mano a Mano displays a gorgeously seductive nose that captivates from beginning to end. Aromas of black fruits, bacon fat, crushed cassis, and licorice tantalize the nose, and that's just the opening act. Better still, the amplifying olfactory carries through on the palate, offering up super ripe, concentrated flavors that are nothing short of totally satisfying. In addition, this seductive Tempranillo is imbued with a silky soft texture, balanced ripe tannins, and a long satisfying finish that lasts long after the wine has glided down the gullet. In short, this is the kind of wine we would love to drink every night. Moreover, Mano a Mano is testimony to just how good the red wines of La Mancha can be from low yielding old vines, especially in the hands of an expert winemaker. We suggest drinking this very fine Spanish dandy at cool room temperature (no more than 66 degrees F), after at least a half hour or more of breathing time. Salud!
The 2004 Mano a Mano is the kind of wine that makes ordinary mid week meals shine and fancy fare taste like a veritable feast. Meat, cheese, potatoes, even complex sauces are all good bets with this delightful wine of La Mancha. We recommend it highly with prime rib of beef, meatloaf, pork chops, and almost any young, cow's milk cheese. The Mano a Mano is the kind of red wine that cuts through the fat in foods and gives the heart assurance, even as the plate of mashed potatoes and the tray of gravy make their way around to your side of the table. In short, the Mano a Mano is a stalwart wine with a heart as well as a soul, and it is these attributes that make it rise as easily to the finer attempts at the culinary arts as to the simple pleasures of country cooking. So whether dinner is Chateaubriand or Zucchini Pie, Rack of Lamb or Hamburger Surprise, the 2004 Mano a Mano is a pleasure to drink. Enjoy!
Don Quixote and the Broadway musical The Man of La Mancha have certainly been more popular abroad than the wines of La Mancha have ever been, at least until now. Mano a Mano is the personal project of Jorge Ordonez, the leading importer of Spanish wines in the United States, and for the last several years Mano a Mano has been playing to critical and popular acclaim. Everything about Mano a Mano reflects Ordonez's natural hands on approach to winemaking as the name implies. Even the label for Mano a Mano was originally hand drawn by Jorge Ordonez's children. Most importantly, Mano a Mano has put La Mancha back on the serious wine drinker's viticultural map. The Mano a Mano winery is located on the best terroir of La Mancha. This estate's award winning wine is a 100% varietal, all from old Tempranillo vines averaging more than 40 years of age. In just a few short years Jorge Ordonez has fashioned Mano a Mano into La Mancha's flagship wine. Jorge Ordonez Jorge Ordonez is the most influential name in Spanish wine. From virtual obscurity in 1987, Ordonez has risen to the position of guardian, prophet, and zealot all in the name of Spanish wines. He has advanced and revolutionized the Spanish wine industry in all respects. Moreover, he has educated and introduced Americans to a treasure trove of fine Spanish wines. When he started his quest in 1987, the then 27-year-old Jorge Ordonez was a voice in the wilderness. Two decades ago, the quality and variety of Spanish wines for export had become nothing short of dismal. Spanish wine sales lagged far behind that of France, Italy, and California and overall quality was variable at best. By the force of his dynamic, visionary personality and sheer hard work, Ordonez has brought fine Spanish wines to the forefront of American wine drinking. At the same time, the now 45-year-old Ordonez has improved the overall quality and consistency of Spanish wines. Presently, he oversees an amazing portfolio of 130 Spanish wines from 40 different wineries. His name on a bottle of Spanish wine is as close to a seal of quality as one can find, simply because "When nobody cared about Spanish wines," Ordonez proclaims, "I was there." Robert Parker, Jr., the influential wine critic, has twice named Jorge Ordonez Wine Personality of the Year. Others have dubbed this remarkable man, the best friend Spanish wine ever had; while still others claim that Ordonez has provided the impetus for the present renaissance in Spanish wines. Indeed, this is the Siglo d'Oro or Golden Age of Spanish wine, thanks in large part to Jorge Ordonez and a few other like minded visionaries.
Youthful reds such as the 2004 Mano a Mano make ideal accompaniments to the world's finest gourmet cheeses. Full flavored cheeses such as Roncal from Spain's Navarra region or a French Pont L'Eveque from Normandy offer just the right amount of flavor and youthful exuberance to complement the Mano a Mano. Roncal is a personal favorite that we believe deserves to be better known in the United States. It is a cheese whose origin dates to 882 A.D. when King Sancho Garcia bestowed special grazing rights upon the shepherds of Navarra's Roncal Valley. Roncal's rich olive like flavor provides an excellent companion to the old vines Tempranillo of the Mano a Mano. For more information on outstanding gourmet cheese and wine selections or to order a monthly subscription to In Pursuit of Cheese, contact us at www.cheesemonthclub.com to enjoy the best of both worlds.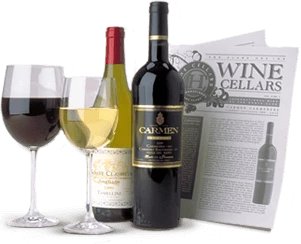 Enjoy Limited Production Estate
Bottled Wines
Discover limited production estate bottled wines such as Vergenoegd's internationally
acclaimed 2005 Cabernet Sauvignon, imported exclusively for our members.
DISCOVER OUR FOUR CLUBS