Malabaila's 2011 Roero Arneis Pradvaj embodies all the inherent elegance, flavor and style of the noble Arneis varietal. The delight begins from the moment this Arneis is poured and reveals its sparkling straw-yellow color for the eye to behold. The pleasure continues with a captivating aroma that embodies the soft scents of spring flowers and ripe fruits. And from the first sip, the deal is sealed: the 2011 Pradvaj Arneis expands in the mouth and caresses the palate with pure ripe fruit flavors touched with hints of fennel and marzipan. Elegant, balanced, and perfectly nuanced, Marabaila's Roero Arneis satisfies the body as well as the soul. In short, it's classic Roero Arneis: it refreshes, delights, and enlivens the senses. It appears light and ethereal at the same time it satisfies the senses, and when allowed to linger in the mouth, each sip inspires wonder. Enjoy Malabaila's expertly crafted Pradvaj Arneis well-chilled, cool, or somewhere in between (40°-45° F).
The 2011 Malabaila Roero Arneis Pradvaj is a versatile wine. It makes an excellent aperitif at the same time it provides the ideal companion to hors-d'oeuvres, risottos, fish, cheeses, and white meats. Pan seared tilapia served with a tomato, lettuce, cilantro and avocado salsa, sautéed scallops, and pecan encrusted salmon also provide superb accompaniments. For those who are a bit more adventuresome and can take a little heat, a soft taco stuffed with chorizo and marinated cabbage, radish, jalapeno, onion, and cilantro offers a mouth tingling accompaniment. Chicken, creamy pasta dishes, and the simplest of meals like homemade bread served with warm goat cheese pair nicely with Malabaila's Arneis, too. Buon Appetito!
Malabaila di Canale lies atop a beautiful hillside near Castelletto in Italy's Piedmont. From the ancient castle that commands the hill, vines flow like streams of water coursing down steep slopes to the valley below. The estate enjoys an enviable terroir on loose arid soils that erode easily, which makes them ideal for growing vines. By Piedmontese standards, Malabaila di Canale is a large estate. It covers 220 acres, but only a fraction of Malabaila is actually devoted to vines, with Roero's precious Arneis varietal accounting for only a mere 16 acres.
The Malabailas hail from a noble family from nearby Asti that has been involved in the commercial and financial interests of Northern Europe for more than 1,000 years. Costanza Carrega Malabaila and her daughter Lucrezia manage the estate along with winemaker Valerio Falletti, who also serves as Malabaila's passionate agronomist and oenologist. Although ancient on the outside, this well run property comes equipped with a very modern winery where technology and tradition combine to make outstanding wines. The Malabaila/Falletti team practice eco-friendly viticulture. No herbicides are used in the vineyards and natural organic fertilizers are the order of the day, which account at least in part for the freshness and purity one encounters in Malabaila's wines.
Arneis is an ancient grape variety indigenous to the Roero district of Italy's Piedmont. Arneis, which has been translated as "little rascal," has enjoyed a long, but not always illustrious history. Like most of Italy's indigenous grape varieties, Arneis has only recently been cultivated and bottled as a varietal wine. For centuries, the local white Arneis, also known as Bianchetta and Nebbiolo Bianco, was most often blended into Piedmont's full-bodied rustic reds to expand and enliven their aromatic profiles and soften any tannic edges. In the days before the laws of Denominazione di Origine Controllata, even Piedmont's illustrious Barolo would receive a dollop of Arneis to enhance its aroma and tame its fire.
Since the 1970s, Arneis has come of age in its own right. With the advent of technical wine equipment and the enforcement of DOCG regulations in Italy, Arneis has been rescued from extinction and born again as Piedmont's finest and most expensive dry white wine. Arneis yields a medium-bodied wine of haunting bouquet. Spring flowers, stone fruits, and a waft of fennel are the scents and savors most associated with this charming food friendly varietal that is highly adaptable to stylistic interpretation. It can be enjoyed quite chilled or slightly cool, as you like it.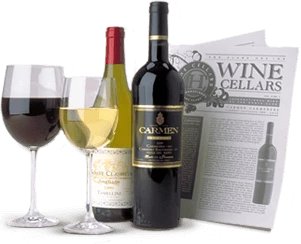 Enjoy Limited Production Estate
Bottled Wines
Discover limited production estate bottled wines such as Vergenoegd's internationally
acclaimed 2005 Cabernet Sauvignon, imported exclusively for our members.
DISCOVER OUR FOUR CLUBS