In a recent tasting of white Burgundies that sell for as much as $50.00 a bottle, the 2011 Maison Verget Pouilly-Fuissé rocked the house. It put to shame all other Pouilly-Fuissé contenders, and in some cases a few pretenders, and it shut out the more expensive Premier Cru Chablis and Côte d'Or offerings as well. As one veteran panel member so aptly noted: "There's Pouilly-Fuissé and then there is outstanding Pouilly-Fuissé." Jean-Marie Guffens' 2011 Maison Verget Pouilly-Fuissé definitely falls into the latter category as it is undoubtedly a reference point for the appellation. As it is endowed with a bright sun-kissed robe and an alluring bouquet reminiscent of spring flowers, crushed rock, and ripe citrus, one could almost forget to drink this sensory stopping elixir, but what a shame that would be. In the mouth Maison Verget's 2011 Pouilly-Fuissé glides across the tongue and fills the mouth with polished fruit and layers of nuanced flavors infused with a subtle minerality. A touch of oak adds additional body and complexity, without overpowering the wine's freshness, vigor, or individuality. Drink this wine moderately chilled (40°-50° F) now and over the next two years.
Pouilly-Fuissé provides one the most satisfying ways to begin a party or event. In short, authentic Pouilly-Fuissé makes for a splendid aperitif because it's a genuine crowd pleaser, and the 2011 Maison Verget Pouilly-Fuissé is certainly no exception: it definitely knows how to work a room. However, given the body and complexity of Jean-Marie Guffens's Maison Verget Pouilly-Fuissé we prefer pairing it with fish, shellfish, and light terrines. Almost any fish dish prepared with a light broth or cream sauce will be enhanced by this wine's bright layered flavors. Cod, grouper, halibut, salmon, and trout top our list of fish to serve with this wine. To our tastes, crab, lobster, scallops, and prawns offer even more gratifying accompaniments. King crab legs, lobster, or prawns served with a light aioli or drawn butter sauce constitute several of our favorite accompaniments to Jean-Marie Guffens's splendid Pouilly-Fuissé. A steaming plate of mussels, sautéed in a saffron cream sauce, provides another perennial treat. For those who prefer anything but fish, salads, pastas (with cream based sauces), chicken, pork, and full-flavored cow's milk cheeses all provide splendid companionship, too, to Maison Verget's Pouilly-Fuissé. Bon appétit!
"Guffens' wines display an exquisite poise, a balance that engenders the wines so fresh and vigorous." –Wine Advocate of Maison Verget's Jean-Marie Guffens
Maison Verget is one of the most respected names in Burgundy. Established in 1990 by Jean-Marie Guffens of Domaine Guffens-Heynen, Maison Verget specializes in fashioning the finest white Burgundies from the greatest terroirs in Chablis, Côte d'Or, and the Mâconnais (most notably Pouilly-Fuissé, St. Véran and select cuvees of Mâcon-Villages).
Domaine Guffens-Heynen enjoys worldwide renown both for the quality of its wines and the passion its owners, Jean-Marie and Maine Guffens, bring to winemaking. Jean-Marie Guffens applies the very same rules and standards practiced at Domaine Guffens-Heynen to the wines of Maison Verget. Verget's philosophy is simple: "the best wine comes from the best grapes." This often repeated phrase actually means something at Verget as Jean-Marie produces a multitude of splendid white Burgundies in small lots from premier terroirs throughout the Mâconnais, Côte d'Or and Chablis. Verget's raison d'être is to reveal the ultimate character of each wine by revealing its terroir. Nowhere is this philosophy more important than in the Mâconnais, where the region has historically been content to produce charming generic white wines with little connection to individual terroirs. Consequently, Verget's greatest success has come with Pouilly-Fuissé and outstanding Mâcon-Villages where all the grapes from each parcel are hand harvested, pressed, and vinified individually. These painstaking methods allow for the ultimate expression of the grapes as well as the terroir of each site.
Pouilly-Fuissé is the premier appellation of southern Burgundy as well as one of Burgundy's finest white wines. Pouilly-Fuissé is ideally located in the heart of the Mâconnais region and is renowned for its massif limestone bluffs and chalky alkaline soil, which provide the ideal terroir for Chardonnay. This appellation comprises just four villages that stretch out over a series of steep hills, just to the north of the ten greatest villages of Beaujolais. All the wine of this renowned commune is white, emanating exclusively from Chardonnay vines.
In Pouilly-Fuissé, the tradition is to give fully ripened Chardonnay grapes a gentle press, so that the resulting wine expresses the ultimate quality of the grape and the soil, instead of imbuing the wine with massive amounts of vanillin from new oak barrels. Consequently, most Pouilly-Fuissé wines see little or limited contact with new oak, so as not to obliterate the nuances wrought by terroir or obscure the delicacy, elegance, and subtle charm for which the finest wines of this prized commune are justly famous.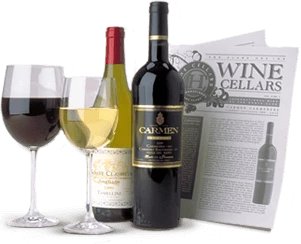 Enjoy Limited Production Estate
Bottled Wines
Discover limited production estate bottled wines such as Vergenoegd's internationally
acclaimed 2005 Cabernet Sauvignon, imported exclusively for our members.
DISCOVER OUR FOUR CLUBS