Year in and year out, Gilles Noblet fashions exceptional St. Véran. Unfortunately, so little of it is made and demand for it in Europe remains high. Consequently, only a paltry pallet or two make it to our shores each year. However, this year we were able to secure just enough of this special St. Véran to offer it to a limited number of our members. The 2017 Maison Gilles Noblet St. Véran exhibits Noblet's seductive signature: delicious white burgundy with a bright sunny color, an intriguing bouquet of acacia blossoms, mountain apples, and soft mineral tones followed by mouthwatering palate appeal. With a bit of aeration, Noblet's St. Véran expands on the palate and caresses the senses with ripe fruit, pinpoint minerality, and laser-like precision. Gilles Noblet's flavorful St. Véran possesses charm, elegance, and that certain nuance of flavor the French refer to as "un certain je ne sais quoi." As a noble white burgundy, we suggest serving Gilles Noblet's 2017 St. Véran moderately chilled (40°-45º F) and allowing it a few minutes of aeration after pouring to evolve in the glass. Salut!
Although it makes for a delicious aperitif, Maison Gilles Noblet's outstanding 2017 St. Véran also serves as the perfect foil to hors d'oeuvres, mild cheeses, salads, and seafood. Smoked salmon, escargots, and tapas make splendid starters to pair with this wine. Flounder, stuffed with crabmeat, makes a wonderful partner, too. Trout Amandine, grouper, mahi-mahi, sole, and sea bass also complement Noblet's 2017 St. Véran. Blue Fin Crab cocktail offers another memorable pairing with this flavorful white burgundy. And for those not beholden to the sea for sustenance, flavorful chicken salads made with pear, walnut and goat cheese, light creamy pastas, and healthy green salads topped with grilled salmon or chicken offer other excellent accompaniments to this beautiful Mâcon Chardonnay. Bucheron, Edam, Port Salut, and most other soft, cow's milk cheeses provide excellent, easy to prepare accompaniments to St. Véran, too. Enjoy!
We first encountered Gilles Noblet's wonderful Mâcon wines two decades ago and have consistently been impressed by the outstanding quality he wrings from his 29-acre domaine, even in the toughest of vintages. Gilles fashions some of the Mâcon's (the Mâcon is the area of southern Burgundy that is known for its elegant Chardonnay wines) finest Pouilly-Fuissé, Mâcon-Fuissé, and Saint Véran. Year in and year out, Noblet's wines show the quality that can be attained in the Mâcon with a personal and artisanal approach to wine production.
Although not certified as organic, Gilles Noblet practices sustainable agriculture and uses non-interventionist methods in the production of his wines. No artificial fertilizers or insecticides are employed, and only natural yeast is used in fermentation. Moreover, the average age of the vines at Noblet's domaine average nearly 40 years, with many vines considerably older. Noblet's old vines and reduced yields result in wines more generous and concentrated than other Mâconnais whites. Gilles Noblet's wines are classic white Burgundies as well as some of the most compelling wines of the Mâconnais.
St. Véran is one of the two finest appellations in the Mâconnais of southern Burgundy; Pouilly-Fuissé is the other. St. Véran takes its name from the Mâcon village of Saint-Vérand, but like most wine appellations in France, St. Véran encompasses a number of nearby villages in addition to its namesake, all of which sit upon the limestone-rich soil of an ancient sea bed, adjacent to Pouilly-Fuissé. Granted appellation status in 1971, St. Véran presently covers approximately 625 acres, devoted entirely to Chardonnay. Consequently, only white wine ever flows from the renowned appellation of St. Véran. And although quite similar in style to Pouilly-Fuissé, the wines of St. Véran typically exhibit a bit more flesh and fruit, and there is often added warmth to St. Véran that one rarely sees in Pouilly-Fuissé – a reminder that in this area of the Mâconnais one has left northern France and is offered a first glimpse of southern France known as the Midi.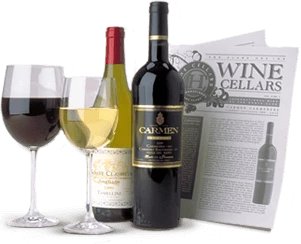 Enjoy Limited Production Estate
Bottled Wines
Discover limited production estate bottled wines such as Vergenoegd's internationally
acclaimed 2005 Cabernet Sauvignon, imported exclusively for our members.
DISCOVER OUR FOUR CLUBS