The 2013 Maison Gille Rully Premier Cru Rabourcé offers a taste of classic white Burgundy with the power to invoke the elegance and charm of the pastoral Burgundian countryside. A radiant straw color greets the eye, while scents of acacia, privet and orchard fruits waft from the glass to greet the nose. In the mouth, the medium-bodied Maison Gille 1er Cru Rully Rabourcé reveals pure Chardonnay fruit flavors born of Rabourcé's premier terroir. "Dirt is destiny," the Burgundians are fond of saying and this is certainly true for Gille's 1er Cru Rabourcé where the wine's elegant fruit, pinpoint minerality and laser like precision all shine through. A deft touch of oak frames the wine and adds a final patina of elegance, which happily carries through on the wine's satisfying finish. We suggest only moderate chilling (40º-45º F) of this exemplary 1er Cru from Maison Gille, as colder temperatures may mute the elegance and subtle complexity of this classic white Burgundy.
As classic white Burgundy, the 2013 Maison Gille Rully Premier Cru Labourcé provides the quintessential accompaniment to fresh fish, shellfish, and poultry. It also makes for an outstanding aperitif as the oak in this Burgundian Chardonnay does not overpower the wine. While enjoying this delightful aperitif, consider feasting on oysters, lightly sautéed in butter, shallots and white wine or toasted French bread rounds with gravlax or smoked salmon, cream cheese, capers and onion. If you are disciplined and the bottle is not yet empty, bring the remaining Maison Gille Rully Labourcé to table to accompany salmon, sole, or flounder in a savory broth or cream sauce. Scallops sautéed with butter, white wine, and fresh herbs; steamed lobster with drawn butter; and soft shell crabs also offer superb companionship to a bottle of Maison Gille's 1er Cru Rully. Medallions of chicken or veal sautéed with fresh mushrooms in a white wine and herb infused cream sauce will win hearts and please palates, too. Bon appétit!
The Gille family has been continuously cultivating vines in the village of Comblanchien since 1570, and for more than five centuries the domaine has been passed down from father to son. The Gille name is the oldest surviving name in the village. The Gille domaine has changed in size through acquisitions, purchases and marriages but has never ceased to produce authentic red and white Burgundies from multiple vineyard plots in several Burgundy communes, including a Grand Cru offering and several prestigious Premier Cru offerings.
The present domaine was developed in the early 1900s by Vivant Gille, the grandfather of the present proprietor, Pierre Gille, and now comprises 9 hectares or just a little more than 22 acres, a sizeable holding by Burgundian standards. The estate's vines range in age from 45-80 years of age, with some parcels owned for centuries. The Gille family like many Burgundy producers also purchases grapes from wine growers with whom they work closely and have long-time agreements. The Gilles are responsible for training the vines following organic requirements, hand harvesting of the grapes and all of the wine making, which takes place at Maison Gille.
Burgundy is a wine as well as a place. In fact, it is many wines and many distinct locales, all of which were once part of the ancient duchy of Burgundy. Situated several hundred kilometers southwest of Paris, Burgundy is hallowed ground to serious lovers of the vine. From its golden hillsides, whose center slopes are so aptly named the Côte d'Or, flow France's most expensive and profound wines. Names such as Romanée Conti, Chambertin, Clos de Vougeot, and Le Montrachet among others have been delighting serious wine aficionados for centuries. Yet, there is much more to Burgundy and its wines than a few illustrious names. For starters, Burgundy is the ancestral home of two of the world's most revered grape varieties – Chardonnay and Pinot Noir.
Clearly, Burgundy is much more than a single wine or one great vineyard: it is a special place, a land almost entirely devoted to wine in one fashion or another. However, what remains surprising to many wine drinkers is that Burgundy is both red and white wine, the best of which come from Chardonnay and Pinot Noir exclusively. With a few rare exceptions, the finest Burgundies emanate from the region's core, the Côte d'Or, which begins on the fabled Côte de Nuits, just to the south of Dijon, and flows all the way south to Santenay at the tip of the Côte de Beaune. The Premier and Grand Cru wines from these illustrious hillsides are invariably the finest wines of the entire region and worth their weight in gold.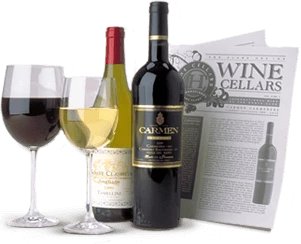 Enjoy Limited Production Estate
Bottled Wines
Discover limited production estate bottled wines such as Vergenoegd's internationally
acclaimed 2005 Cabernet Sauvignon, imported exclusively for our members.
DISCOVER OUR FOUR CLUBS