In character and quality, the wines of Vacqueyras most resemble those of nearby Châteauneuf-du-Pape, and the 2005 Vieux Clocher Vacqueyras is ample testimony to the comparison. Deeply colored, full-bodied, and polished, the 2005 Vieux Clocher Vacqueyras displays a comely bouquet and a wealth of flavor. Rich dark fruits, anise, and garrique (the amplifying herbal scents and savors of the Provencal landscape), pepper, and spice all make a splendid appearance in this wine. Full, but in no way rustic, this exemplary effort from Vieux Clocher drinks beautifully. Another year or two in bottle will only enhance this charming wine, but we doubt you can wait. So for current consumption, we suggest you allow this Vacqueyras at least a half hour of aeration. And as with most fine Rhône reds, a cool serving temperature (57°-62° F) is the order of the day for the 2005 Vieux Clocher Vacqueyras, even if it means giving it a few minutes in the refrigerator before serving on a warm day.
Lamb and beef are the traditional accompaniments to fine, hearty Rhône reds, and the 2005 Vieux Clocher Vacqueyras will more than do its part to fill that bill. However, one of the many attributes of top-notch Vacqueyras is its versatility at table. It can hold court with grand cuisine or it can lend credence to an ordinary meal. For example, the 2005 Vieux Clocher Vacqueyras can render simple peasant foods and casual midweek meals fit for royalty. Spiral-sliced ham, homemade potato salad, and a large multigreen salad, served with crusty French bread and a hunk of hard cheese, make for a splendid midweek banquet in the company of this excellent Vacqueyras. Similarly, split pea or lentil soup, grilled Italian sausages, and barbecue spare ribs offer this wine a chance to shine, too. And since the Vieux Clocher likes to be served cool (not cold), it also offers a fine complement to grilled tuna steaks, especially when served with lentils, beans, ratatouilles or tomato-based dishes. Bon appétit!
Maison Arnoux is located in Vacqueyras, one of the prettiest wine villages in all of France. Not only is Vacqueyras a quintessential, sun-drenched Provencal town, it turns out some of the finest wines of the entire Rhône Valley. For centuries Vacqueyras has enjoyed great acclaim for its scenery as well as its superb red wine. To further advance its stature, Vacqueyras lays claims to a favorite son in Raimbaut de Vacqueyras, a celebrated 12th century troubadour. In days gone by, Vacqueyras was also the preferred haunt of Sarah Bernhardt, the 19th century's most renowned actress and celebrity. The town no doubt served as a haven from the paparazzi of the day. However, it was not until 1995 that Vacqueyras was granted its own wine appellation, separate from that of the other top Côtes-du-Rhône Villages. Maison Arnoux was founded in 1717 when the Count Francois de Castellanne, de Lauris, de Vassadel, de Gérard, Chevalier Marquis d'Ampuis, de Lagneroux, universal landlord of Vacqueyras and its lands, donated a parcel of vines to Pierre Bovis, an ancestor of the Arnoux family. Today, the vines of the Arnoux family extend over 40 hectares (88 acres). Moreover, Arnoux's Vieux Clocher still occupies a prime site in Vacqueyras at the foot of the majestic Dentelles de Montmirail, the last rocky outcropping of the Alps. A distinctive Provencal landmark, the Dentelles de Montmirail towers above Vacqueyras and neighboring Gigondas. Here Grenache, Syrah, Mourvèdre, and Cinsault thrive in the dry, wind-scoured air of this mystical corner of Provence known as the Vaucluse.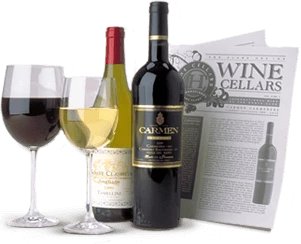 Enjoy Limited Production Estate
Bottled Wines
Discover limited production estate bottled wines such as Vergenoegd's internationally
acclaimed 2005 Cabernet Sauvignon, imported exclusively for our members.
DISCOVER OUR FOUR CLUBS