A no holes barred, spare no expense Chardonnay, the 2002 Mahara Chardonnay has been called "The ultimate Chardonnay"... "A Chardonnay for people who really don't like Chardonnay anymore or are just plain sick and tired of the hegemony of oak".... And "The finest white wine we have encountered in a good long while," and that about sums it up. More aromatic and complex than most Chardonnays, this full-bodied white acts like a red and has a flavor profile all its own. Built to last in the Burgundy tradition (whole bunch pressing, barrel fermentation, and a year in seasoned French barriques), the 2002 Mahara Chardonnay oozes with the scent of melted butter and is infused with floral tones and spring flowers for added pleasure and complexity. Each sniff reveals another enchanting tone. Although rich and fulfilling in the mouth, the Mahara Chardonnay is exquisitely textured and balanced; all components work in harmony, including the oak, which reveals itself in touches of butterscotch and vanilla. Long, dry, and haunting on the finish, Hans Herzog's 2002 Mahara Chardonnay needs to be savored and not guzzled. Considering the depth and elegance of this wine, we suggest that the 2002 Mahara Chardonnay not be drunk overly chilled (about 45 degrees - 50 degrees F) for optimum enjoyment.
"Classic wines deserve classic dishes," states the age-old adage. And on this account, Hans and Therese Herzog would agree. Consequently, the 2002 Mahara Marlborough Chardonnay deserves better than your average mid week fare, so French classics are the proprietor's choice in this case. Our premier suggestion then is pairing the Mahara Chardonnay with a classic French Escalopes de Veau (Sautéed Veal Scallops in mushrooms and cream). Also, almost any cream based Suprême de Volaille (Chicken Breasts in a cream or cheese based sauce with fresh vegetables) would be excellent as well. Coquilles St. Jacques provides another golden opportunity as does Poached Salmon. Many soft French and Swiss cheeses offer other fine opportunities. Authentic Bucheron from France and Raclette form Switzerland are especially noteworthy with this wine. Bon Appetit!
Hans Herzog has made wine for nearly thirty-five years, but the Mahara Family Vineyard is the culmination of this brilliant winemaker's many outstanding viticultural accomplishments. A walk through Hans and Theresa Herzog's meticulously tended Wairau vineyard is akin to a stroll in paradise. Lofty green mountains hover above the fruited vineyard that recalls both the Garden of Eden and the idyll expressed on a Watteau canvas. Without seeming out of step, the Mahara Winery combines the best of the natural world with the civility and comfort of old world charm. Located at the end of Jeffries Lane in one of Marlborough's more temperate locales, Herzog's Mahara Winery is simply the finest vineyard in Marlborough, and more; it is also home to New Zealand's best restaurant. The meticulous Herzog is renowned for practicing only sustainable methods of viticulture and intentionally limiting vineyard yields, which are purported to be the lowest per vine in Marlborough. His high-density planted vineyard comprises only ten hectares (22 acres), but is packed with nine different varietals: Pinot Gris, Chardonnay, Viognier, Montepulciano, Pinot Noir, Merlot, Cabernet Sauvignon, Cabernet Franc, and Malbec. In all, six different wines are made at Mahara, and each is more intense and profound than the next. The estate's Chardonnay and meritage blend Spirit of Marlborough are, perhaps, the best known internationally. Herzog's Mahara Chardonnay rivals the finest white Burgundies, while the unfined unfiltered Spirit of Marlborough is the equal of many a great Pomerol from Bordeaux. Marlborough: A Noble Land Marlborough is situated on the northern tip of New Zealand's mystical South Island, where it enjoys a unique dry maritime climate. High mountains isolate this enchanted land from the cold alpine interior of the rest of the South Island, while the spectacular Marlborough Sound to the north provides a conduit to the sea as well as the planet's most majestic view of New Zealand's North Island as it soars skyward across the swells of Wellington Straits - a sight that ranks as one of the world's most stunning vistas. Moreover, Marlborough is about as close to viticultural paradise as one can find, especially for Chardonnay and Sauvignon Blanc. Marlborough's long, sunny, but not excessively hot growing season provides nearly ideal conditions for grape growing. The average summer daytime temperature hovers between 24 degrees C and 28 degrees C (72 degrees - 80 degrees F) depending upon one's altitude and proximity to the sea. The air is crystal clear and the light luminous; with nary an overcast day let alone much rain during the long growing season. Cool nights keep acid levels high in the grapes, even as sugar levels rise abruptly. Such conditions lend themselves to an extended growing season, which provide slow even ripening and extended hang time for the grapes. The result is ripe healthy fruit, with fresh vibrant flavors and a crisp herbaceous zing. In addition to its superb summer climate, Marlborough also boasts excellent soil for grapes. Most of Marlborough consists of silty, free draining alluvial loams over gravelly sub-soils. In addition, river stones lie scattered throughout Marlborough, remnants of the many rivers that once coursed through the pretty valleys of Marlborough. These river stones store heat from the warm sunny days and radiate that heat back into the vineyards at night, thereby providing a unique microclimate and terroir, much like that of Châteauneuf-du-Pape. Moreover, most Marlborough growers are committed to sustainable agricultural practices in order to preserve the region's noble terroir. And the French thought they had a monopoly on terroir; we think not.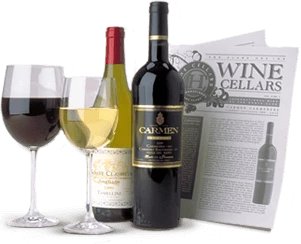 Enjoy Limited Production Estate
Bottled Wines
Discover limited production estate bottled wines such as Vergenoegd's internationally
acclaimed 2005 Cabernet Sauvignon, imported exclusively for our members.
DISCOVER OUR FOUR CLUBS