Made primarily from Champagne's primary black grapes, Pinot Noir and Meunier, Magenta's Cuvée Supérieure Brut captures the elegant, delicate side of Champagne. It first captivates the eye with its delicate mousse and persistent streamers of tiny pinpoint bubbles. Add to this wine's eye appeal a set of pretty aromatics along with plenty of soft round flavors that leave the mouth refreshed and we bet you will be wishing you had a case of this wine. Easy to drink, yet subtlety complex and full of flavor, the Magenta Brut comes across as a real crowd pleaser. It offers up savory scents and flavors of golden apples, apricots, currants and oven baked bread straight from the oven. Fresh, seductive in flavor, and easy to drink, the Magenta Cuvée Supérieure Brut glides easily down the thirsty throat to deliver its magic. We strongly recommend that the Magenta Brut, like all sparkling wines under pressure, be well chilled (37º F) before opening and serving. Once in the glass you will want this delightful bubbly to open slowly to reveal its subtlety and innate charm. Enjoy!
Champagne has been called the "The Belle of Ball" and "Magic in a Bottle" for its propensity for appearing at parties and celebrations, and to any celebration Magenta's Cuvée Supérieure Brut will provide the ideal companion. Consequently, the Magenta Brut makes a splendid aperitif or an exceptional "opening act" to any special occasion. In short, we can think of very few ways we would rather spend an evening than with an unending supply of Magenta Brut in our glasses. What more could one ask than to sip this wine the whole night through? How about some food to accompany the Champagne! Champagne pairs splendidly with smoked salmon or gravlax with capers, onion, cucumber and a soft spread of cheese. Wild caught salmon, cooked in white wine, fresh lemon, butter, and thin slices of sautéed onion, makes a first rate paring, as salmon and Champagne seem to have an affinity for one another. Canapés, creamy cow's milk cheeses, and salty foods provide other satisfying accompaniments to most Brut Champagnes. Crab and Lobster make our list of top accompaniments, too. Poultry and light fruit and vegetable medleys offer additional choices. Although fine Brut Champagne (truly dry Champagne) can be enjoyed at any time, it is unquestionably at its best before or with a meal, not afterwards or with dessert. Waiting to serve Brut Champagne at the end of an evening or celebration is the primary reason that some people say they don't like Champagne. Sweet or sugary concoctions tend to throw Brut Champagnes off balance, so we suggest enjoying the Magenta Cuvée Supérieure Brut and all dry bubbly while the night is young. Salut!
Editor's Note: Champagne is a wine that is under pressure. It should always be well chilled before opening. Always exercise caution when opening a bottle of sparkling wine. Never use a corkscrew. Point the bottle away from people and objects. Use a clean towel or cloth to firmly grip the bottle. Gently remove the wire stopper while firmly holding the cork in place. Then with thumb and forefinger, remove the cork slowly from the bottle. Do not let the cork fly. Enjoy!
Thierry Lombard's family established their Champagne house in 1925 in the heart of the Champagne region, a tiny village named Magenta near Epernay. Thierry represents the third generation of his family to run the family Champagne business.
In 1984 the Lombards acquired the Charles de Cazanove Company based in Epernay and developed Charles de Cazanove into a major Champagne brand. In 2004 the family received a very attractive offer to sell the de Cazanove brand to a major company, which the family decided to do in order to establish their own premium Champagne cuvée – Magenta – in honor of the village where Thierry's family established their first Champagne cellar.
Thierry Lombard owns his own vineyards, which is not always the case in Champagne. Thierry has 25 acres of vineyards on the prestigious Montagne de Reims. He also owns a local Pressoir (crushing center) to crush his own grapes as well as those of other producers.
Magenta Cuvée Supérieure Brut is traditional artisanal Champagne made from Champagne's three most illustrious grape varieties: Pinot Noir, Pinot Meunier and Chardonnay. The Magenta Cuvée Supérieure Brut receives a minimum of four years of age before release. It can be found in the finest restaurants and wine shops, and in the Lombard family's underground cellars in Epernay, where several million bottles of Champagne lay quietly maturing.
Champagne is an ancient province of France, a pastoral land of meadows and streams and, most importantly, chalk hills upon which some of the world's choicest grapes are grown. Champagne's boundaries are delimited by law and its wines strictly regulated by the laws of Appellation Contrôlée as to permitted grape varieties (primarily Chardonnay, Pinot Noir, and Pinot Meunier), yield, production, and quality. Yet, Champagne is more than a place; it is also a wine. In fact, Champagne is several different wines – only the most recognizable of which is white and bubbly.
Although Champagne can be still or sparkling, white or red, and even rosé, the wine the world has come to know best as Champagne is always sparkling. So synonymous now is the name Champagne with sparkling wine that the nomenclature has been applied generically and indiscriminately to any wine that bubbles, much to the regret of the Champagne producers themselves. Authentic Champagne comes only from the Champagne district of France and meets all the approved legal requirements and standards of production, including absolute adherence to the painstaking Méthode Champenoise, which requires that secondary fermentation take place in the bottle for sparkling Champagne.
The magic of Champagne (at least the bubbly kind that now encompasses the overwhelming majority of wine produced in Champagne) comes from encapsulating the bubbles in the very bottle in which the wine starts its life. In the old days, long before the advent of technical wine equipment, temperature control, and central heating, the slow fermentation of grapes in the cool Champagne autumn was often interrupted by winter's chill. With the onset of winter, fermentation would stop completely or at least appear to cease, so the wine was bottled and prepared for distribution. However, the following spring temperatures would rise and the fermentation process would begin anew. This delayed completion of fermentation is known as secondary fermentation. Secondary fermentation produces the beautiful bubbles and tiny streams of carbon dioxide that have come to enchant several centuries of well wishers and hedonists. What began as serendipity is now one of the wine world's highest art forms.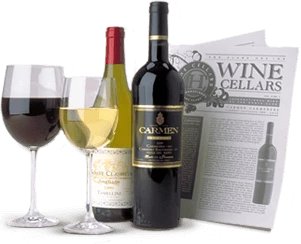 Enjoy Limited Production Estate
Bottled Wines
Discover limited production estate bottled wines such as Vergenoegd's internationally
acclaimed 2005 Cabernet Sauvignon, imported exclusively for our members.
DISCOVER OUR FOUR CLUBS