Lush, plush, and ever so easy to drink the 2003 Macaw Creek Yoolang Preservative Free Shiraz is as wonderful as it is rare. How difficult is it to make a clean delicious entirely preservative free, no sulfite wine any where in the world? Very difficult! However, such an undertaking in Australia, where extremely high summer and harvest time temperatures typically result in low natural acidity levels, is even more death defying. In fact, at most wineries hot weather and low acidity levels translate into additional inoculations with sulfites and or other preservatives, but not at Rod Hooper's Macaw Creek. Taste and see! The Yoolang Preservative Free Shiraz is regally robed and bursting with intense blackberry fruit, with hints of vanilla bean and mocha thrown in. A balanced underpinning of gentle ripe tannins simply add to the drinking pleasure of this wine and make it easy to see how the Yoolang's natural scents, savors, and structure underscore its kid glove treatment. Enjoy this rare wine cool (60-66 degrees Fahrenheit) after just a few minutes of aeration. However, you need not be in a hurry, the Yoolang Shiraz will continue to improve naturally in bottle for at least a couple of more years
All of Rod Hooper's red wines seem to exhibit an extroverted, friendly, pure, up front appeal that has become over the years Macaw Creek's calling card, but the 2003 Yoolang Preservative Free Shiraz may actually have all the others beat. Such a gregarious wine as this deserves many unpretentious like-minded companions. Consequently, simple foods with bold flavors, such as grilled lamb or sausage, a three meat meatloaf, homemade pasta with a fresh savory plum tomato marinara, grilled eggplant with buffalo Mozzarella and fresh picked herbs, all constitute some of our favorite picks with Macaw Creek's 2003 Preservative Free Shiraz. Chevre, Mahon, Manchego, and many other fine gourmet cheeses provide beautiful accompaniments to Rod Hooper's natural easy drinking Shiraz as well. Enjoy!
Macaw Creek is located in the picturesque Gilbert Valley of South Australia. South Australia's earliest settlers named the area where the winery stands Macaw Creek for the colorful native parrots they mistakenly thought to be Macaws. Among the first free settlers to South Australia in the early 19th century were the pioneering ancestors of Rod Hooper, the present owner and winemaker extraordinaire of Macaw Creek. One could easily miss the turn off down the dirt lane to Rod Hooper's charming 19th century winery, with the undistinguishable look of the Wild West about it. However, once you finally find the low stone structure that constitutes Macaw Creek, a tiny, neatly kept winery, replete with an attached storage shed and a cozy antique tasting room, which is normally aglow with a fire in winter months to ward off the chill of the clear cold mistral-like wind that scours the sweeping expanse of the Gilbert Valley, you know you have come to the right place. This is Macaw Creek Winery, and Rod's home. Rod Hooper is more or less a one-man show at Macaw Creek. Nearly single handedly, he has resurrected the family homestead and winery and become the voice for the burgeoning number of wine growers and fledgling wineries popping up astride the low South Australia hills of the Gilbert Valley, about an hour an half north of Adelaide. He is a pioneer, much as his ancestors were more than a century and half ago. Rod is, also, a professor of oenology and one of Australia's most sought after consultant winemakers. Not surprisingly, his specialties are Shiraz, Grenache, and Cabernet Sauvignon, and you will soon discover why.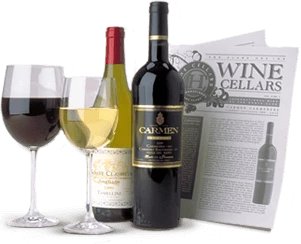 Enjoy Limited Production Estate
Bottled Wines
Discover limited production estate bottled wines such as Vergenoegd's internationally
acclaimed 2005 Cabernet Sauvignon, imported exclusively for our members.
DISCOVER OUR FOUR CLUBS