A medium bodied, flavor packed wine, the 2003 Macaw Creek Grenache Shiraz exhibits a wonderful display of aromatic fireworks, and that's only the olfactory prelude. Black cherry, ripe plum, pepper and spice caress the nose, while elegant soft, cherry-berry flavors define this wine's broad mid palate. Easy drinking, but chock full of flavor and structure, it is truly a shame to consume the 2003 Macaw Creek so young because a healthy dollop of Malbec (6%) and just a bit of Cabernet (4%) add both backbone and structure to the hedonistic charms of the wine's Grenache and Shiraz. With just a few months in the bottle, this offerings seductive "baby fat" will give way to a smooth rich center framed by just the right amount of grip and tannin from the addition of a little Cabernet and Malbec. Macaw Creek's 2003 Grenache Shiraz puts to shame most other renditions of this poplar blend, and we can't hate that. Delicious now, this cheerful wine should be served cool (about 60º) in its first year of life or at slightly higher room temperatures after a few years in bottle.
The 2003 Macaw Creek Grenache Shiraz is the kind of up front in your face kind of wine, with a good bit of class, which begs for foods to match its character and personality. Consequently, we suggest any number of simple, honest, extroverted dishes with this dandy. Some of our favorite pairings with a youthful Macaw Creek include a quintessential Three-Meat Meatloaf, a super duper Tex-Mex Chalupa, with homegrown green peppers and Monterrey Jack cheese, and an Herbe de Provence-Grilled Chicken Breast, with rosemary fries. Grilled Loin Lamb Chops, with a cucumber garlic sauce and a sprinkling of feta cheese, provide the perfect foil for a slightly more mature bottle of the Macaw Creek Grenache Shiraz. And if you are an even more adventuresome gourmand, we can put a plug in for Grilled Ahi Tuna on focaccia, with an authentic Provencal aioli or herb mayonnaise. Enjoy!
You could easily miss the turn off down the dirt lane to Rod Hooper's charming 19th century winery, with the undistinguishable look of the Wild West about it, and we did. But once we finally found the low stone structure that constitutes Macaw Creek, a tiny, neatly kept winery, replete with an attached storage shed and a cozy antique tasting room, which was aglow with a fire to ward off the winter's chill from the clear cold mistral-like wind that was scouring the sweeping expanse of the Gilbert Valley, we knew we had come to the right place - Rod Hooper's home. Rod Hooper is more or less a one-man band at Macaw Creek. Nearly single handedly, he has resurrected his family's old farmhouse and winery and become the voice for the burgeoning number of wine growers and fledgling wineries popping up astride the low South Australia hills of the Gilbert Valley, about an hour an half north of Adelaide. He is a pioneer, much as his ancestors were more than a century and half ago when they came as free settlers to what we now know as South Australia. Thanks to Rod's forebear, an accomplished stone mason, the winery and several nearby stone buildings still survive, more or less intact. One such structure, now overgrown with flowering almond trees and a high field of tall grass and wild flowers is slated to become a bed and breakfast, a popular concept among small wineries whose cash flow and customer base have remained relatively tiny, in spite of selling out of all of their wine in short order. Fortunate are the lucky souls who get to bed down at the Hooper's. The wines are great and Rod's mother can really cook. Rod is a man with a vision. He has come back to the family homestead from a career as an oenology professor and acclaimed winemaker with the dream of producing fine wine in the all but forgotten Gilbert Valley. Moreover, Rod is bent on putting Gilbert Valley and its wines on the viticultural map. Already, he has made a darn good start. There is little doubt that Rod Hooper has succeeded in fashioning some very fine wines at his estate, with a little help and equipment from his long time friend and fellow winemaker Tim Gramp. Both men share their equipment and their knowledge on winemaking with the idea that every winemaker needs a second opinion. Well, the opinion of the tasting panel seconds Rod's handiwork. Indeed, very fine red wines are being fashioned at Macaw Creek, especially those containing Grenache, Shiraz, and Cabernet Sauvignon, and Rod's Riesling is a winner, too. And as a pioneer, Rod is of course experimenting with Sangiovese and other varietals, which he hopes to have for sale in the future. This is the kind of estate we can hardly wait to come back to because we know this is only the beginning for Rod and our club members. Assuredly, there will be more than a few good wines to follow. Stay tuned!
The Clare and Gilbert Valleys Gilbert Valley, which adjoins the Clare to the south, shares many of the attributes of the Clare, including the same pretty landscape and cool climate, but unfortunately this historic wine producing region has not yet received an official GI (Geograhical Indication, the Australian equivalent to a French Appellation or an American AVA (American Viticultural Area). However, with the efforts of Rod Hooper, expert winemaker, oenologist, fifth generation Gilbert Valley resident, and the articulate spokesman for the region's growers, the Gilbert should soon acquire the credentials it deserves. Historically, the Gilbert was a thriving wine region prior to World War I and home to one of Australia's most important wineries, but "The War to End All Wars" destroyed the region's market for wine and with the British Empire's subsequent need for wheat and rye, the Clare was relegated to viticultural oblivion. And so it remained until Hooper came back to the old homestead after a stint teaching oenology and resurrected the Gilbert's propensity for the production of fine wines. At his tiny Macaw Creek Winery, Hooper turns out a wide range of excellent traditional reds, including a quintessential Grenache Shiraz that contains a bit of Cabernet and Malbec for added grip, one of the best organic Shiraz in Australia, and a beautifully wrought reserve bottling of Shiraz and Cabernet. Rod also assists other area winemakers with his expertise and fashions wines under contract for some of the biggest names in Australian wine. He is a man with a vision, along with the talent to make it happen. Our hat is off to Rod Hooper, Tim Gramp, and the other dedicated small grower/producers in the Clare and Gilbert who craft interesting and individualistic wines. Most notable among the region's other fine small producers are John Wilson and his son Daniel, who work in the Polish River area of the Clare. The wines these Clare and Gilbert wineries fashion are indeed special as well as unique, and they deserve greater recognition. So stay tuned for future offerings from these excellent producers. Enjoy them while ye may!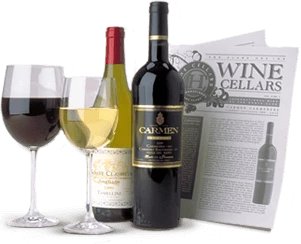 Enjoy Limited Production Estate
Bottled Wines
Discover limited production estate bottled wines such as Vergenoegd's internationally
acclaimed 2005 Cabernet Sauvignon, imported exclusively for our members.
DISCOVER OUR FOUR CLUBS