A dollop of pure ripe Chardonnay fruit, a cachet of light but lovely spice, a touch of butter, and a double dose of elegance and flavor are the words that best describe the 2000 Lynmar Quail Hill Vineyard Chardonnay. From this wine's inviting nose that emanates lime, papaya, spiced apple, and more to its clean, elegant finish that haunts rather than lingers, Lynmar has captured all the beauty, charm, and drink ability of the finest Russian River Chardonnays. Each sip seems to offer a new flavor or subtle nuance to ponder, without fatiguing the palate or overwhelming the senses. We suggest serving the Lynmar Quail Hill Vineyard Chardonnay often, but only moderately chilled (about 50º F) to capture the wine's essential flavors.
Given the supreme elegance, balance, and charm that characterize the 2000 Lynmar Quail Hill Chardonnay, we believe this is a rare California Chardonnay that does not require food to mask its flaws or tame the overpowering taste of oak that has come to be more synonymous with California Chardonnay than the flavor of the grape itself. We love to drink the Lynmar Quail Hill all by itself. However, it is also on account of the wine's attributes, most notably balance and breed, that it deserves the finest fare brought to table, so we suggest you put your best foot forward in the kitchen. Poached Salmon, Lobster Newburg, Coquilles St. Jacques, Chicken Simmered in Cream and Onions, and most other white wine classics all provide premier accompaniments to the classically wrought Lynmar Quail Hill Chardonnay. Enjoy!
Lynmar and the highly acclaimed Quail Hill Vineyard constitute the sixth child of Lynn and Mara Fritz. Mara, a linguist, gourmet cook and mother of five and Lynn, an attorney, Chairman and CEO of Fritz Companies, an international shipping giant, purchased the Quail Hill Vineyard in 1982. An established, dry-farmed, low yielding vineyard, devoted exclusively to Chardonnay and Pinot Noir, Quail Hill reminded the Fritzes of Burgundy. From the beginning, this husband and wife team lovingly tended their unique, cool climate Russian River vineyard, turning out a small production of prized grapes. Within a few years, Quail Hill was commanding the highest prices for its fruit in Sonoma County. In response to the superior fruit and the overwhelming acclaim emanating from the Quail Hill Vineyard, Lynn and Mara decided to become winemakers. In 1990, the Fritzes founded Lynmar, their small family winery. Their mission, then and now, remains the same; namely, their sole goal is to produce the finest Chardonnay and Pinot Noir in the Russian River Valley. At the heart of this quest lies the superior quality of the Quail Hill Vineyard and the Fritzes personal devotion and involvement. The Quail Hill Vineyard possesses a unique terroir. The vineyard sits on a rise above and west of the Laguna de Santa Rosa, a wide expanse of old riparian forest, freshwater marsh and seasonal wetlands, that is home to rare species of plants and animals, including thousands of migratory birds. Here the growing season is long and the Goldridge soil, a well-drained combination of sand, silt and clay, is perfect for Chardonnay and Pinot Noir. In addition, sustainable agricultural methods are used, and almost all vineyard work is done by hand.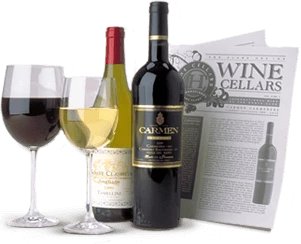 Enjoy Limited Production Estate
Bottled Wines
Discover limited production estate bottled wines such as Vergenoegd's internationally
acclaimed 2005 Cabernet Sauvignon, imported exclusively for our members.
DISCOVER OUR FOUR CLUBS